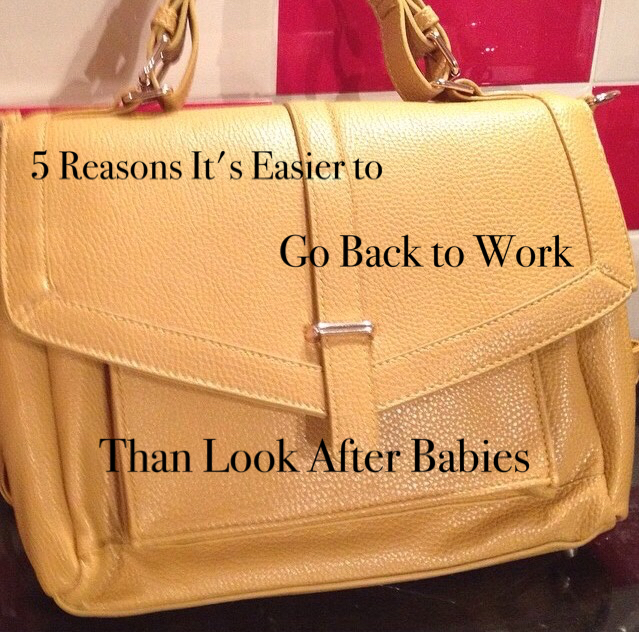 So my maternity leave ended five months ago but, for a number of reasons, I haven't returned to work.
I have been thinking lately though about how, apart from the leaving your baby aspect, it can be easier going back to work.
Here are my top five reasons.
1.You get a lunch break. For me, it was a whole hour looking around the shops in Manchester. I could get Christmas shopping done, buy treats for Boo and generally find out what was actually in fashion.
2.Hot drinks. I got to drink them. Hot. Oh the luxury. Even the cheap instant coffee available was better than cold coffee. I have considered just making iced coffee so it would be supposed to be cold to begin with. I haven't though.
3.You get to eat lunch. No interruptions, no sharing. You could even choose soup if you fancied it with no worried of it getting grabbed and scalding your child.
4.Adult conversation. There are many times I pick Boo up from school and get so excited about speaking to another adult that I either interrupt everything they say or speak so fast that even I can't understand what I am saying. I suppose I am luckier than most because Hubster works where we live but if he is very busy, sometimes I don't see him all day and I may have only spoken to the baby or the dogs. Oops.
5.Paid sick leave. If I was ill, I could ring up work and take time off. Now if I feel under the weather, I have to some how pull it together until nap time or, failing that, resort to CBeebies. On loop.
I am actually glad that I get this time with my baby as we all know how fast it goes but I do think about things, like soup, from time to time.