Of all the fad diets I've done, the ones I've failed miserably on are the ones which ban bread for any length of time.
I just can't do it.
That lovely crusty stuff that is so versatile. Toast, sandwiches, bread and butter, soldiers, lathered in butter…
I'm going to stop now before I start going on about cheese too-that might send me totally over the edge.
You get the message, I can't live without bread.
It is also great for kids. There has been many times when, fussy-pants point blank refuses to eat anything other than 'toatht'.
So when I was invited along to Delamere Forest in the heart of Cheshire by Roberts Bakery, I made a toast (sorry) was very pleased.
We were going to be helping to launch Roberts; #50Days Of Summer campaign, which launches on 20th June, and trying out some new sandwich fillings and ideas.
So in true Farmer's Wife style, I arrived just in time. I had wondered why the satnav on my phone hadn't been talking to me while I drove in the direction I thought Delamere Forest was.
Turns out they don't work if you don't press start. Oops.
Ironically, I ended up passing the Roberts Bakery factory, complete with lovely loaves going around on a conveyor belt in the window-just to taunt me.
Anyway, we arrived and what a scene we were met with.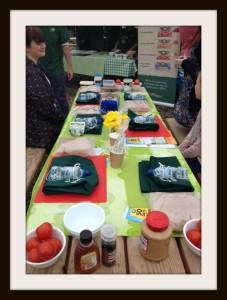 Picnic benches adorned with equipment, a marquee with the people from Roberts ready to show us how to do it.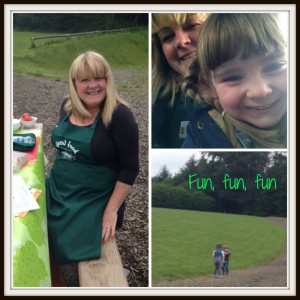 Boo had a good run round with Haley from Home's little boy and then it was time to start.
The children were led off my a storyteller to a tent a little way away while we began with what can only be described as sandwich magic.
It was music to my ears when the lady from Roberts Bakery told us that omitting whole food groups from our diets was actually bad for us and that, as part of a balanced diet, bread should be on the menu.
Yay.
We were using Roberts Bakery's newest products- White and Wholemeal thick bread and 50/50 rolls.
The first sandwich on the menu was an SLT.
This is a healthier alternative to the BLT and uses sausages instead of bacon.
We sliced the rolls, and sausages then mixes together three tablespoons of Greek yoghurt and one tablespoon of mayonnaise, Boo really enjoyed mixing this together her and, I'm not going to lie, she tasted quite a bit of it too (she had wandered back from the storyteller at this point).
We spread the dressing onto the bread (no butter so healthier here too). Shared the sausage between the rolls (they very carefully provided me with vegetarian sausages-thank you), and then added sliced tomato and lettuce.
The rolls looked delicious and the hardest part was having to put them in a box until we had finished making all the others.
I didn't mourn for two long though as we got to make a further three sandwiches including:
Nutty Nana which was peanut butter banana and honey, shaped into the face if a monkey. This one really appealed to the children and, being a big fan of peanut butter myself, some of the adults too.
Another recipe was strawberries and cream sandwiches which I would have never thought of but really went well together.
It was basically strawberries, cream cheese and rocket shaped into round sandwiches with either a heart shaped or round hole I the top layer. Yummy.
My favourite sandwich of the day however was this: the sunshine sandwich.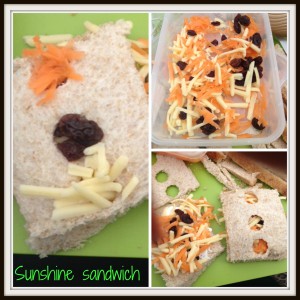 As traditional cheese sandwiches are high in fat and salt, Robert's Bakery version is lower because the cheese is bulked out with carrots and other ingredients.
You will need:
8 slices of Roberts 50% White 50% Wholemeal
2 medium carrots (grated)
2 tbsp raisins
2 tbsp sunflower seeds
100g reduced-fat Cheddar cheese (grated)
Low fat olive spread.
Lettuce and tomato (optional)
Method:
Combine the carrots, cheese, raisins and sunflower seeds.
Spread bread with spread and fill with carrot mixture,
Cut the bread into two thin oblongs and cut three holes in the top slice. Fill the top hole with tomato, the middle hole with cheese and the bottom hole with lettuce.
I liked this sandwich filling so much, I have even tried variations of it at home. For an even healthier option, omit the cheese and spread and replace it with hummus. I didn't have sunflower seeds in so used pumpkin seeds instead and they worked just as well.
It really is a brilliant sandwich full of flavour and crunch.
When we had made all of the delicious looking sandwiches, we went down to the story telling tent and enjoyed a lovely story whilst we all tucked in to our sandwiches.
When it was all over, we then got the chance to have a look around the forest which, I had never been to.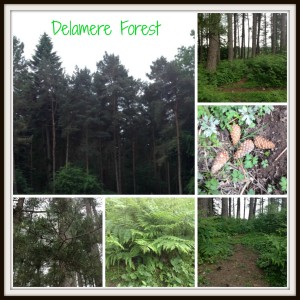 It was breathtakingly beautiful and reminded me just how amazing places are literally on our doorsteps if we take the chance to look.
I cannot fault the hard work that Roberts Bakery and Democracy PR put in to make it a very organised, informative and best of all-enjoyable day.
More importantly however, I no longer feel guilty about having my toast in a morning or a sandwich at lunch because it is official. Bread is good for you.
To find out more about Roberts Bakery #50Days campaign (which begins on 20th June), visit: www.robertsbakery.co.uk or like them on Facebook. From 20th June, you can download an activity pack to enjoy your very own #50Days of summer yourself.
Please note, I attended this sandwich master class as a guest of Roberts Bakery but all views (especially those on my love of bread) are my own.