The Cricket World Cup is currently under way and, cricket aside, it is making me pine for warmer weather.
Not only is it taking place in Australia which is firmly in the grips of summer but many of the 15 countries taking part are rather exotic and I am so over winter.
From the West Indies and New Zealand to Afghanistan and Sri Lanka. Who will win? Time will only tell but I did see an interview with former England captain, Michael Vaughan who predicted New Zealand would have the edge.
Having just had a baby, I am unlikely to be jetting off any time soon but thankfully, we chose a warming exotic, Barbados themed menu to transport us to Bridgetown and firmly backing the West Indies.
I actually visited Barbados, many moons ago and one of my favourite dishes was Macaroni Pie.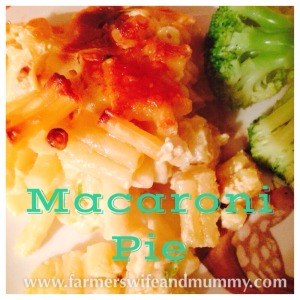 I was still vegetarian all those years ago and it was a great meal option for me, along with plantain and rice and peas.
I have recreated it with my own twist of added vegetables. You can add any vegetables you like really. Broccoli and cauliflower work well as would the addition of bacon or sausage to make it appeal to the meat eaters in the family.
I had it as my main meal while Boo and Hubster had it as a side dish with sausage and it really is a family crowd pleaser as well as a good idea for a party dish.
You will need:
A small packet of macaroni pasta
A 410g tin of evaporated milk
A teaspoon of mustard
One onion
A yellow and green pepper
250g cheese, grated
1 egg, beaten
Method.
Preheat oven to 200 degrees and grease an oven dish.
Cook the macaroni according to the pack instructions and, while it is cooking, chop the pepper and onions very finely.
I do like chilli in the pie but, our four-year-old probably wouldn't have thanked me, so I left it out this time.
When the macaroni is cooked, add all ingredients to the pan of macaroni apart from a little grated cheese.
Once mixed, transfer to the oven dish, top with remaining cheese and bake for 30-40 minutes. Keep your eye on the pie. If it starts to brown too much, cover with foil.
You can either eat it immediately or allow to cool so it is a great dish to eat for dinner one night and take as a packed lunch the next day.
I did plan on just serving this but, in true Emma style, I got carried away and made a Ginger Surprise for desert.
This has got to be the easiest, non-cook desert but it is very tasty.
You will need:
One Jamaican Ginger Cake,
A small tin of pineapple rings (depending on how many people you are serving. There are five rings in a small tin so it would serve five.
A miniature bottle of Caribbean rum.
Thick, double cream,
Chocolate sprinkles.
Method:
Use a pastry cutter to cut out a round of Ginger cake, big enough to fit neatly into the serving glass you are using.
Pour as much or as little rum as you like over each circle of sponge.
Pop a pineapple ring on top as well as a dollop of cream and grate a little chocolate on the top.
It really is delicious and really does make you feel a little bit tropical-even in wintry Cheshire.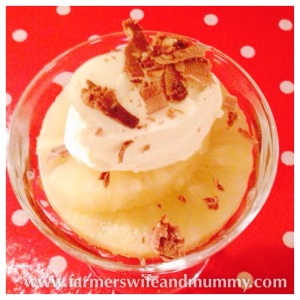 So even though we are still wearing jumpers and woolly socks, just this one simple meal can really transport you to the tropics.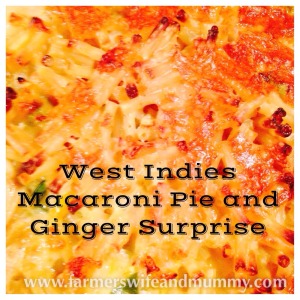 Which cricket team's culinary menu would you choose?
* I was asked by Betfair to take part in the Cricket World Cup Recipe challenge.