A few weeks ago, Mackays sent me some festive jam and marmalade. I made something with the jam a week or so ago so next up was the marmalade.
We had a little Christmas party at my mum's at weekend so I offered to bake a cake.
I decided on a chocolate orange cake as I though not only is it festive but it would really go well with the festive marmalade.
Firstly, I made an eight ounce Victoria Sponge-
8 oz self raising flour
8 oz butter
8oz caster sugar
1tsp baking powder
4oz Cocoa powder
4 eggs
Grated zest of one orange*
*i forgot to buy an orange so used the zest of a clementine.
Split mixture between two 8-inch sandwich tins and bake for 25 minutes.
Allow to cool for ten minutes and take out of tins and then cool thoroughly.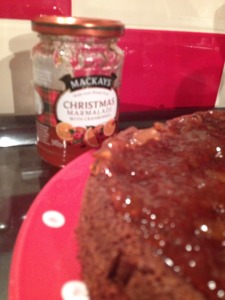 Spread a very generous amount of Mackay's Christmas marmalade with cranberries.
When cool, I warmed 300ml of double cream in a pan and, just before it came to the boil, I added one and a half chocolate oranges, chopped.
Stir until all chocolate and cream is combined and pour over the cake. This does get a bit messy but the ganache covered the plate which I think looked nice.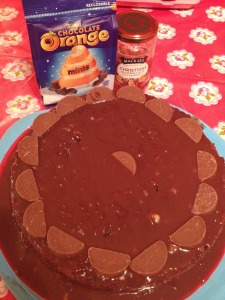 I decorated the cake with the mini chocolate orange segments that are now available.
This is definitely not for the people watching their weight but it is a nice little Christmas treat.