You'd think having a child myself would make it easier to choose presents for other people's children but I am afraid it doesn't.
I feel as if I never get it right. Is it the right thing age-wise, will they play with it, will their parents hate me (think musical instruments, that kind of thing).
Thankfully, it seems I am not alone and the lovely people at Kiddicare  have come up with a selection of ideas based on age so there is no way you can get it wrong this year.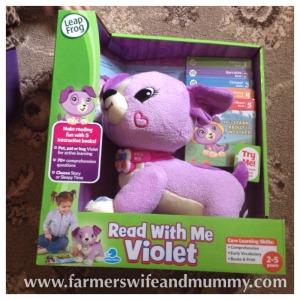 I had a look through and choose a Leapfrog Read With Me Violet for Boo. It is a cute toy but educational too which is always a winner in my book.
Look at her face when she saw it for the first time.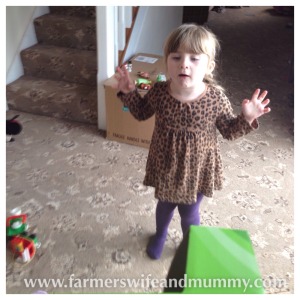 Violet (re-named Woof by Boo) reads from five books which are included in the pack. She asks questions and instructs your child to interact with it. Boo really enjoyed patting Violet on the head to turn the page and kissing her cheek for cuddles.
The age-range for the toy is 2-5 years which is quite wide if you ask me, so will last a long time. It teaches comprehension, early vocabulary and book and print basics.
We love it here and I can see it is going to be one of those rare toys that adapts as your child grows. It is such a great item that it is the perfect gift for the child you don't know what to buy for.
Then comes the really hard part. What on earth do you buy for babies?
This baby is (hopefully) going to be a January baby like Boo so will be 11-ish months at Christmas, just like Boo.
If I had to buy for a younger baby at Christmas though, apart from clothes, I think I'd be stuck.
This was until I found the Buzzing Brains Grow With Me Melody Gym.
Suitable from three months, the first stage is for the baby to lie underneath the gym and be entertained by the lights, sounds and hanging bits.
As the baby is still in my tummy, I was worried we wouldn't be able to try this out but my willing and glamorous assistant needed no encouragement and got right down to the serious business of play.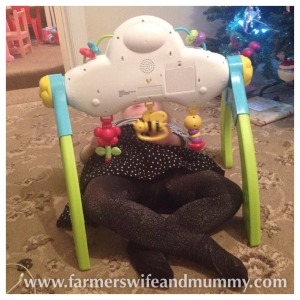 The hanging toys can be repositioned and it can then be used when the baby is sitting up and finally, when it is standing.

There are loads of different things to play with. From a spinning smiley face with noises, door to slide and plastic pages to turn, not to mention the bee, flower and caterpillar hanging toy, it really is lovely.
Most importantly of all, the tunes that are played are actually quite nice which makes a change from some baby toys that can make you want to burn the batteries turn the volume down.
It was also really simple to put together and this is from the woman who usually has a go, makes a mess of it and then leaves it for Hubster to do. I managed to put the gym together all by myself, it was that easy.
I am so impressed with the choice, price and help you get from the Kiddicare website. It will definitely be my first port of call when buying gifts for children in the future.
You can order up to 3pm on December 23rd and, as long as you select next day delivery, your Kiddicare goodies will be delivered in time for Christmas.
*I was sent a Leapfrog Read With Me Violet and a Buzzing Brains Grow With Me Melody Gym for the purpose if writing this blog post but all opinions are my own.