The problem with being a second child is that many of your clothes and toys will be hand-me-downs from your older sibling.
This has been the case here, despite Boo bing a girl and G being a boy. Gender lines are airbrushed a bit here with G often seen wearing pink sleepsuits.
Now imagine being the third or subsequent child. Poor Baby J doesn't have a chance.
I have been kind. When I found out J was a boy, I did get rid of most of the oink clothing-we had enough from G to clothe him when he needs it.
Somewhere along the line though, all of the baby toys have vanished. Whether I thought we would have no more babies and donated them or G was a bit over-zealous and wrecked them (likely) or whether they are missing in action, I don't know.
However when it came to searching for some age-appropriate toys for Baby J's increasing awake time, I have struggled.
I know I sent the baby play gym to the charity shop so I bought a Fisher-Price Kick and Play Piano Gym with my Boots Advantage Card points-something to be said for my make up addiction I mean buying nappies.
Then, knowing my absolute love of anything FP, Fisher-Price only went and sent baby J enough new toys to last him for some time.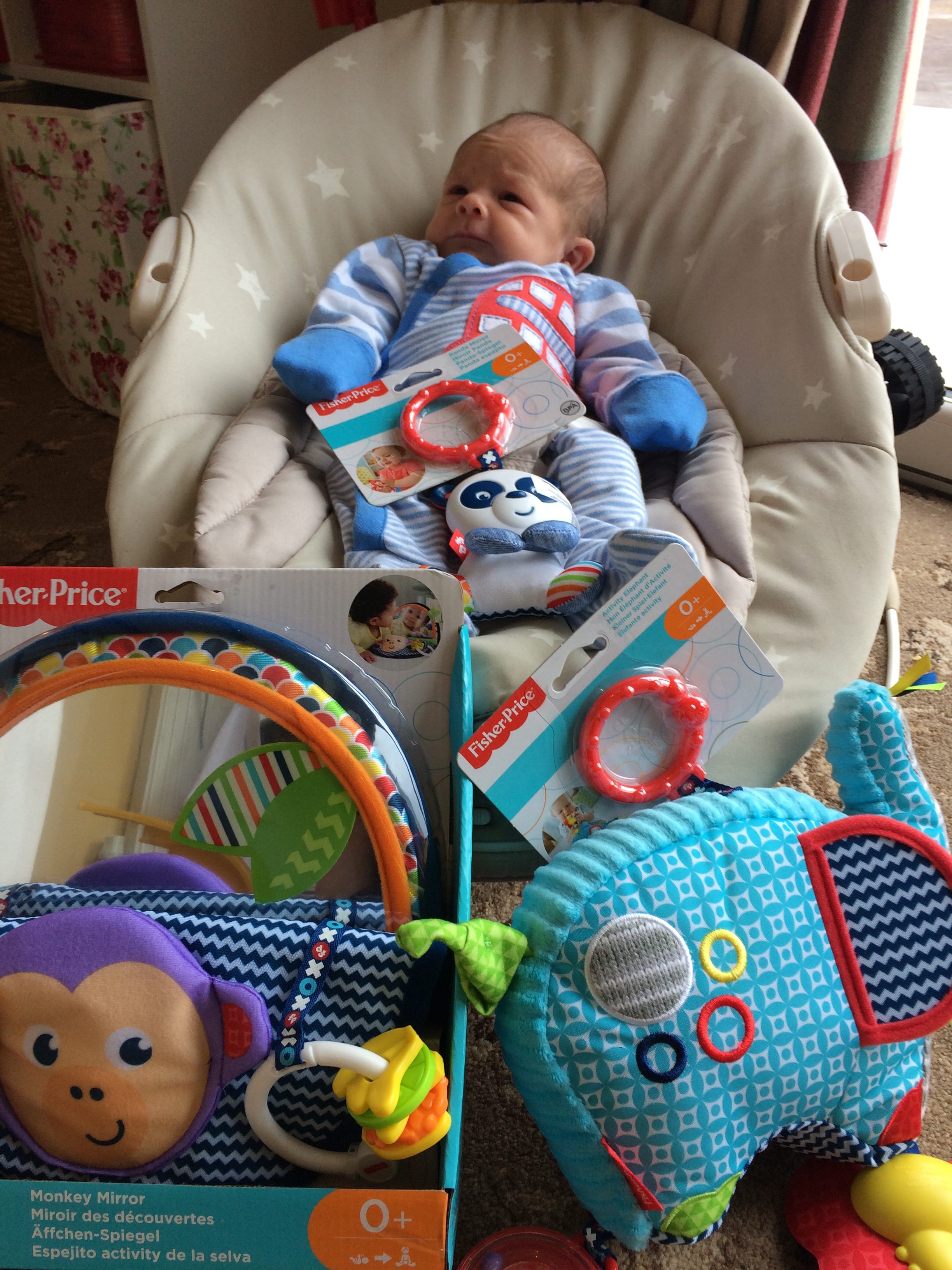 Yay.
Designed by iconic American potter and designer, Jonathan Adler, the new range of baby toys features cute animals, bold colours, geometric prints and patterns, inspired by contemporary art and fashion to bring modernity to the range because its never too early to develop a baby's sense of style.
While it was I who liked to think I was stylish back in the day, I am afraid it is my children that the baton of stylishness has been past on to so Baby J needed to start early.
We first explored the Fisher-Price Activity Alligator.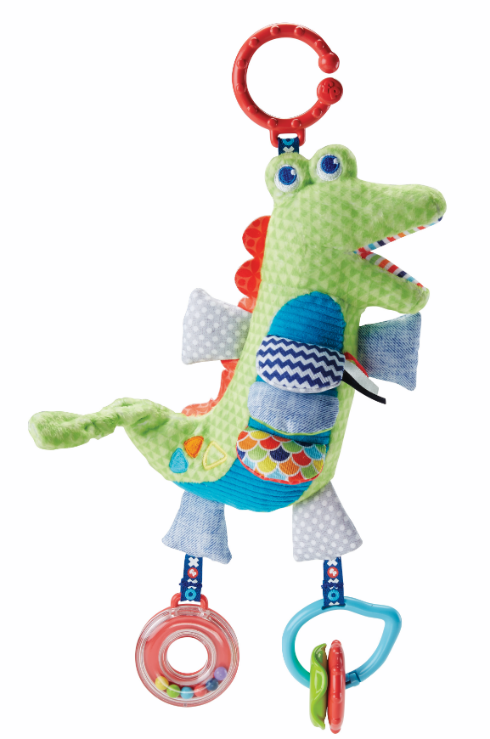 Vibrant, soft, green material is featured here, complete with crinkles and other sensory dangling toys which is perfect when on the move because of the clever hanging ring which can be attached to your pram or changing bag for stylish fun on the move. The Activity Alligator retails at £12.99.
The Fisher-Price Monkey Mirror was a firm favourite here.
Even though Baby J is still little, he showed a lot of interest in this toy-I imagine because of the mirror. If I looked as cute as he does, I too would stare at myself on a regular basis. It can be used as a regular toy but is designed for use during tummy time because of the unique angle of the mirror.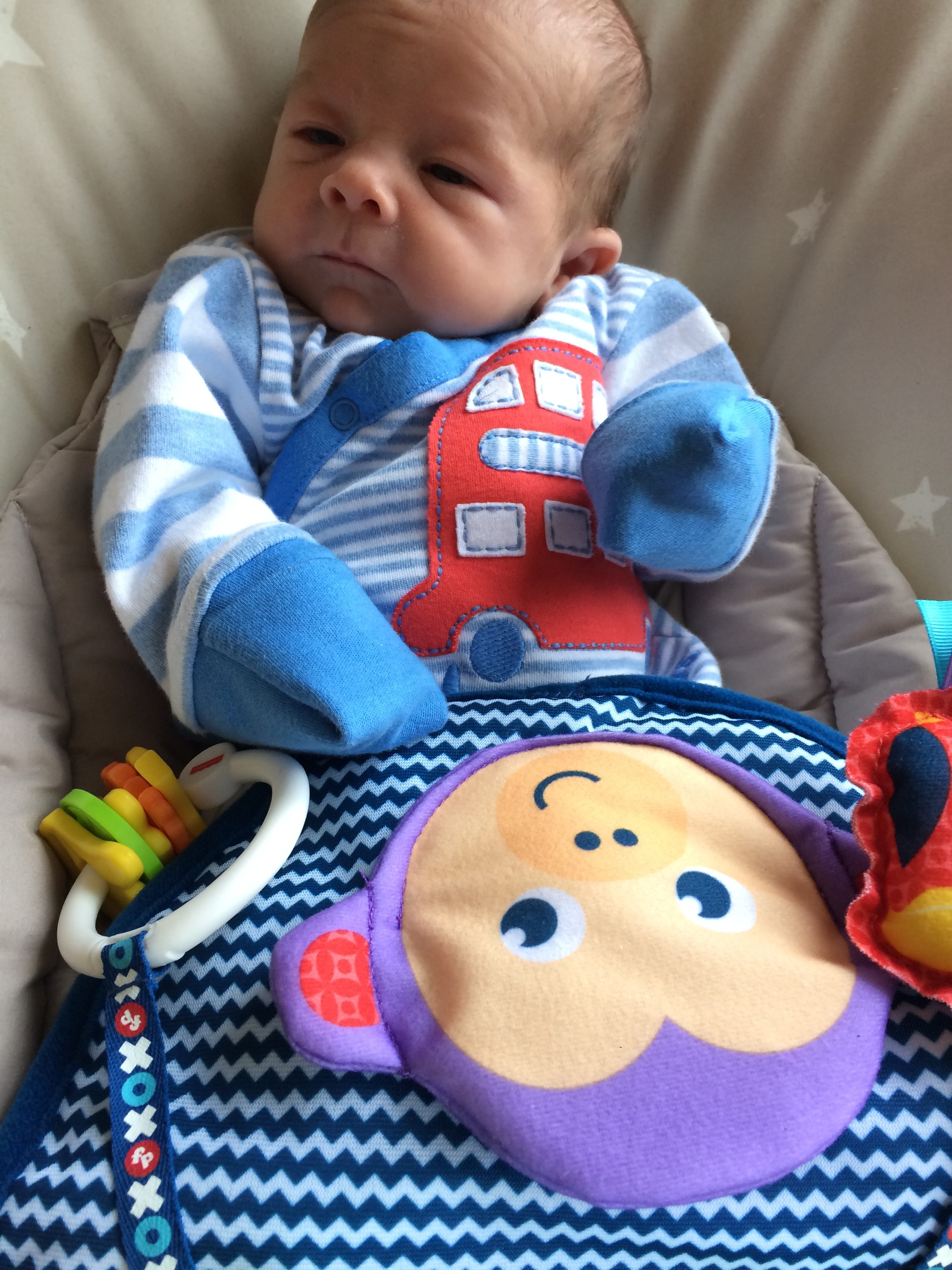 This toy features crinkles, squeaks, a jingly parrot and clacking bananas. It folds away small so can be slipped into the toy box or the changing bag and, with big brother G passing his beady eye over it, I can see the Monkey Mirror staying with us for many years to come.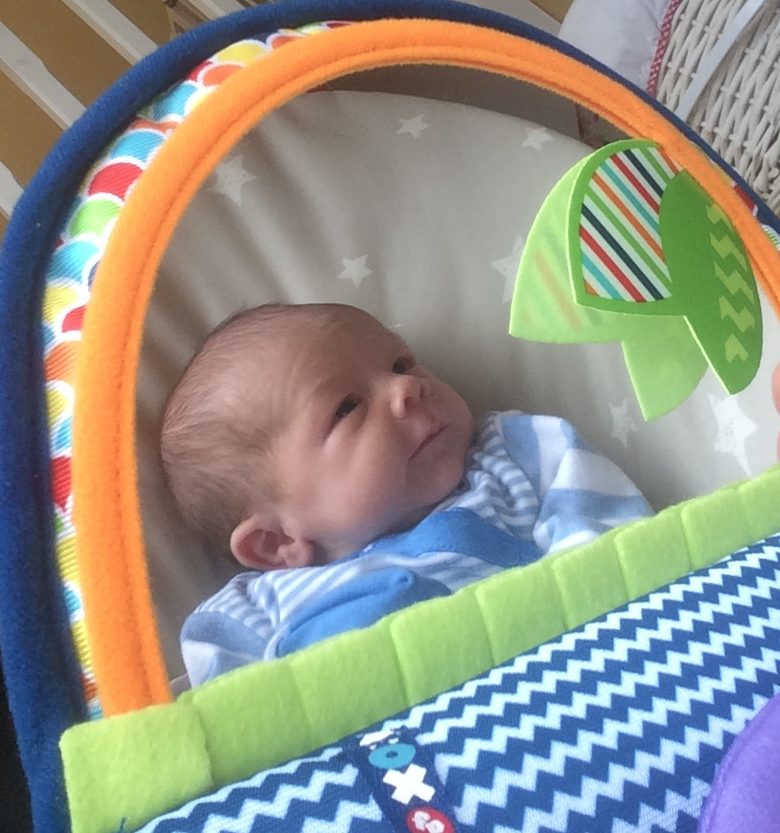 The Monkey Mirror retails at £19.99.
The Fisher-Price Activity Elephant was truly loved on the farm with many fun-to-touch textures like crinkle, corduroy, knit and plush.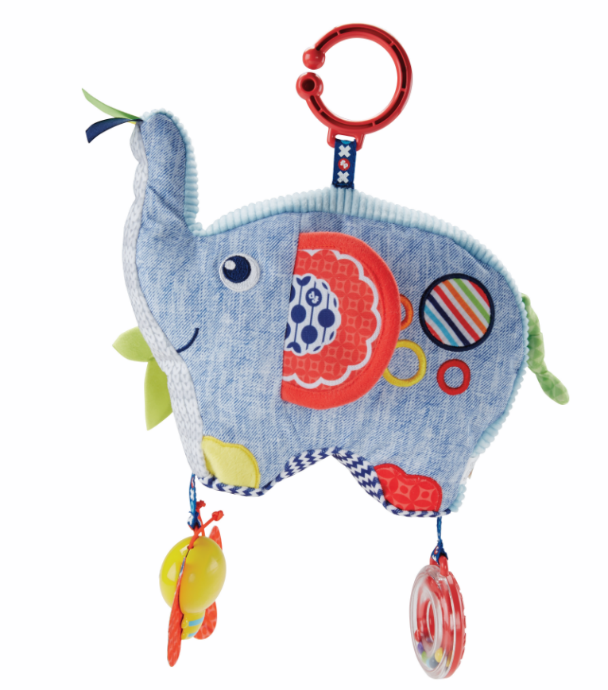 There is a beloved mirror on here and, I am not going to lie, the end of the trunk has been sucked a fair few time. No milk was found though.
The elephant features a colourful butterfly and rattle attached to the bottom of the toy so there are hours of fun guaranteed here and, with a retail price of £12.99, what is not to love?
Jonathan Adler has also designed a range of four Fisher-Price Signature Style Pegs. We received a panda mirror which is lovely but there is also a giraffe spinner, a monkey rattle and an alligator teether so you can collect them all and, at £4.99 they would make the perfect new-baby gift or even a stocking filler for Christmas.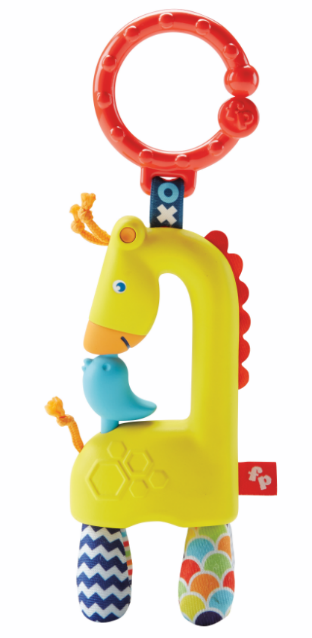 As always with Fisher-Price toy can be reassured that each toy is made from the highest quality materials and is totally safe for babies. Indeed, each Jonathan Adler toy is suitable from birth which is brilliant. As well as that, all of the new toys fit onto other Fisher-Price toys so we have been swapping and changing the hanging toys on Baby J's new Fisher-Price play gym. Variety is the spice of life after all.
Selected products are available from Argos.
So Baby J now has an impressive toy collection rivalling both his elder sister and brother's.
The only thing we have to work on is attention span.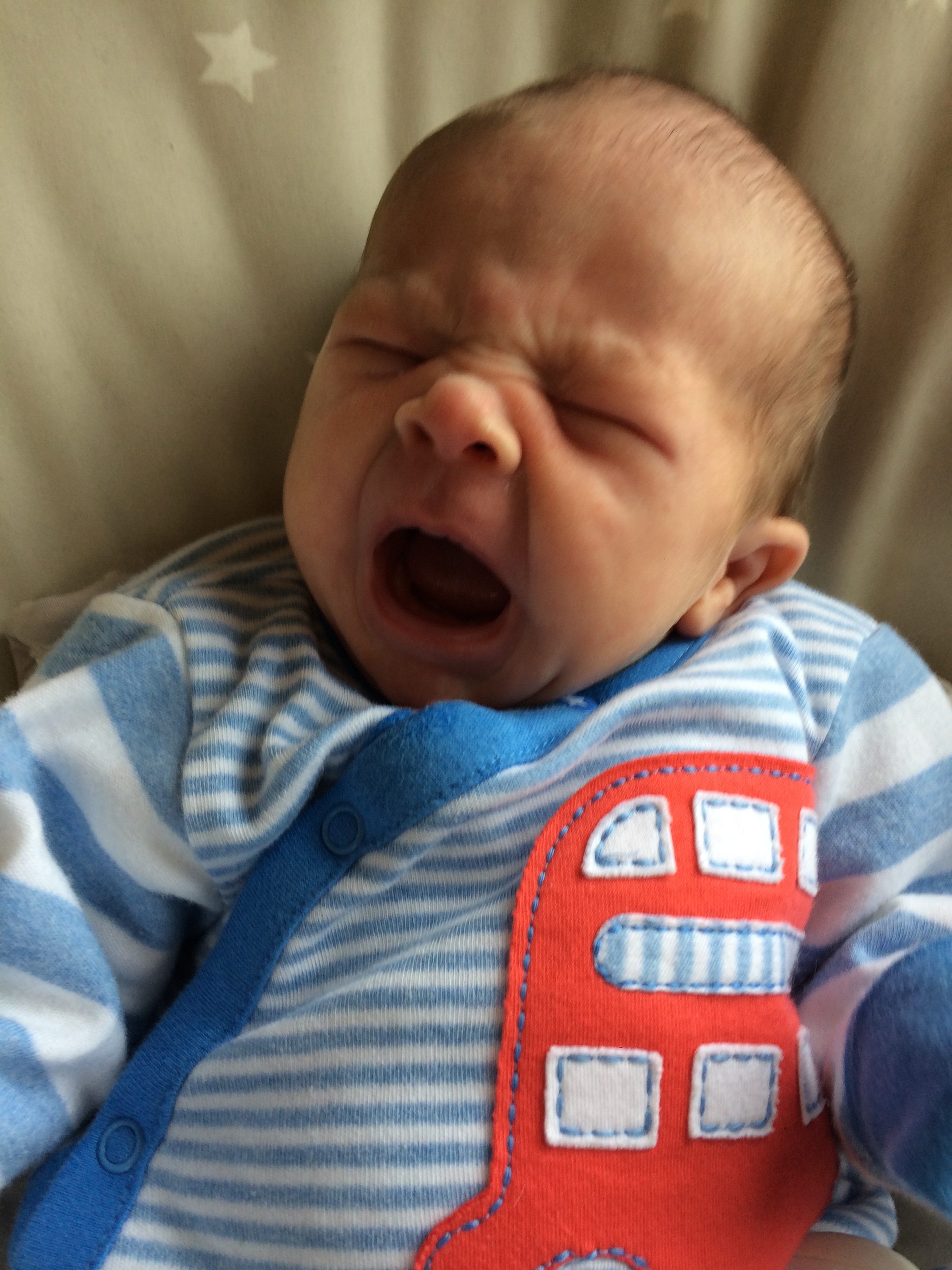 It's hard work being a baby.