Farm living. There isn't week that goes by without someone telling me that they wished they lived on a farm.
I know we are lucky. There have been times I've pushed the baby around the fields in my nightie as no one can see.
Like everything though, living on a farm does have its bad points-like mice but the problem I am about to tell you about is a bit taboo.
It's not very nice.
Every summer, we are plagued. By flies.
You see animals poo-I know, who knew? The poo, although relatively harmless in itself, attracts flies like you wouldn't believe.
There are hundreds of different varieties. The worst being, what we call the maggot fly. It looks a bit like a blue bottle fly and is big, in fly terms. It buzzes loudly and flies really fast. The most attractive element of its body is that when you swat one, maggots come out of its bottom. I know. Ew.
Up until now, fly swats have been my only saviour. If fly swatting were an Olympic sport, I would have won gold many times over. Honestly, I am so good at it.
The thing is though, I am in fly-swatting-retirement. Why? I hear you ask.
All because of this:
They are the answer to my prayers. I was offered the chance to review a door screen and, being on the coal-face of fly deterrents, I bit their hand off, horse-fly style.
They were so easy to order. I am rubbish at measuring so Hubster measured the door frame and then, because DIY Fly Screens wanted the measurement in millimetres and Hubster had measured in inches, I just put the measurements into an internet convertor and but the updated measurement into the DIY Fly Screen website.
The company rang me to check the measurements because we have a strange door and I was so impressed with the service.
The website says delivery is within five working days but, I ordered on a Thursday night (so they only received the order Friday morning) and the screen was delivered on Monday.
It came in a really long tube and I was quite curious as to what it contained but inside was the fly-mesh and the adhesive frame.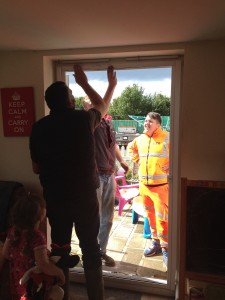 Hubster had a couple of helpers to put it up but only for the fact that he worried about my wrath if he got it wrong (safety in numbers, and all that). He did say how simple it was to install.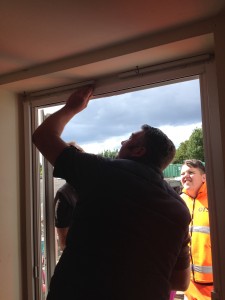 I had a wobble when the two children were in the kitchen and I shut the door outside but thankfully, they open from both sides.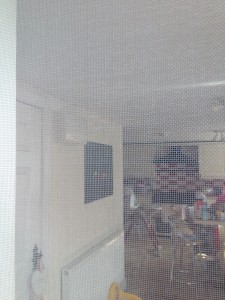 The frame itself is white so it blends in with the door frame perfectly. So much so that my mum turned up and asked where the fly screen was?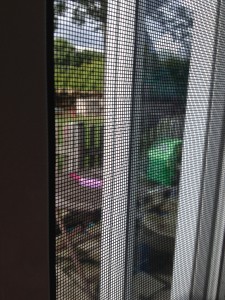 I cannot tell you what a difference this has made to my life.
Summer can make me quite miserable which is a shame, purely due to the flies. Now my children can enjoy a fly-free home and it is all thanks to DIY Fly Screens.
Farms are the extreme of fly colonies but imagine if it works for me, how it work in a 'normal house?'
Even more excitingly, I have a ten per cent off voucher for all of my readers. All you have to do is enter S4H401SWQ9 at the checkout.
Don't let flies ruin your life.
I am however currently on the lookout for something else to swat…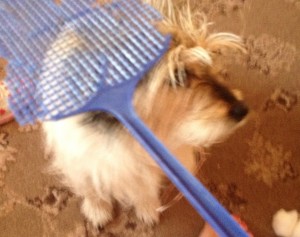 We were sent the fly screen for the purpose of this review but all opinions and dodgy Olympic medals are my own.