I actually feel lucky to be writing this blog post. I met my idol. Idol is possibly not the right word. I am almost certain the lady I speak of would hate to be called an idol.
Icon, possibly. Hero, more likely.
Whatever she is, she is greatly admired by me.
I first encountered Margaret Atwood when I read the Blind Assassin in 2000, the year it was published. If I remember rightly, I think my mum read it first and she knew I would love it. She wasn't wrong.
It didn't take much, just a Booker Prize, Orange Prize for Fiction and Time Magazine's best novel of 2000 to get me hooked.
Luckily for me, the Blind Assassin wasn't Atwood's first novel. I had a back-catalogue of novels, poetry and short stories to devour and devour them I did.
I bored the pants off anyone who would listen about my love of Margaret Atwood novels.
She inspired me to write. She still does.
Unfortunately, I am yet to write my own masterpiece but, I recently re-read The Handmaid's Tale and have ordered the Blind Assassin before I ransack my parent's house to see if any of my old copies still reside there.
Her mind is not just amazing, her way of story telling is astounding and her almost prophetic vision sends chills down my spine.
So rewind back to the early 00's. I had graduated from university and was yet to find my dream journalist role. I bought The Guardian purely for the jobs pages and applied for everything and anything media related-it was just post 9/11 and advertising revenues had slumped so competition for media jobs was fierce.
Thankfully, I read the whole paper because it caught my eye that the Hay Literary Festival in Hay On Wye was coming up and Margaret Atwood was to speak there about her then-latest novel, Oryx and Crake.
Well, I had to go.
Fully prepared to drive the three plus hours myself, my long-suffering parents said they couldn't allow that and that they too would come.
Off we went. I still remember the excitement and anticipation I felt.
Hay is a beautiful, beautiful place, filled with quaint buildings and so many second hand book shops that any bibliophile would feel at home.
I don't remember if I bought a book.
I took my well-read copy of Oryx and Crake and bought another copy for a friend-with the hope of getting them both signed.
We attended an interview where Atwood spoke of her work and life and then we were all invited to queue to have our books signed in can only be described as a tent.
I was beyond nervous. What on earth would I say to her? What if I told her I loved her?
In the end, I was so dumbstruck with awe, I just asked her to sign the book for myself and my friend and, with tears in my eyes, scurried away.
I had missed my chance to say something amazing but I had spoken to Margaret Atwood and I was over the moon.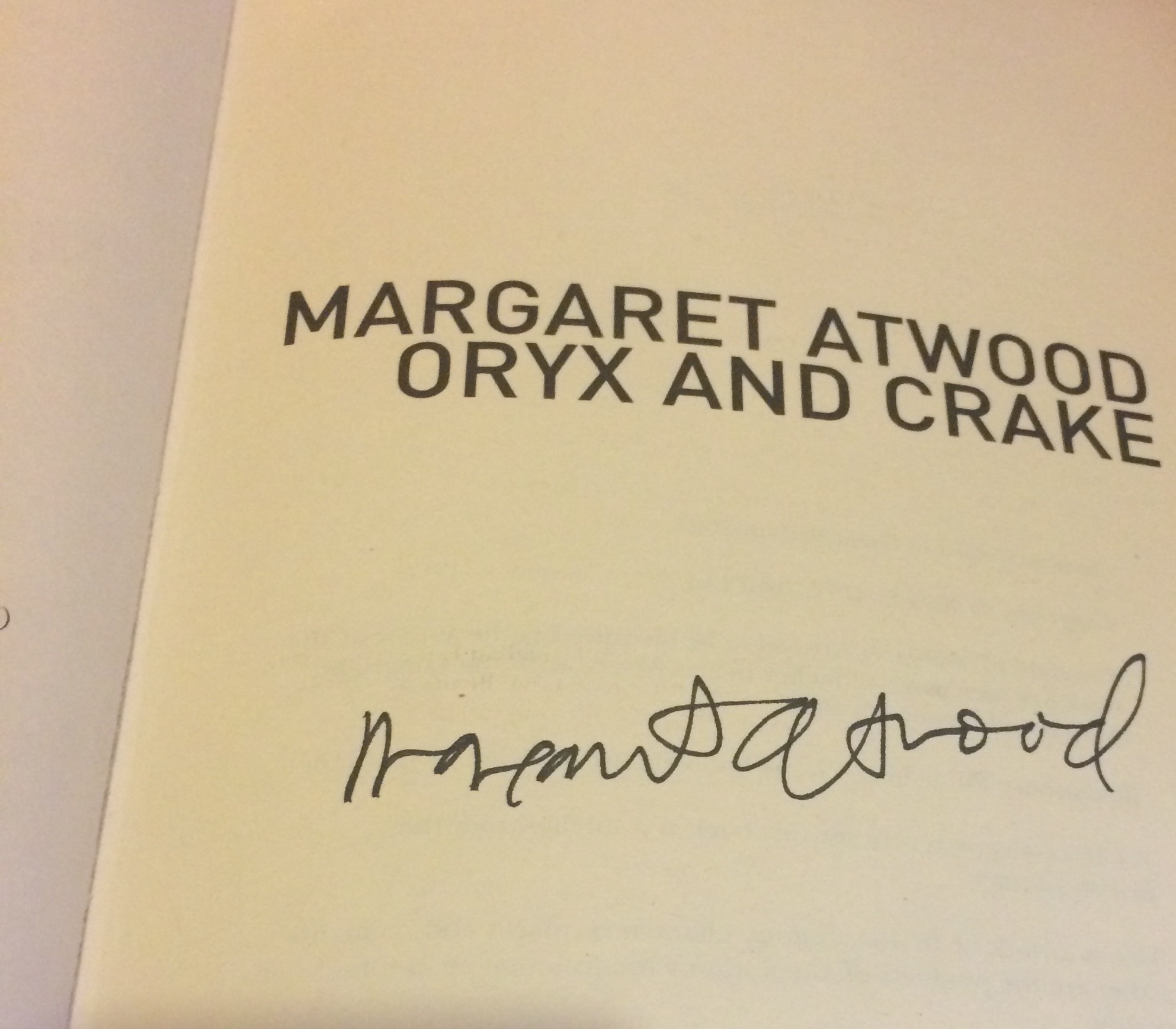 While mobile phones were around at that time, it was well before camera phones and selfies.
I have no photographic evidence of my moment with my idol but I have it ingrained on my mind and I do wistfully look at my signed copy every so often and remember.
In a away, I am glad of the lack of photographic evidence. All too often now, it is possible to lose the essence of a moment photographing it and watching life infold from behind a small smart phone screen.
As sometimes happens with authors-both beloved and not, I moved on to someone else. I know. The fickle behaviour of a reader. I think the last Atwood novel I read back in the day was The Penelopaid in 2005 which, although brilliant, I didn't quite 'get it.' Maybe if I re-read it now I would.
As I wrote my 40 Before 40 list last year and I thought about all the wonderful books I have read though, it was the Margaret Atwood novels which really called on me to read them again.
My meeting with Margaret Atwood may have been swift but it was all real.
Now to write something amazing myself.
Or just re-read the Atwood bibliography again.