So we've nearly completed two days of the Organix No Junk Challenge.
It has gone okay.
I say okay because it could have been better.
Day one, Boo had a wheat biscuit for breakfast. I have written about this before because despite all brands of wheat biscuits not tasting in the least bit sweet, they still contain added sugar and salt which I simply do not agree with.
However, when compared to the traditional 'children's cereals, they are better than that. She had some fruit purée with the wheat biscuit.
For lunch, I made her a ham sandwich.
For dinner we had a Sunday dinner (on a Monday as that's how we roll) with chicken, carrots, parsnips, potatoes and peas.
Boo ate all of this, had some raspberries, a yoghurt (Peppa Pig-sorry) and then asked for (Coco) 'pops.'
This was as well as her daily, constant 'choc chant'.
So I was quite happy with day one. Like I said, it could have gone better but it could have been a lot worse.
Day two has been a different matter.
After the previous night's 'pops' she knows they are in the house and no amount of tempting with porridge and the like would do. She goes to nursery five mornings a week now and I didn't want her to go off with an empty tummy so (bad) mummy gave in and 'pops' it was.
Now here is the thing.
Boo does actually love fruit and vegetables so I am happy with that. For in between snacks, I stuck to no junk baby snacks like Goodies cereal bars, gingerbread men and no salt crisps. Her favourite snacks are the Goodies mini Cheese crackers.  Oh and every parent's favourite 'carry around snack'-raisins.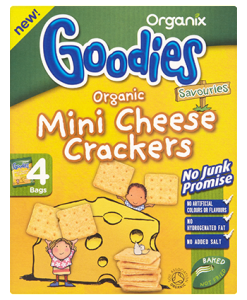 So we look forward to the next five days with hope that we can continue and better what we have done so far.
Please note, this is not a sponsored post. I am genuinely concerned about what goes into Boo's body. However I was cheeky and emailed Organix and told them I was writing a blog post and they kindly sent me the pictures cereal bars and crisps but we so buy them anyway.