We love ratatouille in our house. It's such a versatile dish.
I use it as an accompaniment, a cooking sauce over meat (or quorn), a pasta sauce and, if you add a bit of stock, even as a soup.
I usually buy it in a tin but homemade is so much nicer so, feeling inspired, I whipped up a batch in my slow cooker and decided to share the recipe.
It is so easy to make. You will need: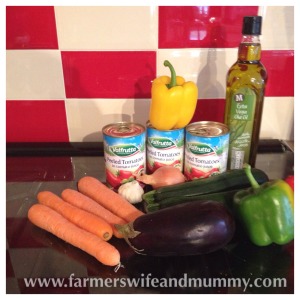 1 large onion
1 large courgette
A red and green pepper
1 medium aubergine
4-6 cloves of garlic (according to how garlicky you like it)
3 carrots
3 tins on plum tomatoes
1 lemon
A teaspoon of mixed dried herbs
1 tbsp olive oil
Method:
Chop all veg into bite sized cubes.
Put in slow cooker.
Add tinned tomatoes, oil and herbs.
Stir.
Cut lemon into quarters and pop on top.
Add water if required.
Cook on low for 6 hours and voila .
Now I know and French readers may be horrified that I added carrots but it honestly works and who doesn't need a bit more veg in their lives?
If this wasn't a family dish, I may have added chilli but I know Boo wouldn't be too impressed if it was too hot.
I then allowed the ratatouille to cool and transferred into freezable containers, all ready for when I have a meal dilemma.
It could also be puréed for babies who are weaning.
Why not try it yourself? You'll never go back to tinned.