Don't you just love the great British summer? Scorching one minute, wet and cold the next. It sometimes feels like you can't plan barbecues and get-togethers due to the weather.
Well, now you can. I recently took part in Sizzling Summer campaign with online kitchen, home and garden store, Domu. I was sent a Teppanyaki grill and asked to try it out.
Never again will the weather dictate the food I can make.
If you have never heard of a Teppanyaki grill before, it is a traditional Japanese way of cooking just about anything on a flat grill.
The VonShef Teppanyaki Grill comes in three sizes and fits perfectly down the middle of your dining table so guests can cook their own food to their liking.
It promotes a sociable way of cooking and a perfect alternative to barbecuing when the weather lets you down.
There are so many ways we have been using our grill.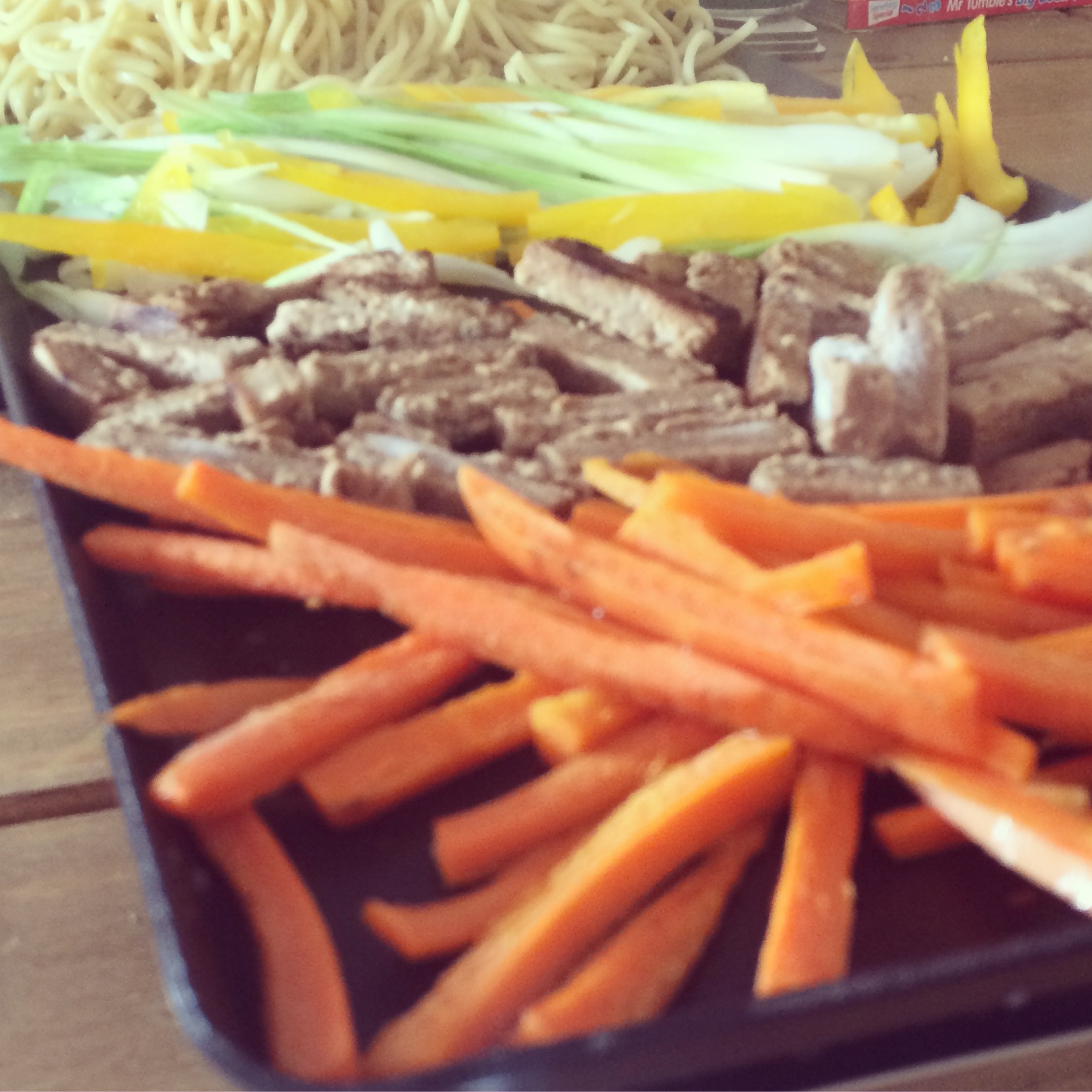 We went for an Asian-inspired steak, noodles and vegetable dish first and each part of the meal was cooked perfectly. The food left on the grill was kept warm and everyone could pick what they liked.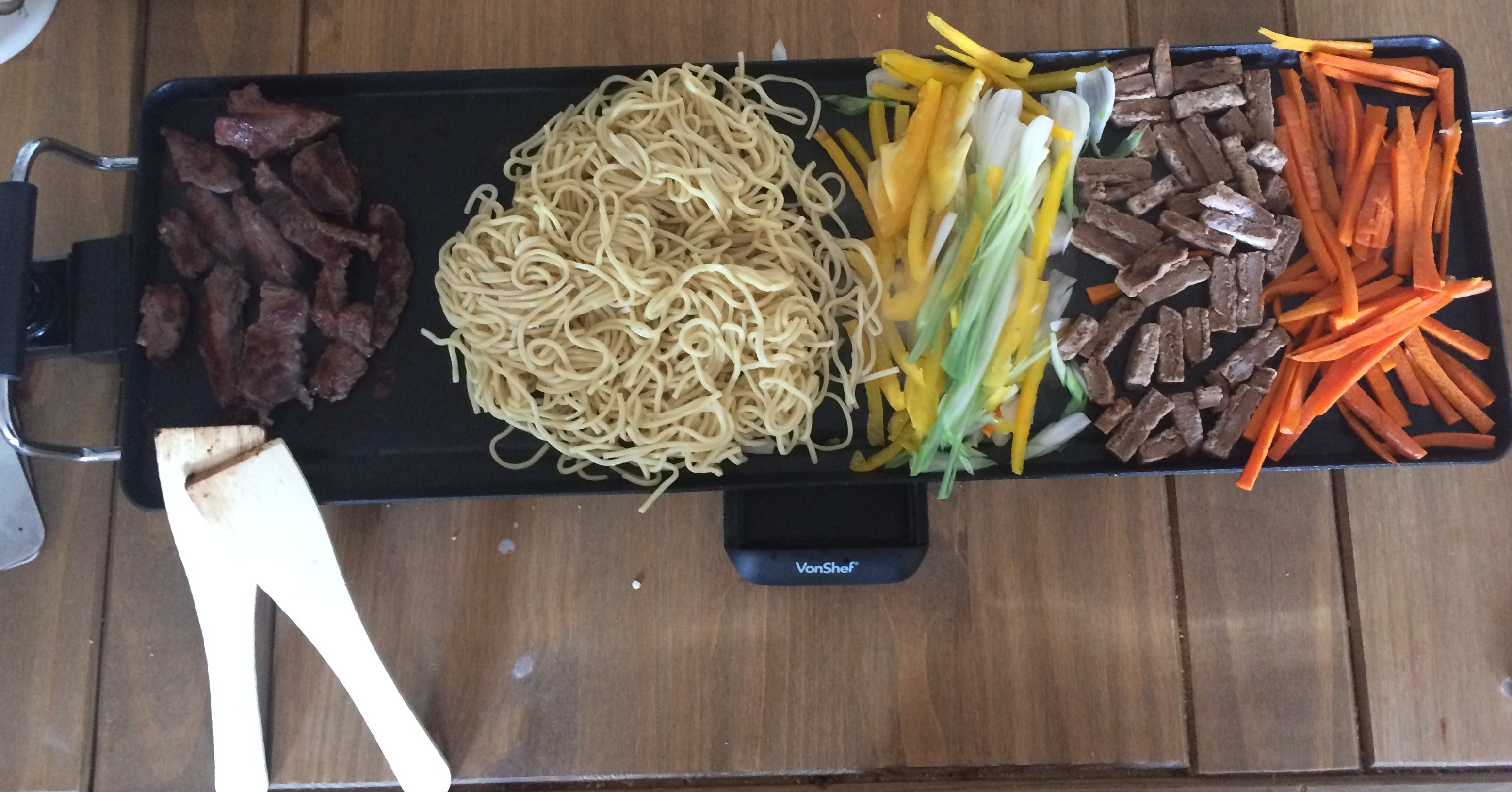 We tried pancakes which were amazing on the grill-and we had them as desert and for breakfast. Indeed for breakfast, we even warmed sliced bananas to go in the pancakes.
You can cook a full English breakfast, complete with eggs, bacon, sausage, tomatoes, mushrooms and fried bread.
You know how sometimes, if you cook eggs in a frying pan, the whites can spread? This didn't happen on the Teppanyaki grill. They stayed really round and kept their shape.
I loved the fact that you didn't end up with piles of washing up. The VonShef Teppanyaki grill is so easy to clean. You just use a mild detergent and wipe with a sponge. For more stuck food, like the steak (which actually wasn't as bad as I had imagined), you just use a circular movement with your sponge.
Another thing I loved about it is that you use very little fat. I tried butter, coconut oil and olive oil on the grill and they all worked beautifully.
The most amazing thing I made with the VonShef sounds really silly but it makes the best toasted sandwich ever.
I buttered the bread on the wrong side, filled with American mustard, sandwich pickle and Edam cheese and grilled until the bread was brown. Imagine with pastrami or German sausage. It would be out of this world. For the kids, toasted chocolate spread and banana sandwiches went down a treat.
It's great if you have a vegetarian visit as you can make a wall with food and cook the vegetables or meat substitute at the opposite end of the meat with no fear of contamination.
The grill comes with a fat tray and a number of wooden spatulas to use when turning the food to ensure your grill doesn't get scratched with metal kitchen utensils.
I am so impressed with the grill. Not only does it save time and energy with washing up, it takes less time to cook and I really felt that the kids got involved in cooking.
While it does get very hot and I would not recommend allowing children to use it unsupervised, even small children seeing food be cooked is a good thing as usually the hob is too high for them so see anything.
I feel like I can barbecue all year round now. I am just putting my thinking cap on to come up with something festive for when the time comes.
My kitchen has gained apparatus which I know will be a firm favourite for years to come. We have used the grill at least once a day since we got it.
Dont take my word for it. Get your own grill on this summer for a sizzling #domusummer.