Did I ever mention how much we love Christmas? When I say we, I mean me but I think Boo might be learning my Christmassy ways.
I'd say it starts early October, my festive fervour and lasts until I cave in and put the decorations up.
Recently, the Christmas Boutique asked bloggers if they would like to review some of their ware.
Erm, yes please.
I had not idea what to expect when the box arrived. Maybe a few baubles and a bit of tinsel?
Nothing, and I mean, nothing prepared me for the sheer festivity that was contained in the box.
I received:
A beautiful orange berry wreath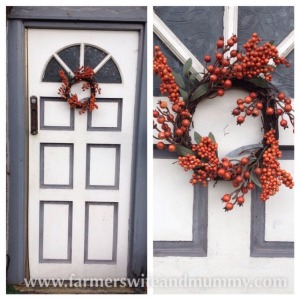 A pair of white and silver glass baubles
A set of three pig baubles which I thought was very thoughtful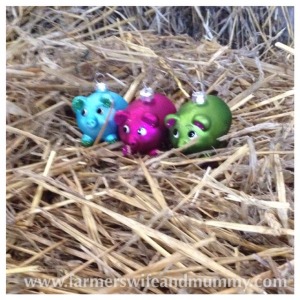 And my favourite, favourite thing, an Advent garland with little pockets that you can put your own treats inside.
Sometimes I think there is too much chocolate around at Christmas for little ones. This way, I can alternate chocolate with other little Christmassy goodies-maybe a new personalised bauble for the Christmas tree or a wind up rudolf. The options are endless.
The website is amazing and has so many gorgeous pieces at very reasonable prices. I was in Christmas heaven picking out what other lovelies I would like for our 2014 Christmas.
Why not take a look yourself and pick something new for your home this year?
*Please note I was sent these items for the purpose of this review but all opinions are my own.
**The door picture is actually my mother-in-law's door as she has a much nicer front door an we do 😉