We all know the cost of food has risen and it seems an endless task of penny pinching and cost-cutting during my weekly food shop to make sure everyone's mouths are filled and their tummy's full.
When BritMums gave me the opportunity to try Morrisons out over the Bank Holiday weekend at the beginning of May, I jumped at the chance.
The supermarket has cut many of its prices and it wanted parent bloggers to go and see what they made of it.  These are not temporary reductions or supermarket smoke and mirrors, these are new everyday low prices on the things you buy every week. And although they said they were cutting prices, Morrisons assured shoppers in a variety of media campaigns that they would not be cutting corners. So off I went to investigate, armed with my usual list and my trusty assistant-the three year old Boo.

We visited the Leigh store on a Saturday morning and my first thoughts were how bright and airy the store was. We had visited a couple of times before but Morrisons is not where I do my usual shop.
Unfortunately the first thing Boo spotted (after the salad bar) were some helium balloons hanging from the check-outs. Cue chants for a 'bawoon', but the manager said she couldn't have one which resulted in this…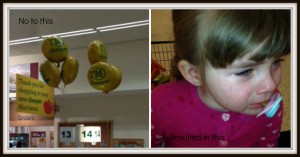 FOR THE REST OF THE SHOPPING TRIP.
I had to ignore the tantrum and carry on. All in all, it was a pleasant experience and my usual shop (with a couple of treats like steak for Hubster and a bit of chocolate) did come out cheaper than expected at £85.46. Rebecca, the lady on checkout was lovely and really helped cheer a miserable Boo up which helped. *Note to self carry a pack of balloons in handbag at all times.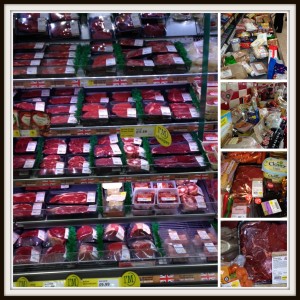 I thought long and hard about what to cook and reflected on what Bank Holidays mean to me.
I do realise than a barbeque is at the top of many people's lists of traditional Bank Holiday fayre but for one, we don't actually own a barbeque and for two, while I enjoy going to other people's barbeques, I hate doing them myself. I can't help thinking they are a lot of preparation and I have to stand there for hours turning burgers and sausages – not my idea of relaxing.
For me, the ultimate family meal is a Sunday dinner. A roast-whether it be chicken, beef, pork or lamb (always British – think of the farmers) with at least two types of vegetable and potatoes. With the fact I am a farmer's wife always in the back of my mind when I do the food shop, I wanted something quintessentially British and for it to be good, homely comfort food.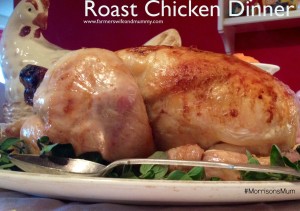 So I went for roast chicken. At £7.54 it wasn't as 'cheap' as other supermarkets for a whole chicken but, on closer inspection, it was at least double the size in weight so it actually worked out cheaper per kilogram. For the meal for two adults and a three-year-old, we only used half of the bird. The other half made sandwiches and evening meal the next day, so it is a really economical choice.
When it comes to meat, I am a great believer in letting it do the talking, as it were, itself. During our first year of living together, I spent hours making rubs and marinades for meat and having Hubster complain that it wasn't quite right. He is of the persuasion that good meat doesn't need anything added to it and, after tears and arguments (with him over my wasted effort), I seriously believe it too. Rubs and marinades have their place with cheaper cuts, but for good quality meat I just cook it and let it be the main event on its own. So that's what I did with the chicken. I have been known to stuff chickens with lemon and garlic in the cavity or smear it with sticky curry paste but this time I let it be: I just spread some butter over the skin, covered it with foil and left it.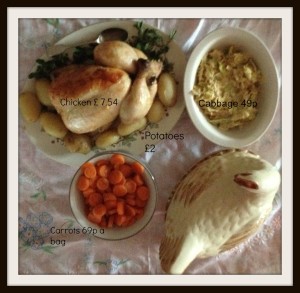 We accompanied it with lovely new potatoes at £2 a bag, carrots at 69p a bag (we used five carrots so that worked out at 29p for our meal. For the cabbage (49p) I sweat it with onion and butter (water is the foe of cabbage) for about 20 minutes and then added about 100ml of double cream and leave it to thicken while I dished everything else up. The cream even makes the cabbage attractive to Boo.
All in all, the meal for three adults (our niece is staying) and a toddler, it cost £1.61 per person. How good is that?
The reason I find roasts so easy is that you can put them in the oven and forget about them. I have the chicken on high for 20 minutes when it first goes in the oven and, in that time, I prepare most of my veg so that half an hour before we want to eat, I just have to cook the veg.
The dinner went down a treat. You could tell the chicken was good quality and not pumped full of water like it can be at some shops. Even the picky Hubster said it was delicious – praise indeed from the man who used to rank my dinners out of ten. Yes really!
For pudding, I made a Great British apple crumble using Bramley apples. This is how I did it: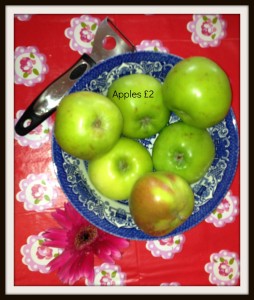 You will need around eight Bramley apples
Three heaped tablespoons of flour
Three heaped tablespoons of porridge oats (if you have a gluten allergy, omit flour and just use oats)
Two heaped tablespoons of butter
A pinch of cinnamon and ginger powder
Two tablespoons of sugar (optional)
Whatever else you like from your store cupboard – dried fruits, nuts, desiccated coconut-the possibilities are endless.
Method.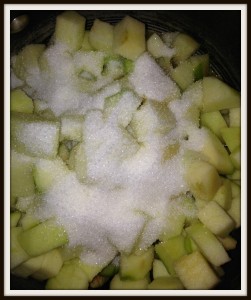 Peel and chop the apples. There are many ways of stewing fruit. Some people do it in the microwave, others in the oven. For rhubarb, I put it on a baking tray and sprinkle it with water and sugar but for fruits like apples and pears, heat half a tablespoon of butter in a pan with one tablespoon of (optional) sugar. Add the apples, reduce the heat and cover for 20 minutes-stirring occasionally.

Meanwhile, tip the flour, porridge oats, ginger, cinnamon and remaining butter into a bowl and rub in. The mixture needs to be fine like bread crumbs but expect it to be crumbly (hence the name!) it will not look like pastry.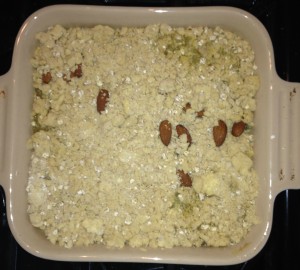 When the apples are soft and mixed together well, put them in a shallow bowl or dish and sprinkle the crumble mixture, evenly, over the top. You can leave it as it is but I like to spread a few nuts or raisins into the mixture-anything you have in your store cupboard really-even chocolate.
On this occasion, I choose whole almonds.
When you take the chicken out of the oven, pop the crumble in for 20-30 minutes depending on whether you have a fan oven at 200 degrees.
Now the custard. You can buy ready made or make it from scratch with eggs and all that malarkey but I went for the custard powder route.
Waist not want not (that is not a spelling mistake by the way) because I used the rest of the double cream-oh yes. Definitely not a diet day. I made the custard as the box said but swapped milk for cream – oops.!

It was gorgeous though, if I do say so myself and, for four of us (and enough for Hubster and my niece the night after) it was 57p per portion.
The food at Morrisons really was excellent. It was all really fresh and good quality. I feel more qualified than most in this declaration as I also bought a rib eye steak for Hubster. Have you ever fed a beef farmer steak? It is a perilous affair fraught with: is it too tough, is it too chewy. The steak was greatly received on the Saturday night so I knew my special Bank Holiday meal on the Monday would be well received.
Why not try Morrisons for yourself and see if it is cheaper?
Disclosure: I was kindly given vouchers to shop at Morrisons for the sole purpose of writing this review. All views are my own.