There's something very spiritual about trees. When they're really big I wonder how old they are and how long they've been standing there. What have they seen, as it were.
We've got loads of beautiful old trees at the farm. There is even one with writing carved into it.
There are fruit tress and oak. sycamore and horse chestnut to name but a few. I'm not expert but some of them look really old.
Boo shares my love of trees. You can see her looking up at them in wonder.
When my father-in-law died, Hubster planted an oak tree in the front field in his memory. How lovely is that? Trees will be here long after us and generations to come may wonder, like me, who planted that tree and how long ago was it?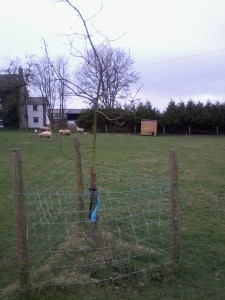 Trees can take many years to grow and to buy them large enough to actually have leaves is a really expensive business.
Asda have some fruit trees in at the moment for £6 so last weekend, we went, as a family and bought one.
At the back of the farm is a lovely pond so we decided to plant our Morello cherry tree near to it with the intention of buying another each time I do the food shop to eventually have a mini orchard.
We took Boo and the dog, Rosie when we planted it and it was a lovely day. Boo wasn't that impressed as at the moment, it does look like a rather large twig, but I hope she will look back on this photo when she is old with children and grandchildren of her own and know that she was there, the day that it was planted.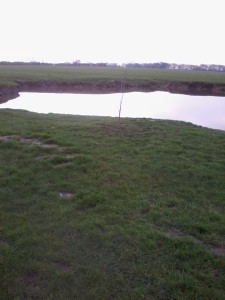 Boo's tree.