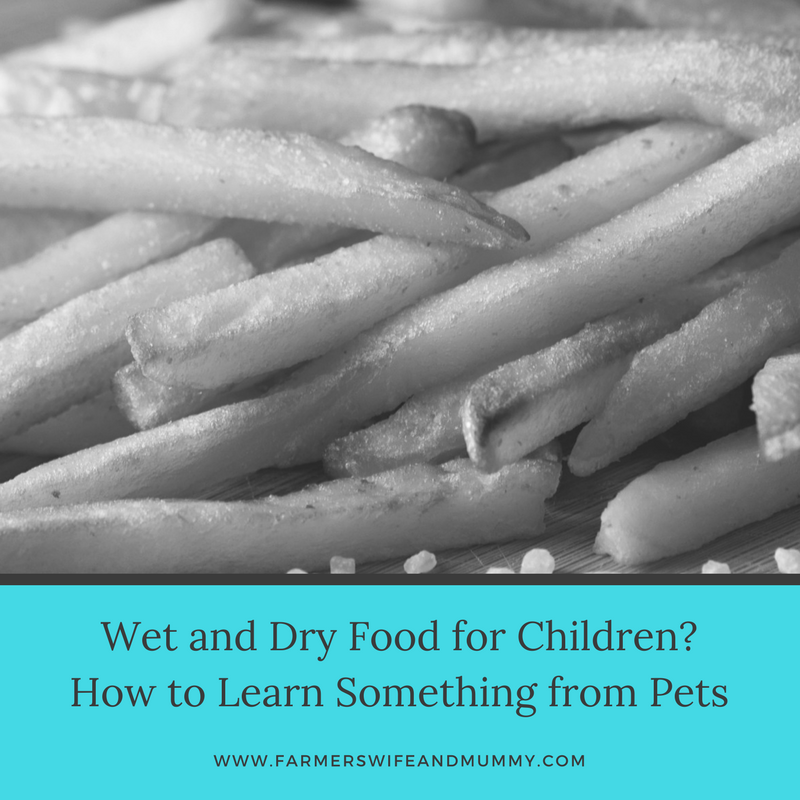 I'm sure you've heard of wet and dry food for pets. Dogs and cats especially.
I wonder of you have heard the same for children?
Maybe you do it yourselves and are unaware you are doing it.
Wet food is basically anything which makes a mess. The type they may eat in an evening, right before bath and bed when a bath is the only place fit for them.
It would possibly be spaghetti bolognaise, anything in tomato sauce, anything in a sauce really. Chocolate cake, jelly, trifle. You get the picture.
Dry food is for the times when you are going somewhere. Going somewhere yet you have to feed them before you go.
Most sandwiches are acceptable forms of dry food-ham, cheese, other meats. Spread or soft cheese is off limits. Toddlers especially like to squidge soft cheese between their chubby little hands.
Most crisps are on the ok list. Cheese ones are not. You know, the toxic orange ones where a cheese residue is left over everything. Not a good look.
Yoghurt is off limits unless your kids still let you spoon feed them. Likewise soups or anything with a sauce. Chips are ok unless ketchup is involved.
Jam is a bit of a grey area. I think you just might get away with a pale flavour such as apricot or marmalade but strawberry, raspberry and blackcurrant especially, are a definite no, no.
We were going to a party recently. Boo was invited, G was not but it was at a soft play centre so I feel it is acceptable for a younger sibling to tag along. I had to give G lunch before we left because it would only be lunch provided for the party attendee.
Hubster joked was I giving him dry food. It's a running joke here. A dry lunch.
The dry lunch was a success though. He ate, fell asleep for the first part of the party, missed the food-envy of seeing his big sister eat party food-whilst still looking clean and presentable. Something which is near impossible for a toddler.
G woke up and proceeded to fling himself off the biggest slide in the soft play centre, got stuck, cried and was rescued by the big brother of one of Boo's classmates because his heavily pregnant mother could not fit down said slide.
Just remember next time you have to feed your children but want to keep them clean for wherever you are going. Stick to the dry food rule and you can't go wrong.