The word of the week this time is: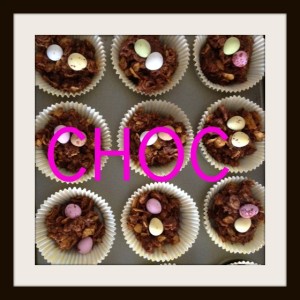 Note it is choc not chocolate.
Boo loves choc what child doesn't I suppose?
With Hubster still busy lambing it has been a hard week with no break for mummy. The hardest thing I find when it is like this is cooking our evening meal. Boo wants entertaining all the time while I am trying to cook.
When Hubster is not busy he usually takes her upstairs to the lounge but as he can't she is with me. Fair enough the little mite is hungry and ready for her dinner but as we all know, toddlers are not the best creatures at waiting.
So as soon as I put a pan on the hob, the choc-chant begins.
"Muuuuuuuuuuuum, choc."
"It's nearly tea-time" is just not good enough for a three-year-old who knows what she wants and she wants it NOW.
It escalated during the preparing of Sunday dinner last week. I had already got off to a bad start by forgetting to take the meat out of the freezer. So pork chops, roast potatoes and veg were on the menu but, with the prolonged choc-chant which, followed by a firm 'no' from me (65 times), a tantrum of epic proportions ensued and…..I managed to burn the whole dinner. Yes, even the roast potatoes.
How this happened I still can't fathom but it did. It was inedible.
So I hot footed into the village. The chippy was shut which left the pizza place.
So, not only did I have to pay for take-away food, I still had the dishes to do from my inedible Sunday dinner.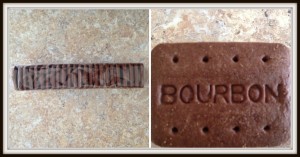 So, from that day, I prepared myself. I bought Bourbon biscuits. They're a chocolatey colour so, when apples got rejected (they lasted two nights) when I was cooking, I brandished the bourbons and, instead of aying "have a biscuit," I said, "hear have this choc".
It's worked so far.
While I agree in terms of mother-failures, a biscuit before tea is not ideal, at least it keeps Little Miss Boo happy and, most importantly, I don't burn the dinner.
It being Easter weekend, I suppose it is appropriate to have choc as my word of the week but, really? I don't know how to move on from what I can only describe as a choc-phase where this is the only thing that will make her happy.