Easter may traditionally involved making a Simnel Cake but, with a choc-mad toddler (and Hubster), in our house, chocolate was the only option.
I went for a chocolate Victoria sponge (all in one method) as I didn't have much time. Many recipes tell you to mix cocoa powder with a bit of warm water before adding it to the cake mixture but I find this makes your cake with too little chocolate and comes out a pale brown colour-not chocolately at all.
So here is what you will need:
8oz Self-raising flour
8oz caster sugar
8 oz butter or butter equivalent  Stork etc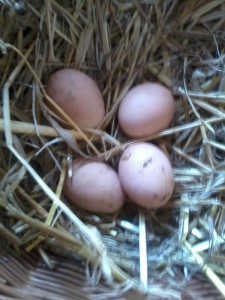 4 large eggs
50g of cocoa powder
1 tsp baking powder
To decorate
6oz butter
12oz icing sugar
4 oz cocoa powder
Drop of milk
Chocolate eggs
Preheat oven to 180 degrees. Grease and line two 8-inch sandwich tins. I use frylight now and don't bother lining but you can.
This is the easy bit. Put all the ingredients in a bowl and whisk, starting slowly and then increasing the speed until it is all combined.
Divide the mixture between the two trays and bake in oven for 15 minutes. After 15 minutes, swap the cakes around so they cook evenly and bake for another 10 minutes. For fan assisted ovens, reduce the heat and do keep checking as every oven is different.
Allow to cool in the tin for 10 minutes and then turn out.
While it is cooling, put the butter, icing sugar and cocoa powder in the bowl and whisk them together until smooth. If it is dry, I add a drop of milk.
As it was Easter, I piped a bit of yellow icing around the cake and added mini chocolate eggs but you could pipe chocolate coloured icing around it and add a decoration of your choice. Buttons work well or Maltesers.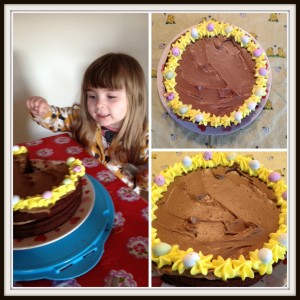 Enjoy. Cake never lasts long in our house.
This bake of the week is part of a link up with other bloggers at Casa Costello. Last week I made a Nutty Banoffee Fairtrade cake.