Horses have a very special place in our hearts. While I don't ride myself (although it is on my 40 before 40 list), I would love for my children to and what better opportunity is there than living on a farm with a livery yard.
My eldest is a bit frightened of them but George, the middle one is an absolute natural. He first sat on a horse when he was about 15 months old and he has loved them ever since.
He has no fear and is a total natural. Recently, he went on his own pony and, when the girls held the lead and him on the horse, he told them he wanted to go faster.
The real horses outside then infiltrate into the house. We have a toy box for farm toys and the horses used to live in there.
We have had to get a special tub just for horses and equine equipment, such is the love of these beasts.
I am ashamed to say that when we were offered some Breyer horses to play with, we had never had any before.
I am not beating myself up about it. I am also new to these kinds of toys.
When they arrived though, I gasped. They are breathtakingly beautiful.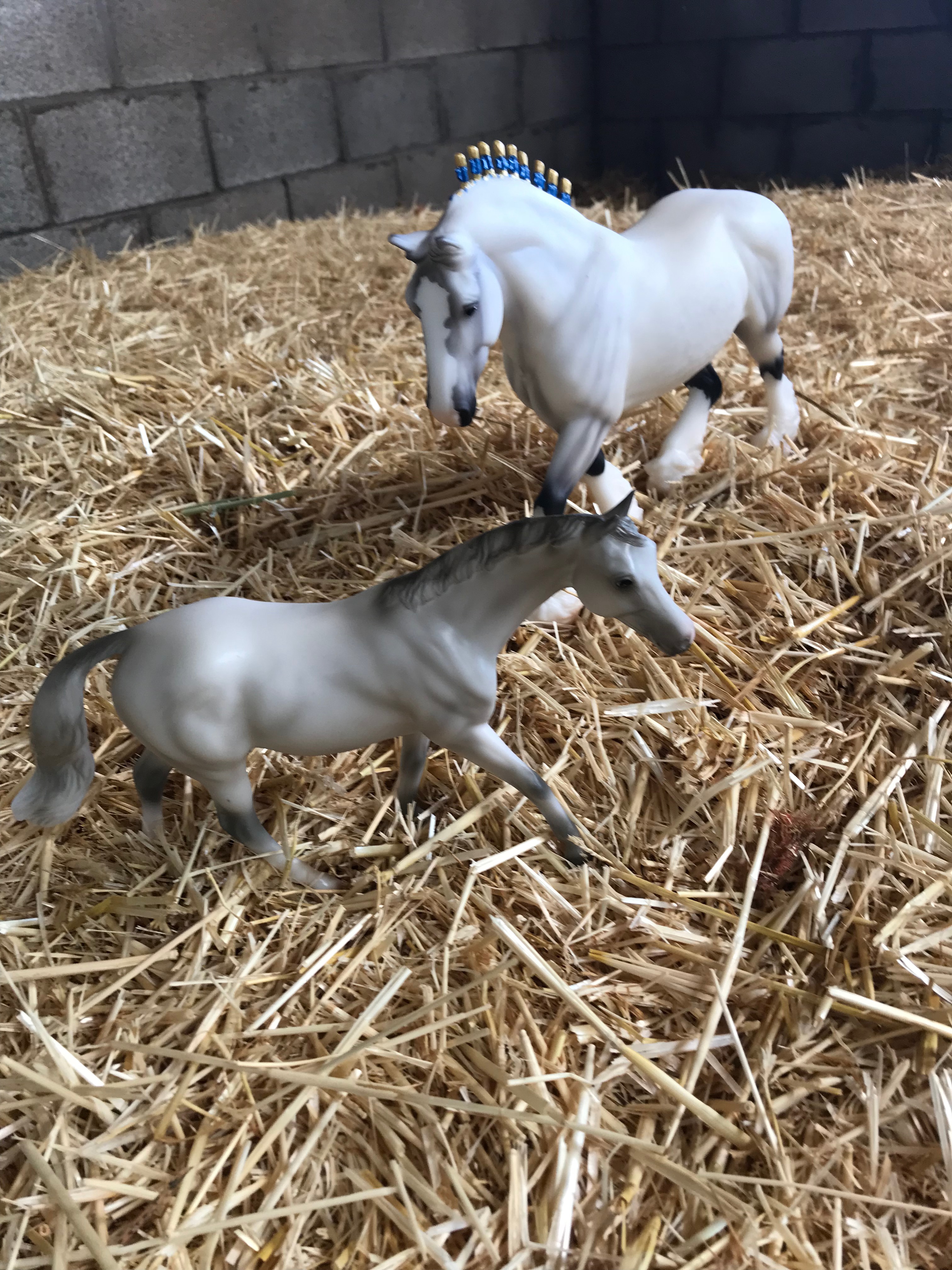 Each model horse is handcrafted by a team of up to 20 equine artists, meaning that each model is entirely unique and special to the collector. Ranging from large traditional size models to miniature stablemates, there is a Breyer horse for everyone. Breyer also offer several play accessories and arts and crafts products.
Were sent a Frances de Silla, a Best of British shire, an English play set and Colourful Breeds Paint Kit.
I photographed them around the farm while our little jockey was at nursery because I knew as soon as he saw them, he would fall in love and I wouldn't get the chance again.
I was right.
Cleverly, he took the horses straight to the sand pit. What better place to play with your new horse toys than your own little menage.
I made lunch while he got acquainted with his new friends but it was no good. He was too bust "at the tables, mummy" to eat it.
The detail on the large horses is amazing. The Shire has flights in it's mane and even feathers on its feet which is my favourite part.
The English play set is just lovely and really sparked George's imagination. With a set of jumps, a trophy, tack box, feeding trough, bucket, hay and straw, fencing, a horse with a jockey and one with a rug, it is so realistic and hours of fun for any horse fans.
All of the toy horses were named after the real horses we have here and we feel like we have been initiated into a new world.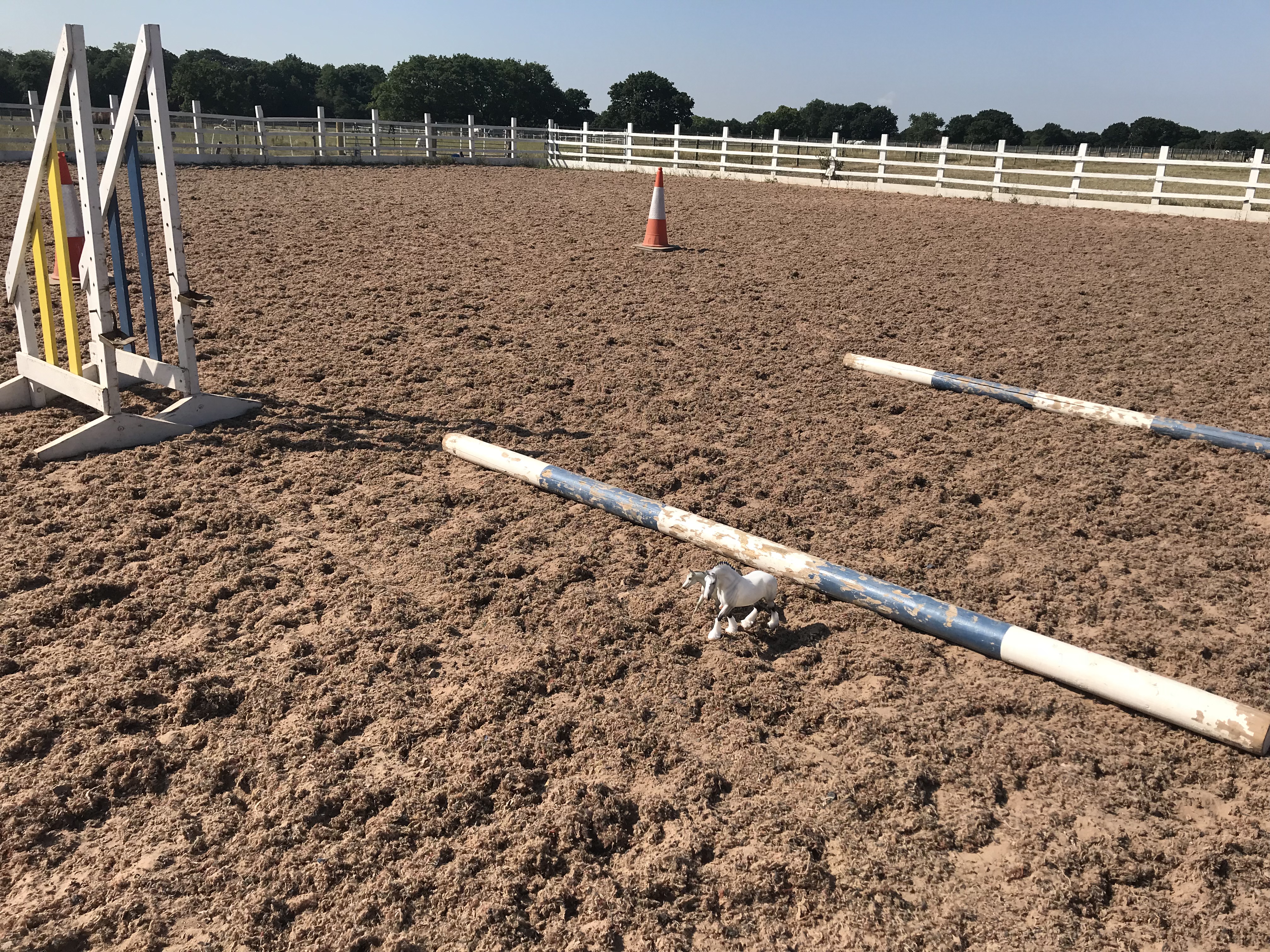 The Breyer website is not just a shop. It has a horsepedia and a community too and I think we are going to go back again and again. At least when people ask what George would like for Christmas or his birthday, I will not struggle for ideas any more.
Generations of American children have grown up with Breyer and it is now much sought after in the UK. I can see why. We can't wait to carry on our Breyer adventure.
* As I write this post we are currently entering into the long, school, summer holidays so I did what any savvy mother would do-I put the Colourful Breeds Paint Kit for another day. Keep an eye on my social media for how we got on with it.

**We were sent the toys for the purpose of this review but we genuinely loved them and all opinions are our own.