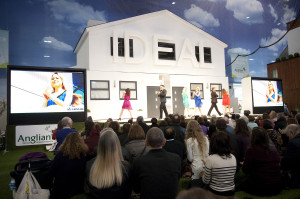 I've always wanted to go to the Ideal Home Show. It is held annually in London but, with a small child and a busy farmer, I've never been able to get there.
So imagine my excitement when I found out it is coming to Manchester.
To celebrate the show's 106th birthday, the organisers found out what us northerners already know-Manchester is the place to be and, with an amazing exhibition hall like Event City, they are upping sticks and coming to town from the 6th to the 8th of June,2014.
Not only will there be eight sections packed full of exhibitors, state-of-the-art products and expert advice, you'll be spoilt for choice, celebrities will be there.

The one and only masterchef Gregg Wallace will be there along with Melinda Messenger and Money Saving expert, Martin Lewis. Then there are the three others that I really want to see.
The flamboyant Laurence Llewelyn–‐Bowen who I once saw at a local garden centre and never really got over the fact that he didn't sign my bauble (it was Christmas. Hubster was not impressed). Also appearing will be the home improvements man who any red-blooded female would like to fix her coving and cornicing, George Clarke and last but not least, the lovely Diarmuid Gavin who, quite frankly, I would love to speak to about my horrendous gardening escapades.
If, like me, you will need fanning down after that line up, the sheer things on offer might just tip you over the edge.
Here is what you can expect:
Ideal Interiors
No house is complete without the finishing touches that make it a home and, within Ideal Interiors, you will find top brands and beautiful products to add those final details. Whatever your taste, you will find plenty of choice for every area of your home, from clever storage, and impressive furniture to innovative design and decorating solutions. Plus, see our Ideal Interiors Ambassador Laurence Llewelyn-Bowen, for top tips on how best to keep rooms of your house current with the latest trends.
Home Improvements
DIY fanatics should look no further than the Ideal Home Improvements section. Whatever your project plans, discover the best way to tackle DIY dilemmas head on with the help of TV architect George Clarke, who's heading the section.With top brands, expert advice and thousands of products and finishes to choose from, the Ideal Home Improvements section will provide you with everything you need for the job.
Ideal Gardens
With spring on its way, the Ideal Gardens section is the perfect place to find everything you need to get your garden up to scratch. If you're planning a new patio, looking for the perfect furniture set, or want to turn your garden into that extra outdoor room to relax in and enjoy, then you'll find it here. Everyone from budding gardeners to seasoned pros will find plenty of ideas whatever the size of the garden, from window boxes to large open spaces. Also, make sure you don't miss our celebrity gardener Diarmuid Gavin, who will be offering his top tips.
Ideal Technology
We all love great gadgets that save us time and make life that little bit easier, so we have selected the latest gadgets and technology for your home and brought them to the Ideal Home Show. Whether you are gadget savvy or just a beginner, we have something for everyone in Ideal Technology, from entertainment, gaming and household goods to energy-saving items that make your home eco-friendly.
Ideal Shopping
Inside Ideal Shopping, visitors can find a treasure trove of beautiful home accessories, stunning gifts, exciting toys and innovative new technology. Here you'll find a dazzling array of must-have items, perfect for styling your home or as gifts for friends and family that you simply won't find on the high street.
Ideal Food & Housewares sponsored by Regina
For the real foodies out there, Ideal Food & Housewares, sponsored by Regina, is the one-stop-shop for artisan produce, handy cooking gadgets and expert advice from top chefs. The hall will bring together a tempting array of delicious foods to try from all corners of the globe and the combined Food & Drink Theatre sponsored by Regina will provide top tips and delicious demos, where the chefs be cooking up dishes inspired by the Ideal Home Show Seasonal Cook Book. Plus Section Ambassador Gregg Wallace will be at the show.
Ideal Woman
Ideal Woman, is the perfect place to take time out from a busy shopping schedule to be pampered. Relax and indulge in a glass of bubbly at the Champagne Bar, browse the latest products and pick up hints and tips on this seasons fashion trends. Plus or Ideal Woman, Melinda Messenger will be giving demonstrations on updating your home.
In the heart of Ideal Woman why not take a short break and enjoy a glass of Champagne in a tranquil contemporary setting. The Champagne bar is the perfect place to relax and indulge after a long days shopping.
The Super Theatre
The Ideal Super Theatre will be the centrepiece of the 2014 Ideal Home Show.
Representing each section of the show, the theatre will host talks and demonstrations from the nation's most loved home experts. With everything from gardening advice to renovation and planning tips the theatre will be the ultimate place to pick up the tips and tricks to improve your home.
Plus, interior styling advice, technology know-how and even some of the nation's best chefs giving some culinary tips for your dinner parties at home.
The 2014 Ideal Super Theatre will have everything you need for the ultimate inspiration to create your own Ideal Home.
Erm…. do you need telling twice? The date is in my diary and on my calendar (I have a history of forgetfulness).
Best of all though, I've got two pairs of tickets to give away for the Friday show.
What are you waiting for? Enter in the Rafflecopter below.
If you're not lucky enough to win but would like to find out more about the Ideal Home Show in Manchester and book tickets, click here.