Jump to recipe
It seems stuffed tomatoes have become a bit passé. They maybe out of fashion but I was on the look out for a healthy side dish which would suit the whole family and I really think these fit the bill.
They contain 1 Weight Watchers point in each tomato or you can have all four tomatoes with the cheese as your Healthy Extras if you are doing Slimming World. Obviously, if you leave the cheese out, they would be free for both options.
Stuffed Tomatoes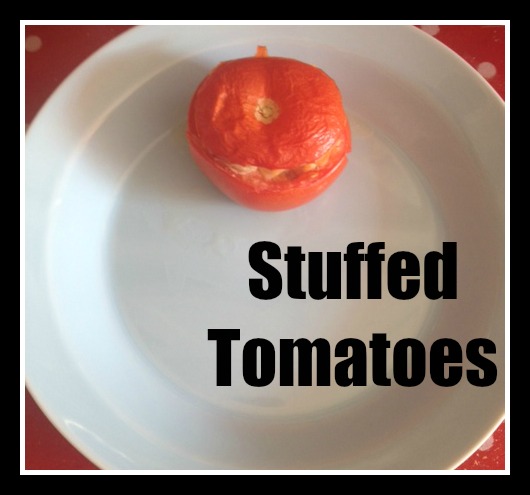 Ingredients
Four tomatoes (beef or other large variety)
1 Carrot
4 mushrooms
1 onion
2-3 cloves of garlic
2 cheese cubes (I used Boursin)
Oil Spray (or oil if you are not watching your weight).
Instructions
Cook the carrot, onion and garlic in the oil spray with the lid on so they are cooked but not brown for around ten minutes.
Cut the tops off the tomatoes and keep them set aside.
Scoop flesh out of tomato (I used this in an accompanying salad)
Add chopped mushrooms to pan with cheese and stir until cheese is melted.
Take off heat and add spoon-fulls of the mixture to the tomatoes until they are full.
Place tops back on and bake in the oven for 15 minutes on 200 degrees.
© 2023 Copyright of www.farmerswifeandmummy.com