Christmas – it's the most wonderful time of the year. Decorating the house for the festive season is one of my favourite activities in the lead up to Christmas… Think fairy lights, colourfully-decorated trees, nativity displays and sparkle, lots of sparkle.
In this post, I'm going to share a few of the tips I've picked up along the years for stylish and sophisticated outdoor decorations that will be certain to get the entire family (and any passers-by) in the festive spirit.
Our Favourite Outdoor Decorations
Living on a farm, there's plenty of outdoor space for us to decorate with pretty festive lights and we love how striking they look in the dark winter evenings. String lights and icicle lights are always a good investment because they can be used year in, year out, they look beautiful and they will never go out of style.
If you want something that's a bit different but still timeless, take a look at the gorgeous selection of festive lighting by Cox & Cox. Their light-up deer silhouettes are eye-catching and unique, and very in-keeping with the theme for our farmhouse. They also have a lovely selection of garlands adorned with snowflakes and pinecones and their lit copper stars would look stunning both indoors and out.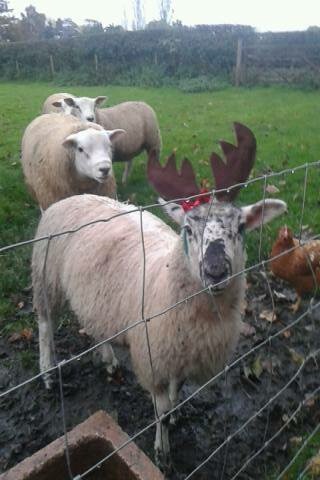 Some Top Tips
If it's your first time putting up Christmas lights outdoors, there are a few things that can make decorating as stress-free as possible. Here are some tips I can pass on for tackling your outdoor festive lighting:
These are a lifesaver when you're decorating outdoors as you can tailor the length of your lights to suit your needs. As the name suggests, connectable lights are usually string lights that connect to each other, so you don't have to mess around with finding multiple power sources outside and replacing batteries when one goes flat.
Don't take risks with the weather and make sure you invest in waterproof connection boxes for any of your outdoor connections. They protect your electrics outdoors and they're not only for Christmas – they can be used all year round if you're green-fingered.
Hanging lights can be a complex operation, so make sure you're prepared with all the right equipment. Use a sturdy ladder to hang any lights at height and ask someone to keep hold of it so that it stays steady when you're up there. Here's a helpful guide on the best fuss-free way to install your Christmas lights safely and all the equipment you'll need.
Make your home look beautifully inviting this Christmas by decking out your house and garden with a gorgeous festive glow. Once you've invested in some beautiful outdoor lighting for your home, I guarantee you'll never look back.