Film star Kate Hudson was recently papped with her son, who was wearing a pair of Inch Blue shoes.
It seemed only right that my little VIPs should also get in on the action and thankfully, this week, they have.
The lovely, thoughtful people at Inch Blue sent Boo and Beb a pair of farm-inspired shoes to try out. How thoughtful is that?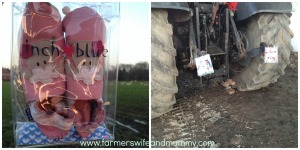 Boo was first up to try them. She loves slippers and wanted them on, now (like everything, NOW!)
They are a lovely shade of pink and the leather is incredibly soft which is perfect for growing feet. The attention to detail is amazing. The sheep even has a bit of grass in It's mouth which Boo was keen to point out.
Obviously, as for any diva-four year old, the test of anything is whether they like it so, I will leave you with these photos.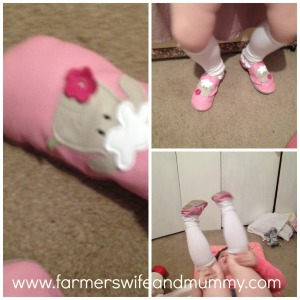 I think we can all rest assured that she does.
In fact, she liked the Inch Blue shoes so much, she wanted to sleep in them. While I did try to wrestle them off her, the beauty of them is that they are so soft, she probably could have.
Beb was up next and, thankfully, being such a young baby, he has no say in what he wears (cue evil laugh from mummy).
I can dress him up in the most adorable outfits which will see him cringe when he is older-only joking.
The Inch Blue tractor shoes will not make him cringe though, they are adorable.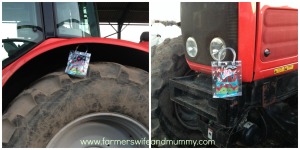 I am not usually a fan of shoes on babies. I prefer them to just wear socks or nothing at all because I worry about the soft little bones being squashed in hard, tight, shoes.
The soft leather of Inch Blue shoes means you have no need to worry. As long as you get the right size, there is no danger of any squashing.
The great thing about them is they stay on. Beb is such a wriggler that socks are just a nightmare.  Not every outfit comes with feet in the bottom so little trousers need something to keep his little feet warm.
The Inch Blue shoes look super cute. Not only do they help keep socks on but they can be put over sleep suits too to make small toes all toasty.
I think you will agree he looks very happy in his little shoes.
I am so impressed with Inch Blue shoes. You can tell they are made with love and the designs available are just lovely.
Each pair is hand made in Wales and come in at just £19.
Unlike some children's shoe manufacturers they are available in fresh funky colours to suit any taste.
What are you waiting for? If it's good enough for film stars, it's good enough for my babies.
*I was sent the beautiful Inch Blue shoes for the purpose of this review but all opinions are my own.