Weaning is still definitely on the cards with Baby G but the bottles I bought when he was a newborn (which hold eight ounces) do not fill enough liquid in them for his growing tummy so I had a dilemma.
Would I have to make two five ounce bottles? Just think of how many times I would be sterilising and how time consuming it would be.
I then Googled 11 ounce bottles and there are not many around at all.
As usual in these situations though, MAM came to the rescue and they have a whole range of 11 ounce bottles in a choice of colours and designs.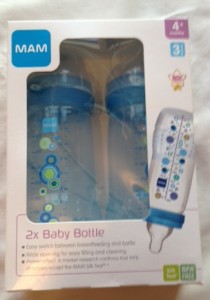 As we are over the threat of colic-stage, I didn't need anti colic bottles so I just opted for regular baby bottles. They came in a two-pack and contained:
Two bottles
Two fast flow teats
Two lids
More importantly to me, they hold and impressive 11 ounces of milk and, at a push, I seriously think they could take 12 ounces.
Baby G really likes the silk teat which is exclusive to MAM. While we all know breast feeding is best for babies, the silicone teat on the MAM bottles makes it easy to switch between bottle and breast for anyone who would like to do both.
The MAM bottles are competitively priced at £11 for two but I have seen them on offer in Boots for £10.
I really don't know what I would have done if I hadn't found these bottles. Baby G likes them, I don't have to sterilise 367 times a day and they look super stylish when out and about.
My greedy boy has a bottle big enough and we are all happy.
Thank you MAM.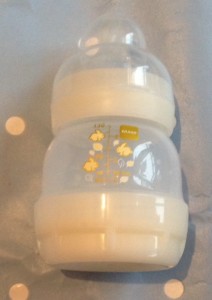 For babies with smaller appetites, MAM also do a self-sterilising bottle. We tried this in the beginning and, to make things clear for me, the MAM bottles held Baby G's breast milk. In my humble opinion, they are the greatest invention ever.
If you are short of space and don't want to fork out for a steriliser, you don't need to with these beauties.
You just fill the base with water, put the teat on the base, the bottle over the top of that and then the cap and put it in the microwave for three minutes.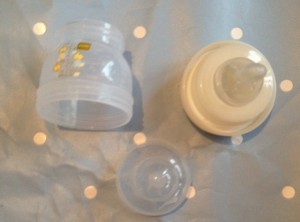 To sterilise more than one bottle, you just stack them.
The other thing that really appeals to me about the MAM bottles is that they are the only brand I have ever seen to have a measure on the cap too. I think that's really useful.
For bottles that are pleasing on the eye, have innovative design and cater for babies of all ages and appetites, MAM really do get my vote.
Just for you, I am giving away a four ounce self-sterilising bottle as a prize. It is cream so neutral for a girl or a boy and, to win it, just fill out the Rafflecopter below.
*We were sent the MAM bottles for the purpose of this review but all opinions are my own and, I found the bottles so good that I went and bought two more myself.
**Just so you know too, we've used Dr Brown's bottles too and both MAM and Dr Brown teats can be used in either bottle. I didn't know this at the beginning but it is true.