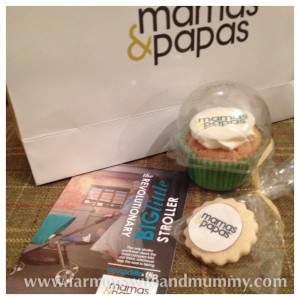 I don't hide the fact that I've got a bit of a thing about prams. On more than one occasion I have remarked on the prams of passers-by and forgot to coo over the baby-oops.
I just love them.
I didn't really research much about prams when I was pregnant with Boo as really, I had no idea.
I didn't check if it fitted onto the boot of my car (it didn't, I had to get a new car).
I didn't check the weight-it was like a tank and I didn't even try pushing it. I just went for my favourite design.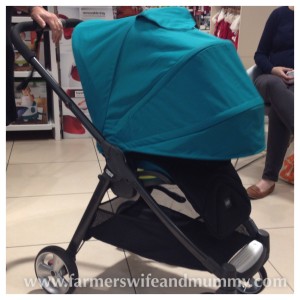 So when I was invited to Mamas and Papas at the Trafford Centre so that they could show a group of bloggers their brand new Armadillo Flip, I was flippin' made up (sorry couldn't resist that one).
I had already seen the Armadillo at the Baby and Toddler show and was very excited about that.
The Armadillo Flip takes the versatility of the Armadillo up a notch as, along with extra features, it is part of a travel system so you can attach a car seat and carry cot to the chassis making it a great choice for new parents.
One of the first thing I look at in a pram or stroller is the mechanism to put the seat down. I cannot stand the ties that some pushchairs have rather than a handle.
Not only are they a nightmare to put down but it is not a smooth recline for the passenger meaning that if your baby or child is dropping off to sleep, the chances are with a toggle handle, they are going to wake up when the back rest they are leaning on shoots backwards.
Thankfully, all the Armadillos have a proper handle so any adjustment in the recline will happen smoothly.
On first impressions, the Armadillo Flip looks sleek and stylish. The very knowledgeable Mamas and Papas demonstrator had one pram already up with the carry cot attached and one in the folded position.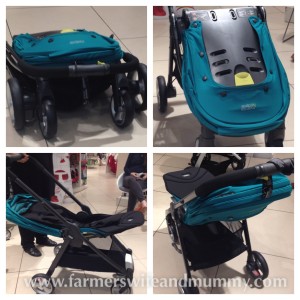 Honestly, it is so small when folded, even people with the smallest car would fit this beauty in the boot. It would fit down the side of a sofa or neatly near the door when being stored and literally, with a couple of flips (hence its name) it was in position ready for a baby-even with one hand.
The seat in pushchair mode lies completely flat so is suitable from birth. There is a parent-facing or forward-facing mode depending on which you prefer.
The Armadillo Flip prides itself on being the largest lying area for baby and honestly, it is very long. Even if you have a tall toddler, they would comfortably be able to lie flat in the pram without having their legs trailing on the floor.
Likewise, the hood can be pulled right over which is perfect for rain and bad weather in winter and scorching sun on the summer-although it does come with a rain cover too for particularly heavy downpours.
Usually, with traditional prams, when you lie baby flat, the sun can still get to them both the dangerous UV rays and the bright light which would not be great for sleeping. Not with the Armadillo Flip. It looked so cosy in there that I wouldn't have minded getting in there myself and the fabric is UPF 50+ which is great peace of mind for parent.
Colour-wise, you can choose from teal, coral, black and sand. If I knew the sex of our baby (and it was a girl) I would so go for the coral as it is just stunning but I think I am going to wait and see what we have.
Luckily, the other three colours would go with either sex so there is a great choice.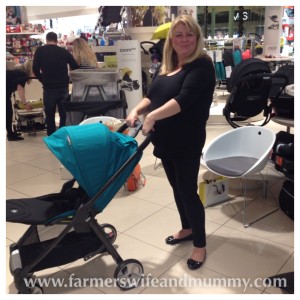 When I got my first pram, people rolled their eyes at me for choosing Mamas and Papas as I think, many people think they are expensive.
This is usually when they have never even set foot in the shop itself. Honestly, Mamas and Papas are as competitive price-wise as any other baby shop and the quality is second to none.
Not only do you get a two year guarantee with all of their prams, strollers and travel systems, but they are so sturdy. So much so that my first pram is still good enough for the new baby. I just want a new one.
The only downside, for me, about the new Armadillo Flip is that my old car seat-the Primo Viaggio will not fit on the new chassis. It is four years old though-practically antique in pram terms and, I do have a big boot so I can always take the chassis of my old pram around with me, should I wish to take baby straight in the car seat.
I had an amazing time playing with Mamas and Papas prams.
If you are on the market for a new pram or travel system, I cannot recommend them enough. Why not pop into a store and see for yourself or visit www.mamasandpapas.com.
*I was invited along to Mamas and Papas for the purpose of this review but I was not paid for my time and all opinion, including my genuine love of the brand, is my own.