Maternity clothes. You either love them or you hate them.
Most of mine are from my pregnancy with Boo and are mostly made of black jersey.
I was pregnant at more or less exactly the same season with Boo as with this baby so that has come in handy.
This is my comfy outfit. Leggings and a top.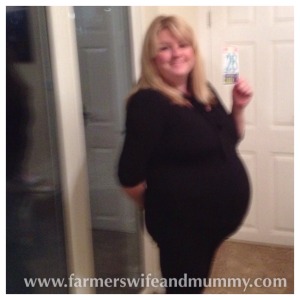 I wouldn't usually wear a top so tight if I wasn't pregnant but my theory is, if you can't show off your belly when there's a baby growing inside, when can you?
I am a great fan of the swing dress most of the time but thankfully, due to their nature, i have been wearing them all the way through.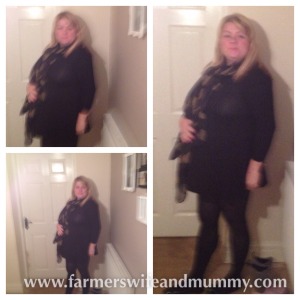 I will admit, this one is a bit short at the front because of my bump but I do feel nice in it. My friend's friend has a clothing business and the dress was on offer with the lovely scarf for £20. I had planned to keep it for when I had the baby but I haven't. Love it.
Tights have been the bane of my life this pregnancy. I couldn't seem to find any that would stay up. I had one pair from being pregnant with Boo and they are still fantastic. But, I can't for the life of me remember where they were from.
The best I've found are from H&M. They are reasonably priced at around £7 for two pairs. They really do stay up and cup right up over the bump-just how I like them.
My ultimate find this pregnancy however has got to be this-the cape.
I seemed to be hot all the time with Boo. I feel a normal temperature this time and seem to have been cold more.
I didn't want to have to buy a maternity coat as I thought it was a waste of money for something I would wear for 3 months at the most.
My mum got me a black cape from Marks and Spencer which is lovely.
The only problem is, it doesn't have a hood. Anyone with young kids will tell you that it is virtually impossible to hold an umbrella while putting young children into the car and, because my hooded coat wouldn't do up over my belly, I was in a bit of a pickle.
Thankfully, when Boo and I went to Liverpool a few weeks back, I had a sneaky shop in St John's centre, just across the road from Lime Street station.
I found an amazing cape, WITH a hood I an array of lovely colours. I liked the end, but thought I'd look like mother Christmas. The cream was also lovely but cream, farms and children do not mix so I opted for grey.
I love the Cape. It swishes when I walk and is so nice that I will wear it long after the baby is born. Loads of people have commented on it too.
If I manage to breast feed for longer this time, it will make a great cover up too and, when the hood is up, I feel like an ice queen.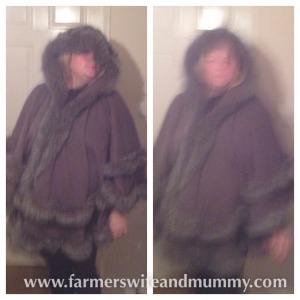 What were your maternity essentials?
*please excuse some of the poor quality photos. Hubster needs to get to grips with my iPhone.