It's that time of year again. The Baby and Toddler show is coming to Event City in Manchester on March 6-8 and the new venue, Sandown on April 17-19.
The show attracts some of the biggest names in the baby and toddler industry, who will be showcasing their latest products at great prices and even offering you the opportunity to try them for yourself.
There will also be a selection of experts who will be speaking at expert advice workshops over the three days and they will be available to answer any questions you may have.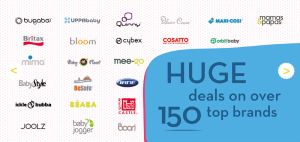 Supported by Emma's Diary, in partnership with Nurofen for Children is the only place you will find unbeatable deals on so many top brands.
I have been a frequent visitor to the Manchester show for a number of years now and I enjoyed my first time as a pregnant woman in September.
Despite still being under my caesarean driving ban, I am hoping to visit the Manchester show as a new mother for the first time with baby Beb.
You can enjoy a 30 per cent discount by entering the following codes at the check out:
Manchester: NBT17
Sandown: SBT15
I also have a pair of tickets to give away for the show of your choice. Please enter via the rafflecopter below but hurry, the competition closes this Monday, March 2nd so you will be in time should you wish to visit the Manchester show.
* I was given a pair of complimentary tickets for writing this post.