We were recently sent a copy of The Lego Movie to review.
What greater excuse to curl up on the sofa with the family and relax do you need?
Featuring the voices of: Chris Pratt, Will Ferrell, Elizabeth Banks, Morgan Freeman, Will Arnett, Jonah Hill, Cobie Smulders, Will Forte, Charlie Day and Liam Neeson, it really is an all-star cast, you just have to play ay guessing who is who.
Construction worker Emmet (voice of Chris Pratt) blindly follows the herd in his boring home town of Bricksburg. He buys expensive coffee, laughs on cue at a mindless, sitcom called Where Are My Pants? and loves the same upbeat pop tune as everybody else- Everything Is Awesome (this could well be my life except, at the moment, I'm on de-caff).
Two closely related events are set to rock Emmet's world. One is him acquiring a legendary building called the Piece of Resistance. The other is meeting with a tough but attractive underground activist Wyldstyle (voice of Elizabeth Banks), who he falls in love with.
Based on his possession of the Piece of Resistance, for which she herself has been searching, Wyldstyle is convinced that Emmet is a prophesied hero called The Special. His destiny, accordingly, is to lead a crusade against President Business, the local despot. Unbeknown to the public, behind the scenes this evil would-be tyrant prefers the title Lord Business, and he has a scheme afoot to control the world, and purge it of all originality, using a secret weapon.
Though convinced that a mistake has been made, his total lack of the qualifications even has Wyldstyle herself expressing doubts about him, Emmet somewhat reluctantly agrees to do his best.
Joining Emmet and Wyldstyle in their struggle to topple the aspiring dictator is a team of fighters that includes Wyldstyle's self-centered boyfriend, Batman (voice of Will Arnett), and Vitruvius (voice of Morgan Freeman), the pixilated mystic who predicted the arrival of The Special in the first place.
Opposing them is Lord Business' principal minion, Bad Cop-Good Cop (voice of Liam Neeson). As his name might suggest, this police officer is both comically schizophrenic and genuinely torn between the positive and negative poles of his own personality.
Colourful and fast-paced, The Lego Movie sails along toward a format-shifting conclusion that adds another asset to the rich mix: a touching sequence promoting family bonds over selfishness. Despite my love of Lego when I was young, I had reservations about how much I would enjoy the film.
My reservations were totally unfounded.
Three-year-old Boo sat through a great part of the movie which I was quite impressed with and, I think proves how good it was.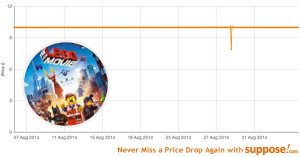 The Lego Movie is available to buy now and, if you buy it through Suppose, you can guarantee to get it at the best price around.
*Please note I was sent a copy of the Lego Movie for free for the purpose of this review but all opinions and prolific popcorn eating are my own.