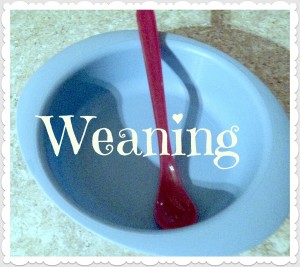 Weaning. It's a controversial topic. Do you follow the 'official' guidelines and give your baby milk and milk alone for the first six months?
Do you start with a spoon or try baby-led weaning?
The answer is simple.
Every baby is different and, as a mother I would advise you to do what you think is right for each child.
I weaned Boo at 17 weeks. She was draining eight ounce bottles and really thrived off food.
I was careful what I gave her-avoiding gluten and starting small.
Baby G is 17 weeks this week and, having had a few weeks of sleeping through, he has started to wake for a feed in the night again so I am thinking about it.
I am aware it may be a growth spurt so I am not rushing into anything but I want to be prepared.
I didn't know what baby-led weaning was when I had Boo but, looking back, I sat on the fence and did a bit of BLW and a bit of spoon feeding.
Her first tastes were baby rice mixed with her usual milk and then I moved on to pureed vegetables, fruit and yoghurt.
I offered other foods on her high chair tray for her to pick up and try herself and I fully intend to do the same for baby G.
Boo is not a fussy eater and has no allergies (apart from her aversion to baths) so I don't see why I should treat Baby G any differently.
I also, selfishly, love watching spoons going in the mouths of little ones. I just think it is the cutest thing ever and I could still sit and watch Boo eat every day, although she does tell me off now for staring at her when she eats.
I still have a lot of the tiny food containers from Boo's weaning and someone gave me some bowls so I will sterilise and use them.
The only thing I have bought is some weaning spoons and a high chair.
Baby G has been sitting in his high chair while we eat for a few weeks now. I say sitting, to enable him to be there during meal times, I bought the Chicco Magic Polly high chair because it lies flat.
If you are on your first child and are thinking of buying an heirloom high chair to use for all of your children, heed this.
Weaning is a messy business-which ever version you try and I wouldn't have let our dog eat from Boo's high chair it was so disgusting.
I tried to bleach it, machine wash it and Milton it but no amount of spraying and soaking got the stains off so I was actually glad I hadn't paid an enormous amount for it. I think Boo's high chair was about £70 four years ago and was also a Chicco.
Baby G's was on offer for £99 at Kiddicare and, so far, I am really pleased with it. At least he isn't on the floor whilst we are eating our meals in his rocker or cooped up in his pram.
I am a firm believer in getting the whole family together at meal times so baby G is learning by example.
With Boo, I remember getting a free spoon from Petit Filous which was the best spoon we ever had. I don't know what happened to it but we haven't come across them yet.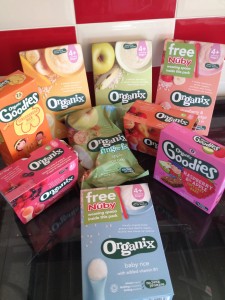 Organix sent us a lovely hamper with baby rice and baby cereals and two of the packets had free Nuby weaning spoons with them and they actually look similar to the beloved spoon so I plan to give Baby G a spoon to play with, just like I did with his big sister.
Whether it be next week or next month, I know I am ready for our weaning adventure and I am really looking forward to it.