If you've got older children, this week will most probably be the start of the Easter school holidays. I hope you've got lots of nice plans..
Boo's nursery is next to a Catholic school so they don't break up until Thursday so I am planning some cleaning and sleep while I have the chance before it is two weeks of non-stop 'muuuummmy.'
I am so glad I will be able to drive this holiday though as the last half term, I had just had Beb so was under my caesarean section driving ban. I am so pleased.
This is Beb's first Easter and one of my lovely friends knitted him the cutest bunny rabbit suit which he has been wearing on outings all week and will be wearing to celebrate Spring for the foreseeable future.

He needs to thank his lucky stars. Boo didn't fare quite as well in the Easter dress-up stakes.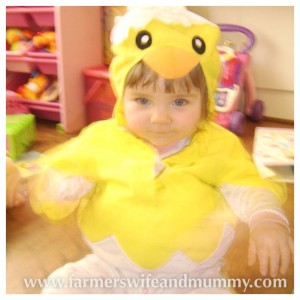 That reminds me, I will have to have a look for that chick out fit (evil mummy laugh).
Caroline hosted last week's #MaternityMondays and these are her favourites:
"So here are my fave posts from last week – 25 linkers last week, wahoo! J getting busy!
I so enjoy reading all of the lovely pregnancy updates and loved to see some new pregnancy bloggers linking up last week as some of our pregnant mummas are now welcoming their gorgeous babas to the world! Last week we read about Loving life with Little Ones' new arrival, as they welcomed their gorgeous little man to their family – super speedily I might add!
Another Bun shared the continuation of her Natural Caesarean story and it really was lovely to read how all went so well to plan. It just goes to show that if you can't have a natural labour, for whatever reason, that it does not mean that the birth cannot be a positive experience. She was also really brave and shared her postpartum body, and I think she looks fabulous.
I also really enjoyed Run Jump Scrap's top tips for eating out with a toddler! It is all too easy to stay home for fear of the mess and stress, but it does us good to get out and enjoy the experience – it is possible.~
Now it's over to you. Grab our badge and get linking.
As always, spread the linky love by commenting on as many posts as you can and don't forget to tweet us your links so we can spread the love.