Ive always wanted to try decoupage but I just hadn't been inspired about what to do it on and what to do it with.
Until now.
As with many second children, Baby G's bedroom is smaller than his big sister's but I still wanted him to have a book case.
So I found this one, locally on eBay for £4.99 and I had a bit of a lightening moment.
Whether he likes it or not, Baby G will eventually have a farming/tractor themed bedroom so the book case needs to tie in.
I didn't want to have to go out and buy loads of paper especially to cover the piece of furniture so I looked around the house.
Hubster is a bit of a hoarder when it comes to farming papers and, when his 'corner' in the living room starts to be visible from the side of the sofa, I clear it out.
What better paper to use in our mini-farmer's room?
I cut out loads of big pictures of tractors, cows and sheep. The classified advertising pages were very handy because they have so many pictures of machinery on them.
I bought a tub of PVA glue for £3.99 from my local hardware shop and got gluing during morning nap time.
I then let it dry and, realistically, I only got more time after bedtime but that was the perfect time for drying.
I then used a £3.59 can of clear varnish and began to brush that on. It left a really shiny finish.
There wasn't much varnish left and I think it should have had a second coat so I just went over the edges of the shelves and the top which I think will get the most traffic.
It now has pride of place in Baby G's nursery and is holding a couple of farm books, his little collection of tractors, his flat cap and a farm-set of clothes in the next size.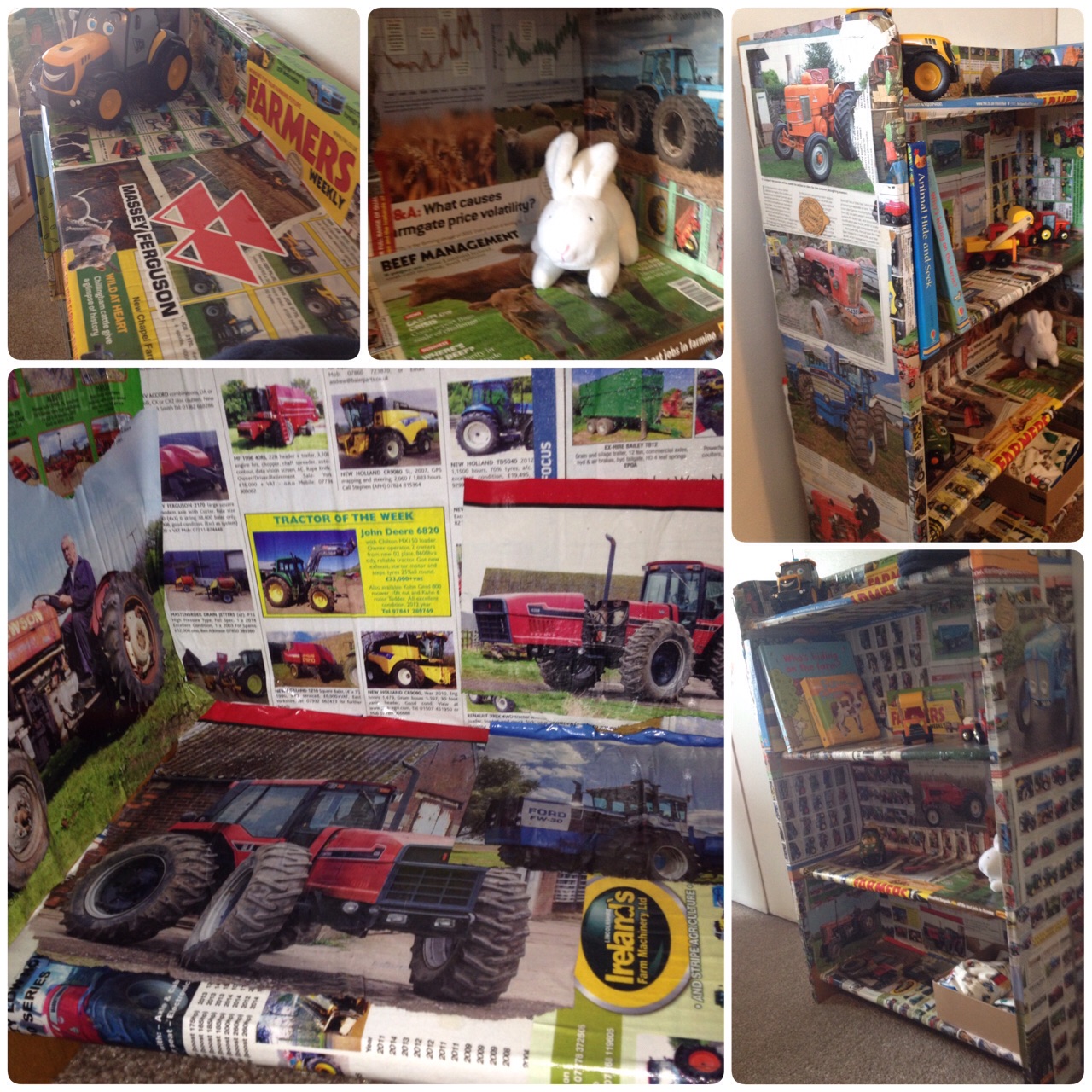 I absolutely love it and to think G has a unique piece of furniture in his room which cost £12.57 (I am not counting the price of the papers and magazines because Hubster bought them and they were just lying around).
I am furiously looking around for other things to decoupage now, I think I've got the decoupage bug.