A few weeks ago, I wrote a post about preparing Boo's room to be decorated.
Well it's taken me this long to paint it, add all the finishing touches and then photograph it all.
I am very pleased with is on the whole. The cutting-in at the top could be better but at least I did it myself and tried.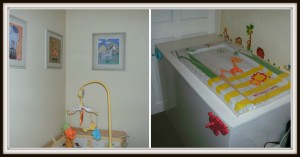 When I was pregnant with Boo, we didn't find out the sex so we painted the nursery yellow and it it had a jungle theme with accessories from Mothercare.
When we moved to the farm, I obviously went into pink overload with a 'woodland' theme and, because of the size of the window and he fact that there's a massive old tree outside it, her room was very dark.
So when I decided to redecorate and the only option was white to brighten things up. I wanted to keep the woodland theme as I still love the curtains and bedding but new paint heralded a new look too.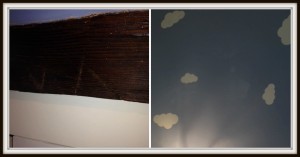 The ceiling was already blue with clouds and I decided to keep that because both Boo and I like it. I added glow-in the dark stars to the clouds as Boo is obsessed with the moon.
We had wardrobes built into the eaves in the bedrooms (they're right at the top of the house) and we hadn't got round to painting them so the first thing I did was do the first coat of eggshell paint. I used a brush which, in hindsight was a mistake. I should have used a roller and, even after two coats, some of the brush strokes are still visible but who cares about total perfection right? *sobs a bit to self.
I saw some beautiful door knobs in DotCom Gift Shop for £3.95 each which, had there been two doors, I would have snapped up but, for six doors, I really couldn't justify the money so I decided to paint them myself.

I did them two-tone pink and white and then, using woodland stickers from Paperchase, I stuck them on and left them for 24 hours. I really should have used a clear varnish on them to seal them but we didn't have any so, instead of having to buy a massive tin for six tiny handles-I used a glittery nail varnish-I even impressed myself with that one.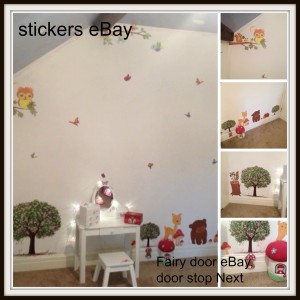 Next up was a bit of decoration. I searched high and low for woodland stickers. There are loads of options out there but I bought a set off eBay for £12.99 and they were really easy to go on.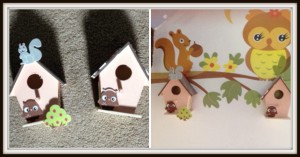 Then I bought some plain wooden bird houses from Baker Ross and painted them with some tester pots we had lying around. I then knocked little nails into the branch stickers so it looked like they were hanging from the tree.
I bought two owl hooks, again from eBay for the back of her door so I can hang her dressing gown and towel up.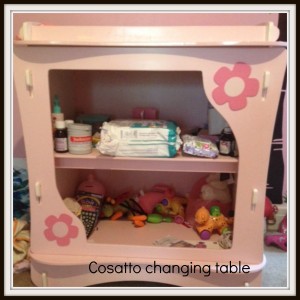 Boo was three earlier this year and all credit to Cosatto, our changing table has been amazing. Despite a massive warning sticker on the top 'not suitable for children over 12 months,' two years after that deadline, we were still using it because, especially after a bath, it was so convenient.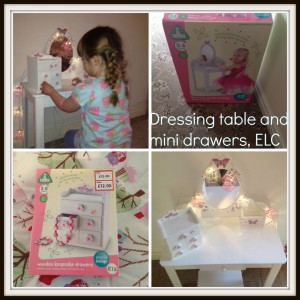 A new room meant a new era however and I bought a beautiful dressing table from ELC and even picked up a matching jewellery box from there in the sale for her diamonds and hair bobbles.
I think the dressing table was Boo's favourite part and it has been easier blow drying her hair while she sat on the stool.
I will confess though, when she's had a bath, I do sneak her into the spare room on the changing table-oops.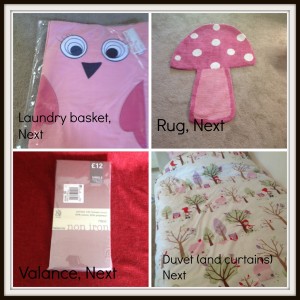 I bought a rug when we moved in with the bedding and curtains in a woodland theme. They were last year so I'm not sure if you can still buy them. In their last sale, I found the owl laundry basket and I treated her to a dusky pink valance from Next because the green one I had been using was from my nursery so it is over 30 years old (ssshhh, pracically an antique in bedding terms).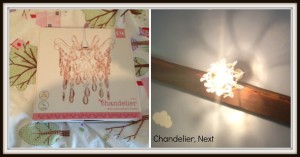 The woodland lampshade I had originally bought when we moved made the room darker still so, I bought a chandelier-style one, again from Next which I think looks lovely.
All in all, I love Boo's new room and, more importantly, so does she.
I will admit, it only takes one flick of the paint brush to look around the rest of the house and see what else I can do. Unfortunately, the walls in our lounge are too high for me to do myself and, with the cupboard doors in our bedroom still unpainted. I think it is there I will move on to.
What do you think?