The nursery has been work in progress for a long time. I was pregnant when we moved to the farm In 2012 and the room had no carpet and was used as somewhere to dry washing and dump things that I couldn't find anywhere else for. I lost the baby and the room continued as a junk space.
When I got pregnant again in early 2013 I got the room carpeted but left it at that until we were in the all clear.
Unfortunately I miscarried again at 11 weeks so the room continued as a laundry room albeit a comfier one with the carpet.
Understandingly, I have been quite reluctant to do anything this time but, after the 20 week scan, I decided we must do something.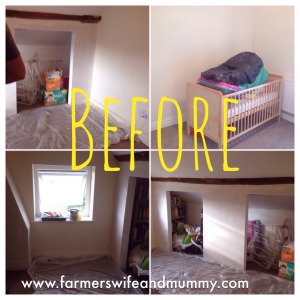 The walls were painted magnolia and I wanted them white and I wanted the white ceiling painted blue to look like the sky as it is in Boo's bedroom.
Hubster came up trumps and the painting was done in two days.
In each of our bedrooms there are just three walls as we are in the eaves of the farmhouse and the wall where the ceilings slope has built in storage.
The nursey wardrobes however had no doors on so a friend of Hubster's made them, put up a shelf and the curtain rail.
I have even bought curtains and bedding which I felt quite brave about. The curtains and cot mobile were in the Next sale. In hindsight I should have waited and bought all matching but they are neutral and the mobile has farm animals on it which I thought was very apt.
They are a strange-but-nice grey-beige colour and I have struggled to find other accessories to match.
Asda came up tops as I got a cot bundle and lampshade from them and, while it is not a perfect match, I am pretty pleased with it.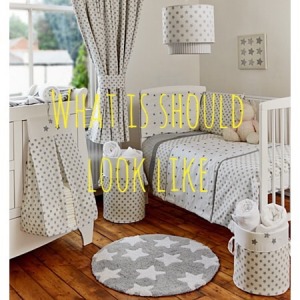 It is grey-White with lovely little stars which I think will work for a boy or a girl.
I refuse to get the cot ready yet as baby will be in a crib or Moses basket for six months but, for the purpose of allowing myself a little play and showing you, here it is.
The shelf in Boo's room is in the same place and holds her Disney princess dolls. I'm sure the new baby will fill his or her shelf with whatever thing they like but, for the moment, I am keeping a couple of toys I picked up from Mamas and Papas to match the decor and the steriliser which will obviously live in the kitchen when the time goes.
So there is our nursery. We just need our baby now.