It has been so hot this week so really, there was only one thing for it-the paddling pool had to come out.
I say come out, I had to buy a new one.
Last year we had a brilliant plastic one which, after Hubster 'tidied' away the outdoor toys in Autumn, mysteriously disappeared, feared burnt on the fire.
He won't admit it but that is what happened to it.
So guess what, I have searched high and low for a replacement but have so far failed and had to buy an inflatable one.
However the pump escaped me. I just couldn't find it.
Fear not my dear friends, I had a plan. I bundled Boo into the car, drove to the petrol station, proudly pulled out the pool, inserted 50p into the tyre pressure machine and tried to attach the nozzle to the pool.
I really tried.
Turns out the air only comes out when said nozzle is attached to a tyre.
Epic fail.
I sheepishly dragged the pool back into the car and drove home deflated.
I tried blowing it up with my mouth but it was hopeless. Then I magically found the pump but it wasn't an expensive one and even that wasn't working so I nearly gave up.
Thankfully, one of the workmen at the farm came to our aid and blew it up with an industrial sized pump.
Then came the next hurdle-water.
The hose pipe was nowhere to be found.
Hubster is haymaking so no chance of asking for help so I lugged ten buckets of water to the pool and it barely covered the bottom but I was done and Boo was itching to get playing.

I didn't even wait for Boo to have a go, I gave her a bucket and spade and some bath toys and my feet went in.
Oh it was lovely.
Water play is magical for children. They love splashing and filling and pouring.
She really did have a great time and even daddy made an appearance to have a cool after hours spent on the tractor.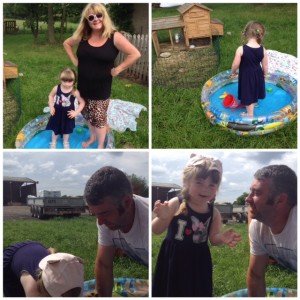 The only problem is that, living on a farm, we have the inevitable pool visitors.
We couldn't have the pool in our little enclosed area as for some reason Rosie, our Jack Russell, makes it her life's work to burst anything inflatable.
We moved onto the lawn and were near to the rabbits and Clover seemed very interested in the splashing.
It was the feathered friends however who caused the biggest nuisance.

It was all good fun though and even the chickens seemed to enjoy getting splashed.
Long my this weather last.