I recently saw a delicious looking soup in a sandwich shop.
Christmas soup.
I was really excited about it but imagined it would have turkey in it. It didn't, it had ham so I still couldn't have it (remember the vegetarian farmer's wife).
So I decided I wasn't about to miss out and made it myself.
So I got together some seasonal vegetables:
2 parsnips
1 onion
2 leeks
3 carrots
4 potatos
2 cloves of garlic
a handful of sprouts
I chopped them all up. It was a mega chopping exercise. I had really wanted fresh sage to make it extra Christmassy but my Sainsbury's local didn't have any in. They did have these mixed dried herbs though which I duly bought and they really did the job.
I put everything in a pan with some stock and water, and brought it to the boil.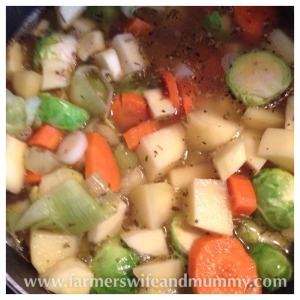 Then comes the million dollar question-to blend or not to blend.
I am so fickle at the moment, I decided to blend half of it.
I had it for lunch with a bit of bread and it was lovely. In hindsight, I wished I had used a food processor to chop the veg smaller and then not blended it, but that's just me.
It is a lovely warming soup for cold days and, the beauty of it is you can add whatever you think makes it Chrstmassy to you-red cabbage, chestnuts, turkey, anything goes.
For hubster, I added some cooked ham hock and he really enjoyed it with a dash of double cream.
So there's my Christmas Soup.