If you were a recovering alcoholic, the last place you would accept an invite for would be a pub, right? So when I was asked to go to the Spring Summer 2016 Preview at Cosatto HQ in Bolton recently, I had to say no.
Only joking.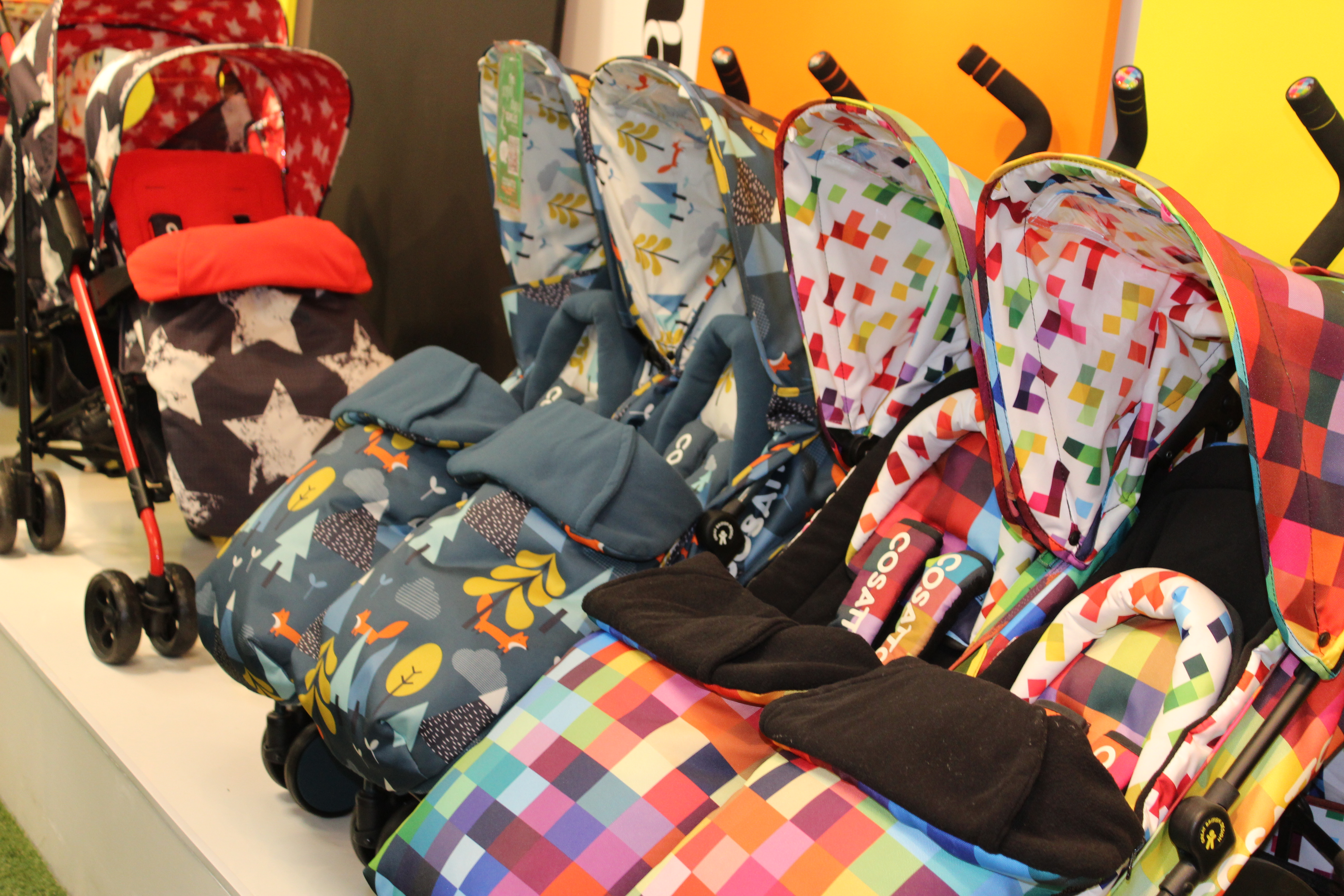 As if I would say no to an afternoon of satisfying my pram-aholic needs.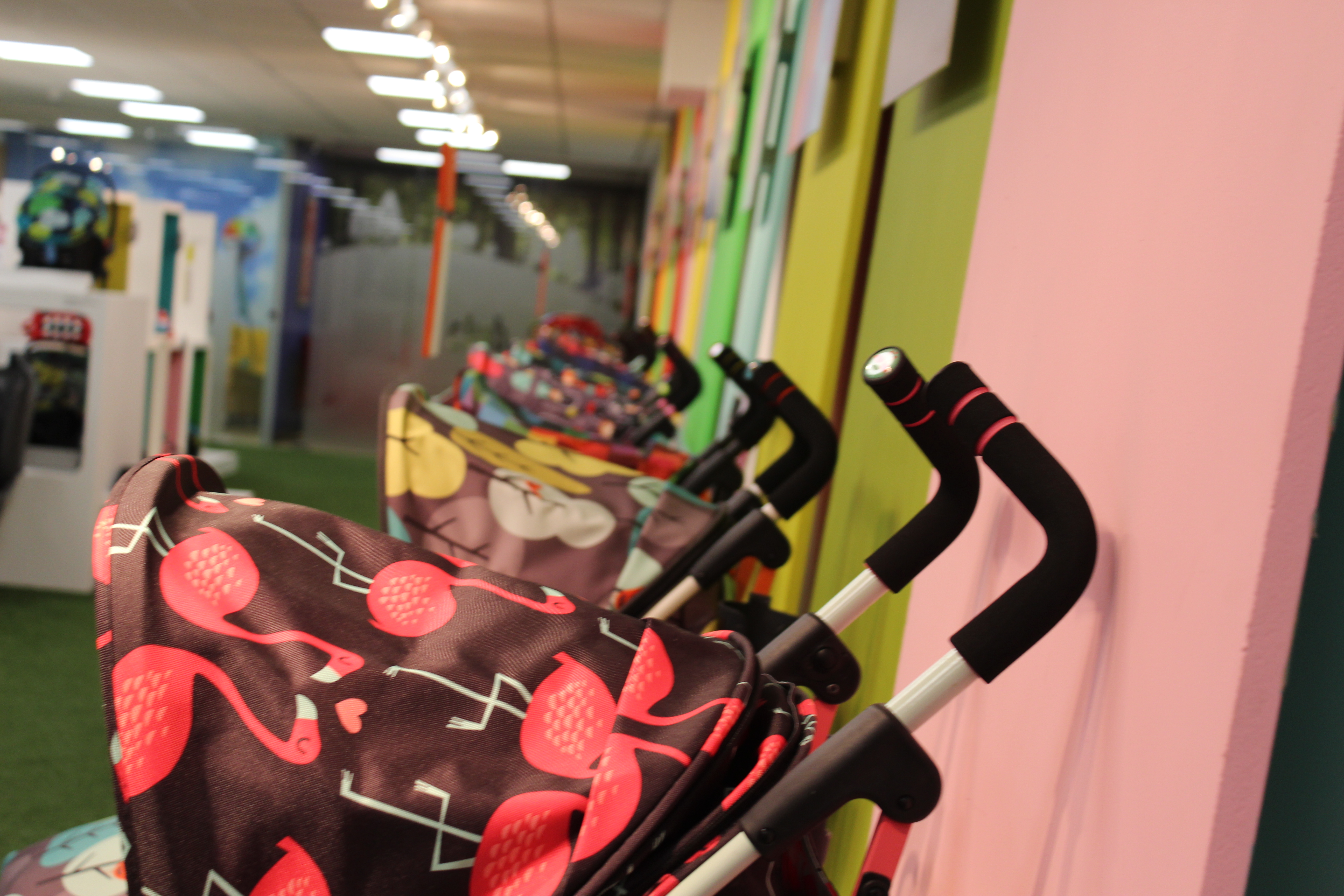 Baby G and I skipped along to what can only be described as a veritable treat for any pram lover like me.
I thought I saw a look of 'oh no not more prams, mummy' sweep over G's little face but, when he saw what was on offer, even he perked up.
There are new prints and designs to look forward to as well as new shapes for some of their best-loved prams, car seats and travel systems as well as things that are so new and top secret, I am not even allowed to share them with you yet. How exciting is that?
So what can you expect from next season's Cosatto?
Well as you'd expect from the people who's catchphrase is 'Baby stuff with personality,' lots more well, personality.
If you're after a black, boring pram, you're in the wrong place.
The Woop has had a make over and now comes in the apple-icious Apple Seed.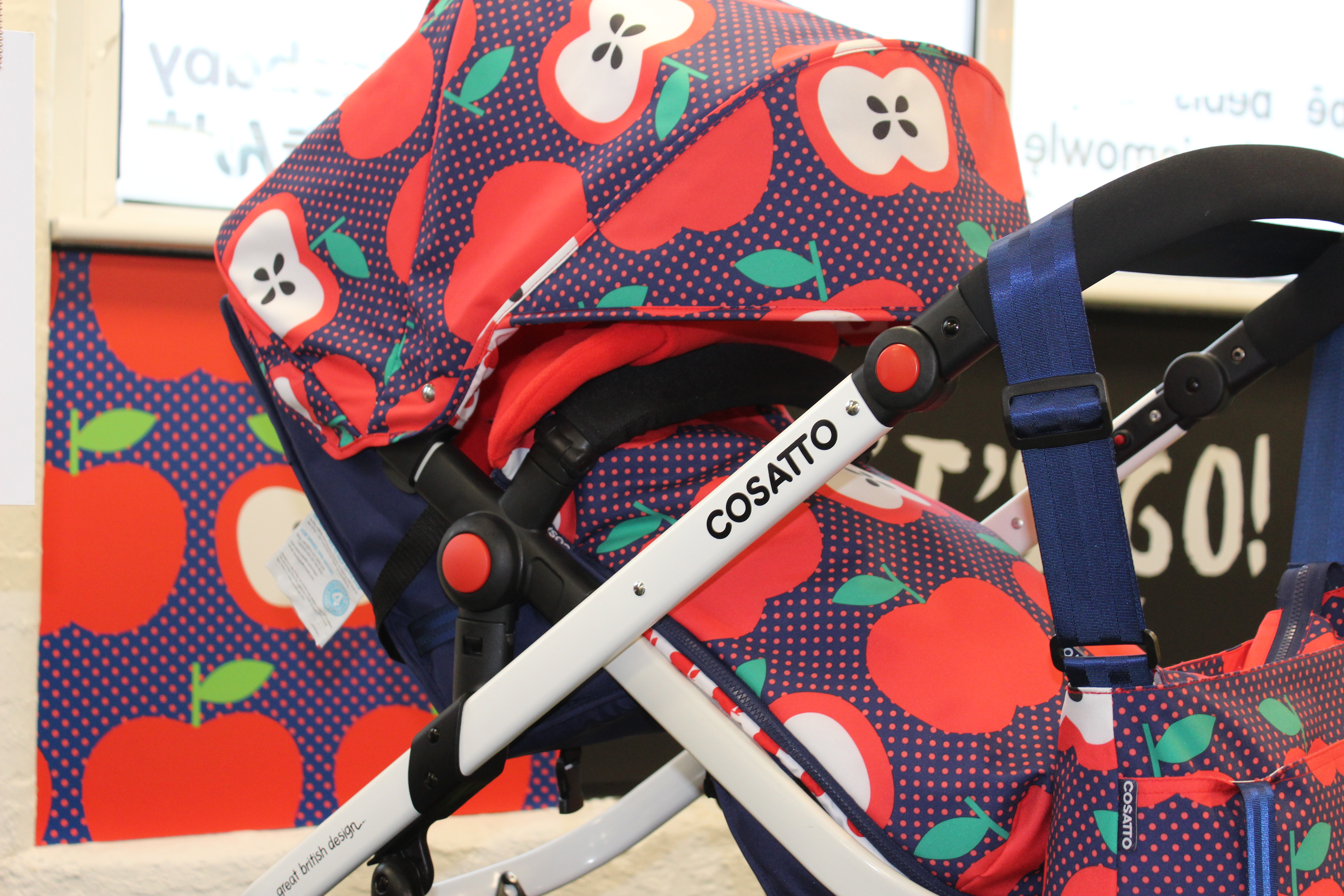 The Giggle has had a revamp completely and is now known as the Giggle 2 with a psychedelic Go Brightly and me personal favourite, Go Lightly which is as gorgeous as before but with added pink and is also available in the ever-popular Yo2.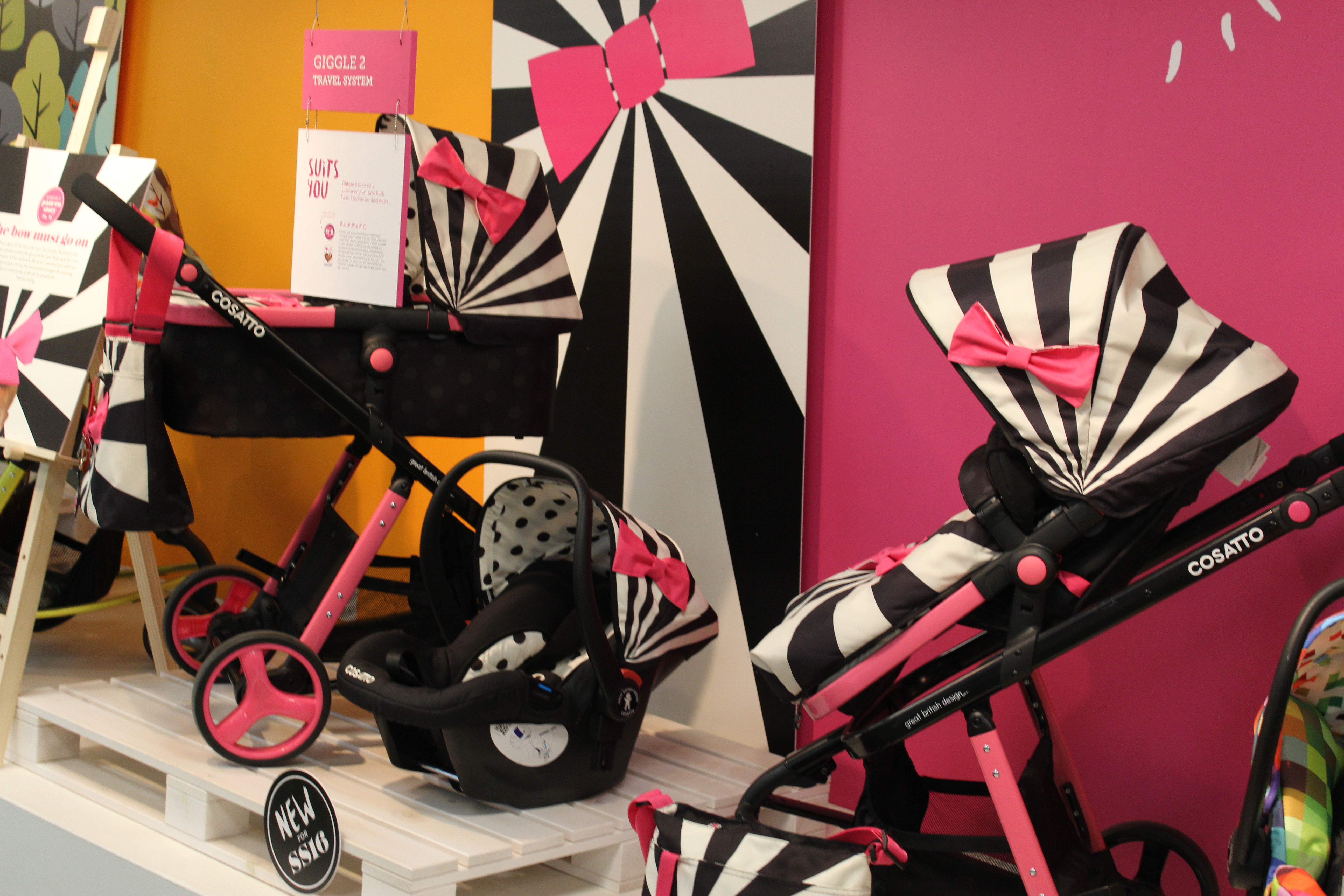 They have a brand new travel system called Fly which comes in their classic Pixelate colour way or my favourite, Fox Tale- you can never have enough foxes on baby items in my opinion (I even have a fox board on Pinterest).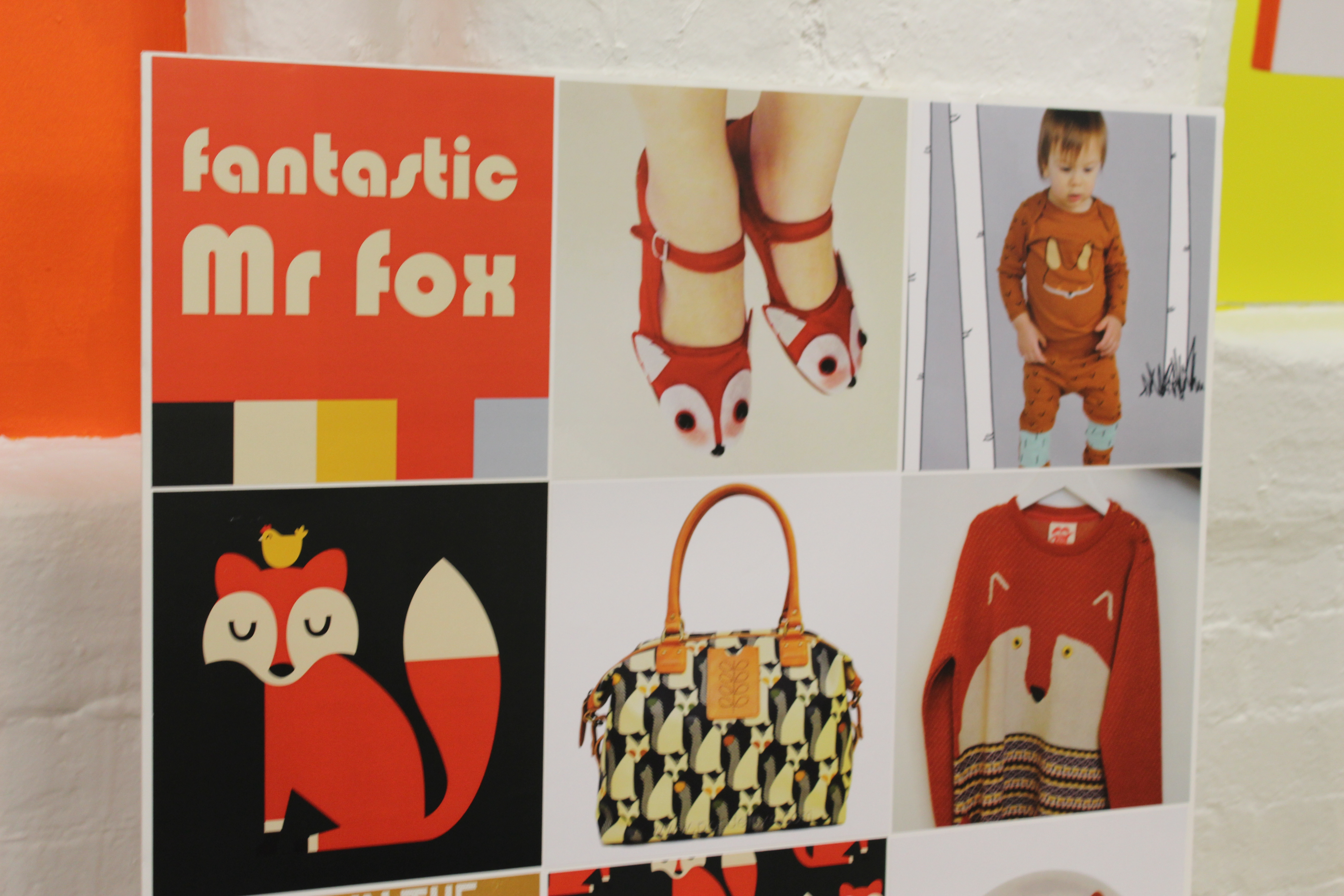 Other newbie looks are the Cuddle Monster and Big Fish (available on car seats), Hustle Bustle-a nod to London buses-available on car seats and the Supa travel system.
They also have a brand new baby car seat called the Hold.
My other favourites are the Kokeshi Smile print which is available on car seats, travel systems and the Noodle Supa highchair and Chopsticks and Milkshake which look fabulous on the 3Sixti highchair.
It was like baby stuff overload. I didn't know what to look at next or how to choose a favourite to tell you about.
For me, the highlight of the day was my first up close and personal look at Wonder.
If you haven't seen it, it really is a wonder. It's been ten years in the making and honestly? I can see why. It is just a thing of sheer pram beauty. Like prams my mum used to push. Where you'd have to wear a hooped skirt with a massive petticoat to push it-good excuse for a new wardrobe too.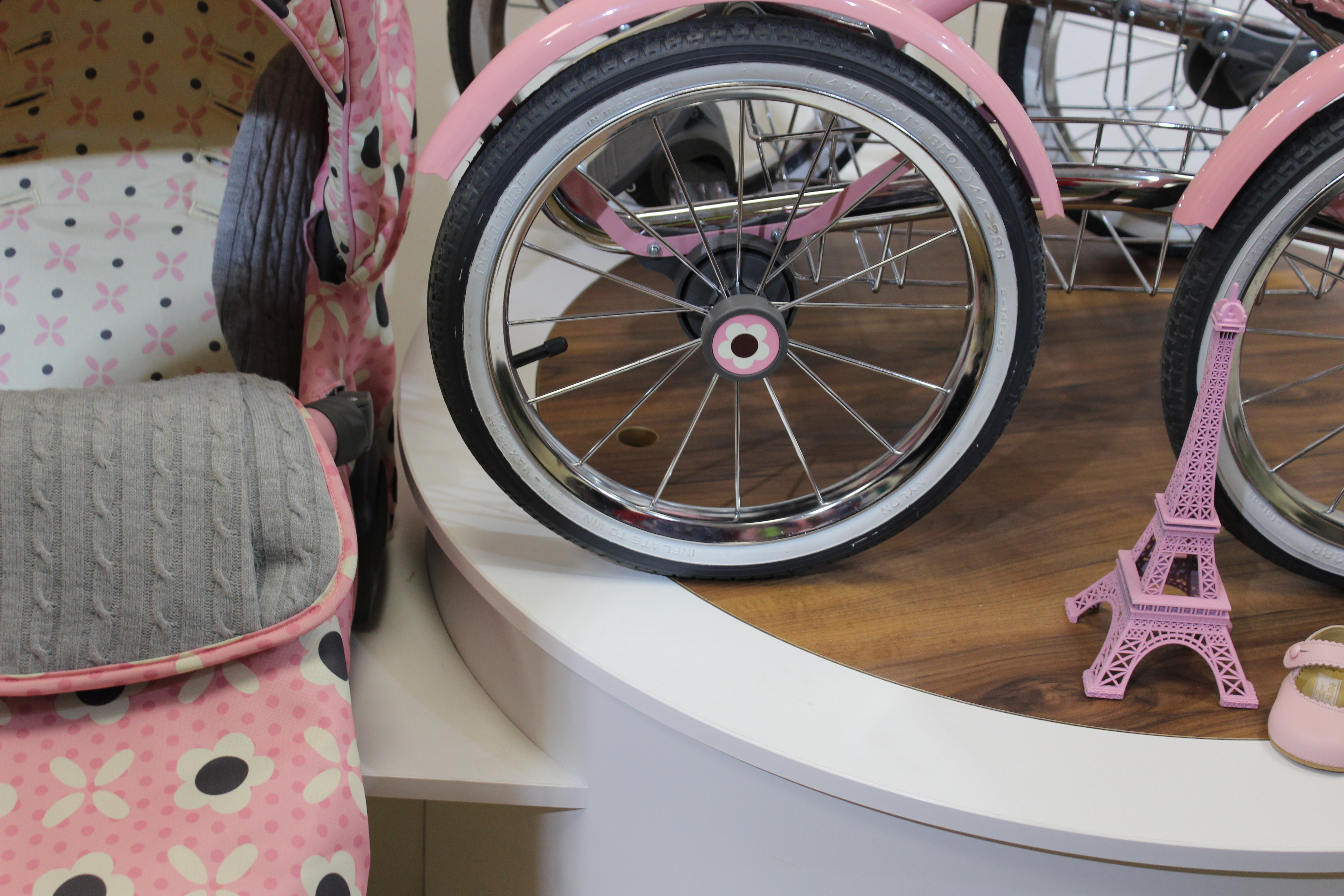 I fell in love with Bon Bon* but Kew and Hepburn were also delicious.
The thing with Wonder, like all of Cosatto's baby items is in the detail. Think beautifully designed changing bags, foot muffs and other accessories.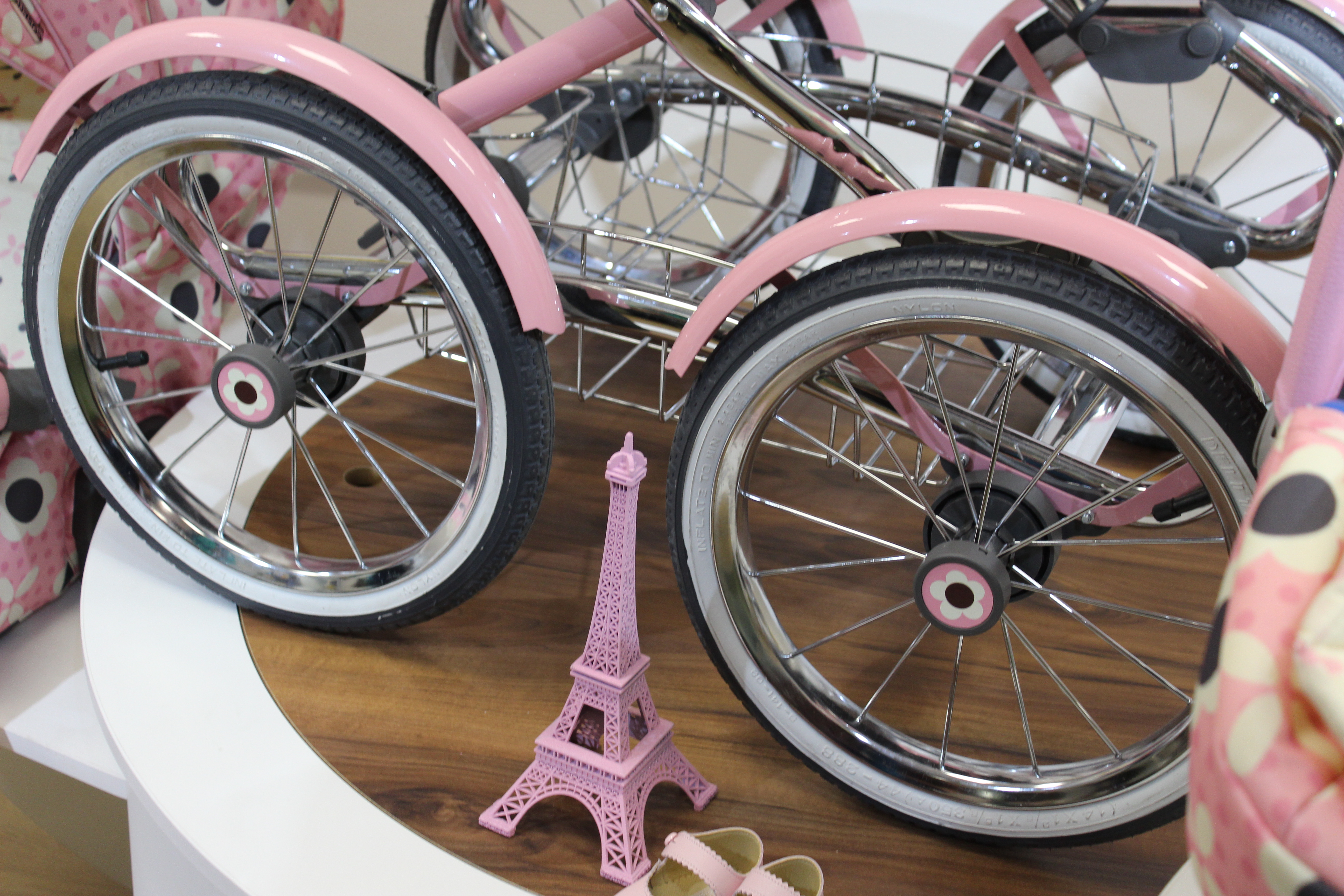 Likewise, all of the other pushchairs come with cosy toes, raincover, cup holder and more.
Even the wheels of Cosatto prams carry a lovely motif on them.
Then came the other stuff. Cosatto don't only make prams and pushchairs they make car seats and high chairs and nursery equipment too.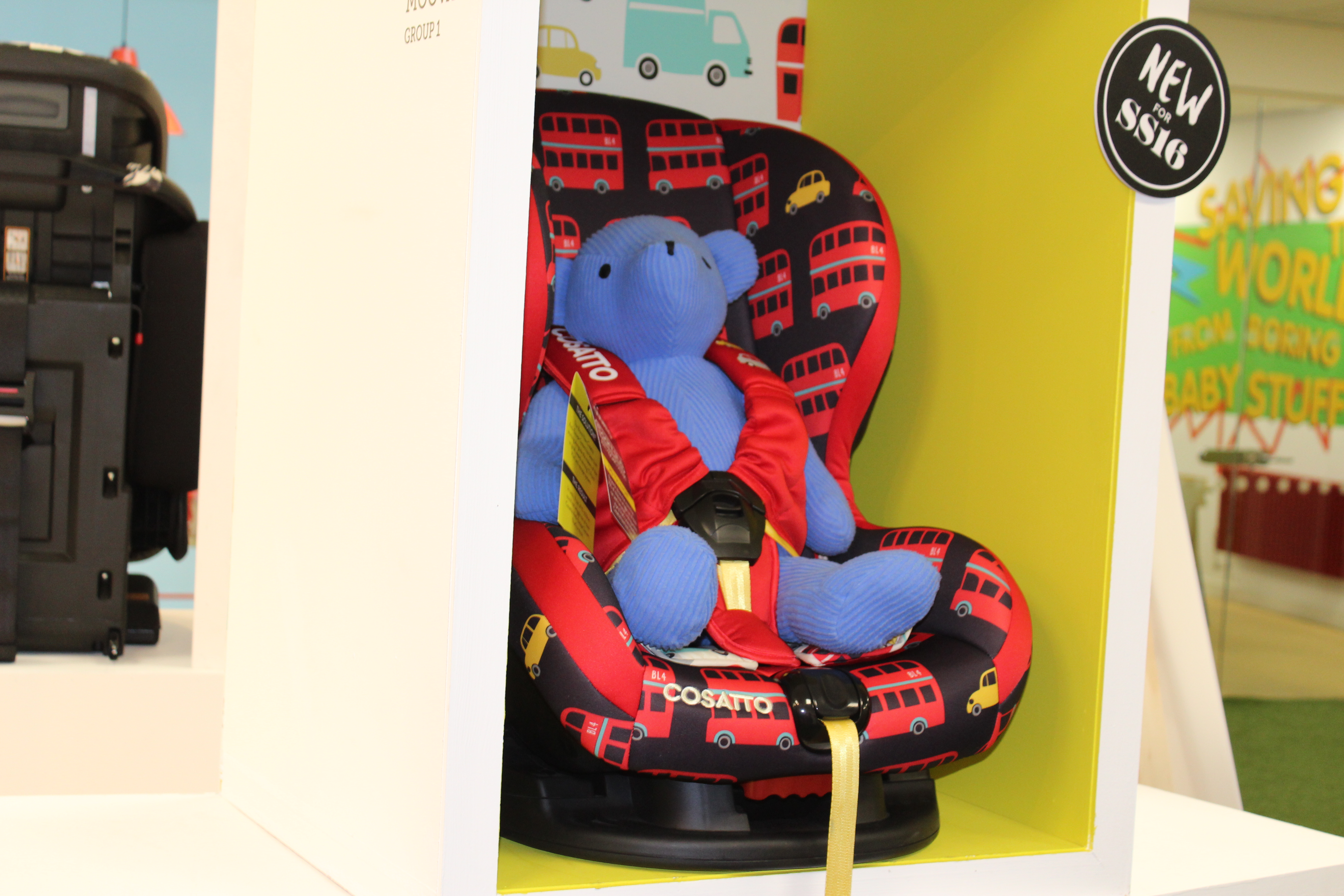 They have devised an amazing new five point plus anti-escape system which I think is just the best invention ever.
My Boo was the queen of escaping from the harness of her car seat and I was continually worried when we were travelling.
Indeed, Cosatto revealed that more than 70 per cent of children wriggle out of their car seat harnesses, risking severe injury.
The brand new Cosatto Anti-Escape System has been built working alongside the makers of the original, award-winning '5 Point Plus' harness system.
In tests, nine out of 10 children could not wriggle out of their Cosatto Anti-Escape System. That's a result and a result which means when Baby G grows out of the baby car seat, it will be Cosatto we will choose.
Also on show were some pretty amazing high chairs.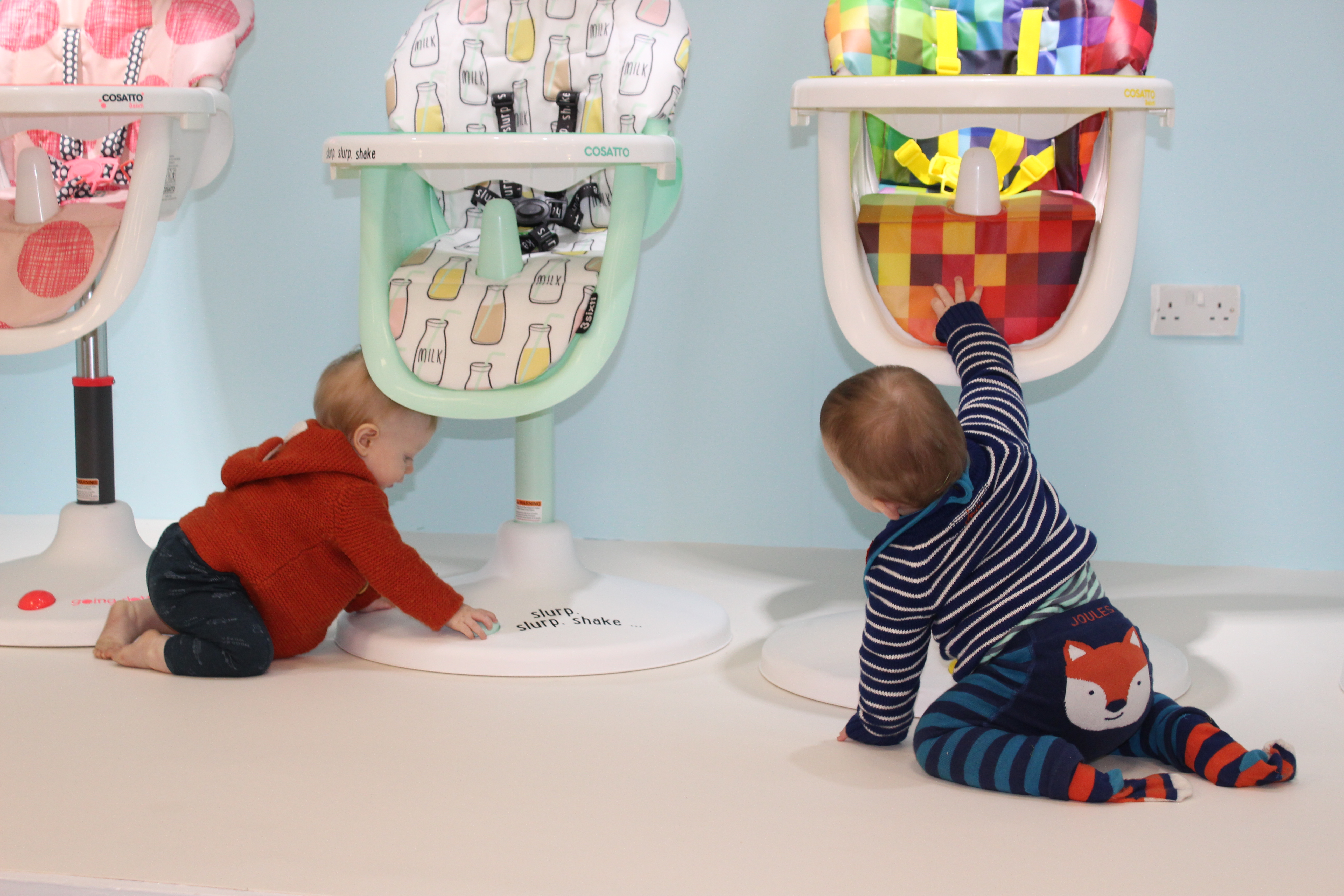 I marvelled at all of the designs-especially the Noodle Supa in Hen House-sticking with the farm theme here.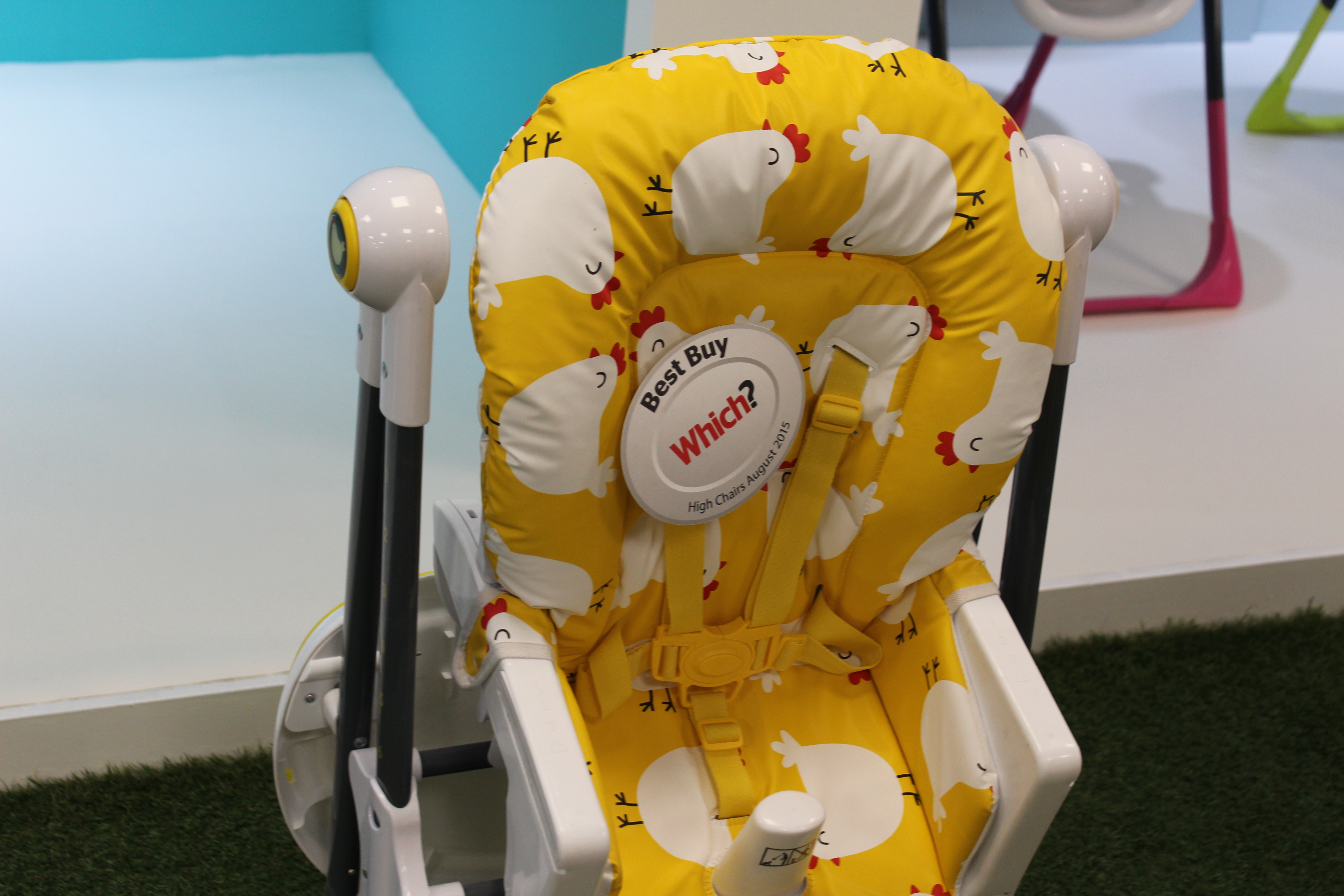 However it was the new Milkshake and Chopsticks 3Sixti which were pride of place because they were new and on show for the first time.
I cannot tell you how much Baby G and I both enjoyed our visit to Cosatto.
*I do think there needs to be a move towards choosing a pram to match your own style rather than the sex of your baby though. That way I could happily get a pink pram-even for my boy.
Not sure Hubster would be so pleased but seriously, look at this.
If that fails, Fox Tails will do nicely.
To find our more about Cosatto and their amazing range, click here.