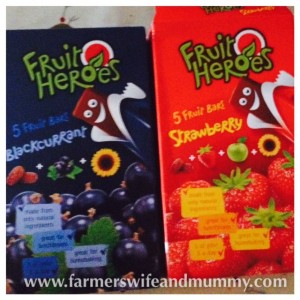 As a mother, I am constantly searching for healthy sweet treats and thankfully, I have found just that in Fruit Heroes.
It seems once a child has a taste of sweets, there is no going back and we all know the implications of too many sweets from the constant headlines-either rotting teeth or obesity.
Creating products that have natural and healthy ingredients at their heart, Fruit Heroes fruit bars are the perfectly delicious snack, which celebrate the fresh flavours and goodness of fruit. Dedicated to quality and taste with a big love for fruit, Fruit Heroes source only the best natural ingredients from around the world for its inspiringly delicious and nutritious recipes.
Several dietary studies show that children receive some of their daily energy from eating snacks between meals – which makes good sense. Your child needs several smaller meals during the day, to make sure the energy level, mood, concentration and learning ability is at its best.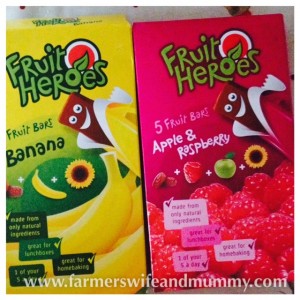 Fruit Heroes fruit bars can count as one of your "five a day", proving that snacks and treats can be sweet and satisfying but also part of a balanced diet. Healthy in between meal snacks ensure a good and regular energy input and reduce the child's desire for food that contains a lot of fat and added sugar. Nutritious bites in between meals can also help avoid childhood obesity whilst providing the energy your children need for fun and games, sporting activities and homework.
Created using only the finest ingredients, to offer a unique range, which is full of variety and flavour that's tempting to all – not just kids! The bars come in four fruitilicious flavours: Strawberry, Blackcurrant, Banana and Apple & Raspberry.
You can't see it on my photo but the Apple and Raspberry box I actually empty-it was in the name of review. What can I say?
They have been a huge hit in our house. Not only does Boo like them but, at 60-65 calories, they are a great sweet fix for me too.
Fruit Heroes fruit bars have:
No added sugar

No added colourings

No added preservatives

No sulphur dioxide

No gluten or diary

Not been cooked or baked

Naturally high fibre content

Natural ingredients

Are suitable for vegetarians, vegans and coeliacs.
The bars are even a home-baking favourite with recipe hints and tips available online at www.fruitheroes.co.uk
Available now from Tesco, Holland & Barrett, Tree of Life, One Stop, Amazon and selected health stores in convenient 20g single bars and five-bar multi-packs.
What are you waiting for? Try Fruit Heroes over the Easter holidays as a healthy alternative to the mountains of chocolate your kids will receive.
For further information on the Fruit Heroes range please visit www.fruitheroes.co.uk
'Like' us on Facebook https://www.facebook.com/FruitHeroesUK
Follow us on Twitter https://twitter.com/fruitheroesUK
*We were sent the Fruit Heroes for the purpose of this review but all opinions are my own.