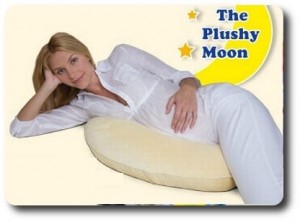 Just before I had Beb, I was sent a Theraline Plushy Moon pillow.
I had a maternity pillow when I was pregnant with Boo and used it for sleeping. My Beb pregnancy didn't seem as bad sleep-wise. I am putting this down to having a tiring child to look after.
After the casearean however, I found it very difficult to get comfortable for feeding. If Beb was placed on my tummy, it really dragged the scar so this is where, for me, the Plushy Moon came into its own.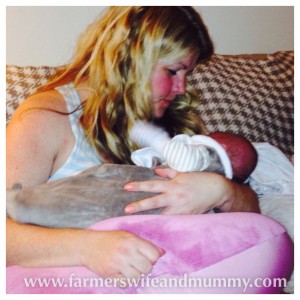 It is made of soft terry towelling material and, unlike other pillows, is filled with the fine sand-like micro beads which were a god send.
The beads mould to you and your baby and using it make feeding so much better.
Not only that but it is also fab for tummy time support for your baby. Beb, like his big sister before him, never looks very comfortable on his tummy and seems to spend most of the time licking the mat I have put him on.
Thanks to the Plushy Moon, he can look around him and see what he is supposed to do.
When I had to look after Boo as a baby, I never realised how easy it was compared to now when almost every time I have to feed Beb, Boo has some kind of playing emergency which involved mummy becoming involved.
Likewise, if Hubster is working late, you can guarantee Beb will be hungry just as I am trying to put Boo to bed.
Here the Plushy Moon has been most useful to me. It enables me to prop Beb up to feed him one handed while I attend to Beb. I would not be able to cope with the two of them half as much as I do with the pillow.
I have also used it as a lower back support when that has been bothering me.
It has had so many uses that the Plushy Moon has made my life so much easier. I don't know how I managed before.
The Plushy Moon retails at £23.95 which I think is more than reasonable. Theraline has an online store and the pillows are also available at places like Boots.
*We were kindly sent the Plushy Moon pillow for the purpose of this review but all opinions are my own.