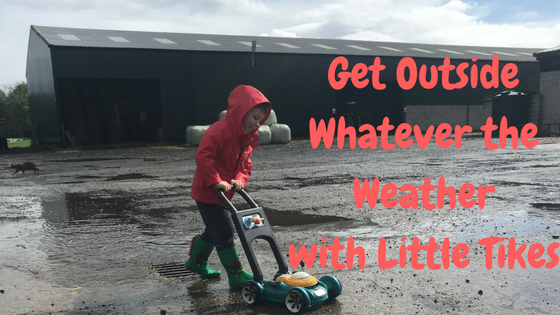 We live in a society where germs, bad weather and dirt are almost a taboo subject. Children do not play outdoors as much as I did when I was a child and the advance in 24-hour children's TV channels and video games mean it can be a chore rather than fun tog go outside.
Play specialists Little Tikes, conducted a survey about people's habits when it comes to outdoor play and, for me, the results are worrying.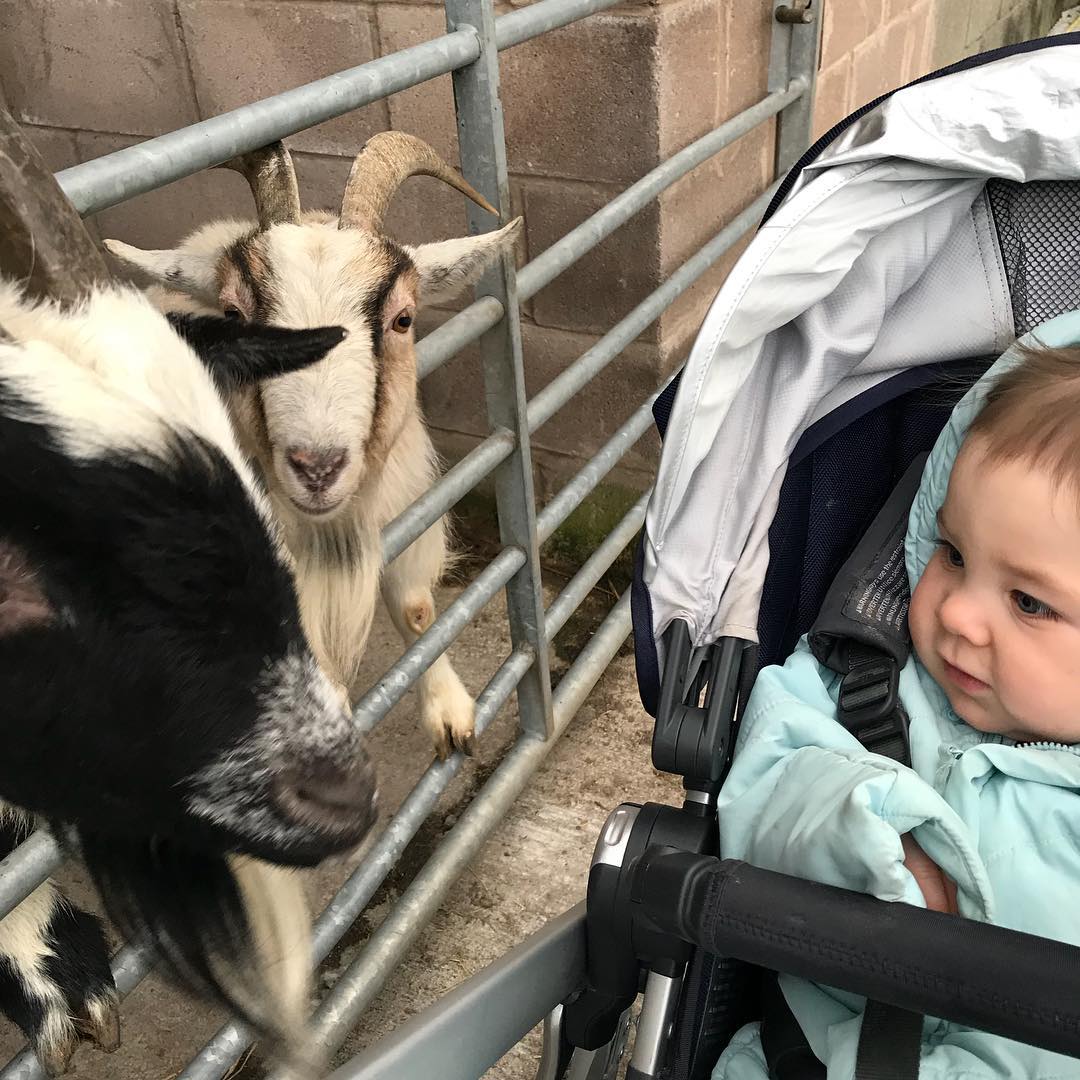 When parents ask their kids why they don't want to go outside and play, 42 per cent have heard the excuse that it's too cold to go out, and one in four say their little ones have been too tired to leave the house according to research which surveyed 2,000 parents with children, aged two to 16.
One in 10 germ-conscious kids have even said they'd rather stay indoors to avoid getting dirty or touching germs.
I can't help blaming the parents a little bit here. If you constantly wipe your children, they are going to start associating dirt as a bad thing and, if parents will not go outside unless it is dry, eventually, your children will follow suit.
On the farm, we never shy away from bad weather. We have appropriate clothing for anything Mother Nature throws at us. If we stayed inside every time the weather was bad, none of our animals would get fed and we would never get anything done. I think this attitude has rubbed off on the children because they never refuse outdoor play.
The few times I have told me three year old that the weather is too bad to go out, he has looked out of the window and announced that: "it's a sunny day" even in the middle of winter when the garden is on the verge of ducks moving in.
On the odd day that my toddler hasn't been outside, by 4pm, he is often found bouncing off the walls and is very miserable.
Young children especially need to burn their energy off. A light weight mac with a hood for summer and lots of warm, woolly layers in winter is all you need.
We have been trying out a Little Tikes Anchors Away Pirate Ship.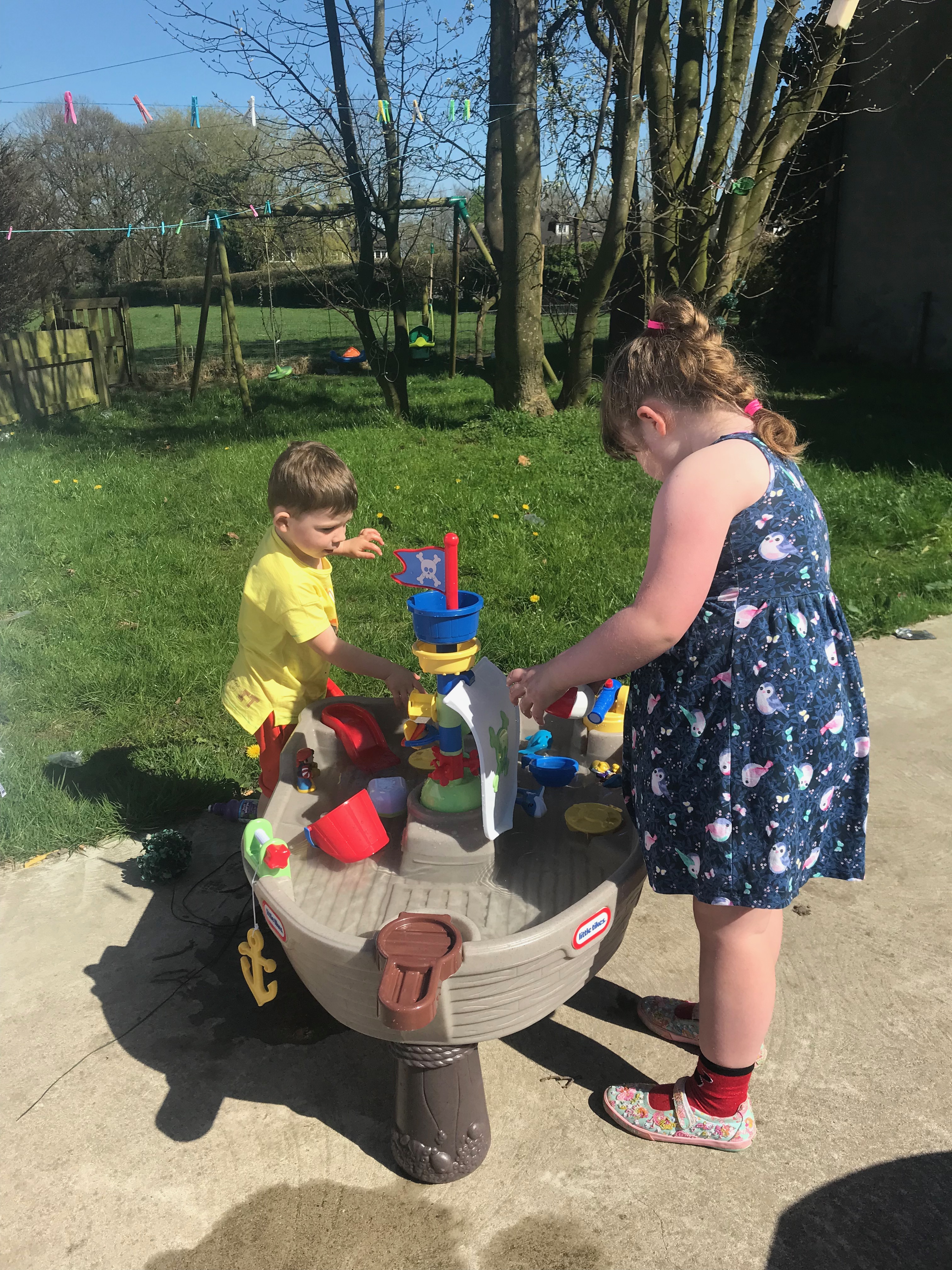 It arrived during the sunniest week we have had all year and, during the Easter holidays. All three children had a great time tipping water, playing imaginatively and splashing each other.
With a real squirting canon, an anchor which lowers, a boat, little figures and a squirting shark, it has already been used for hours and hours.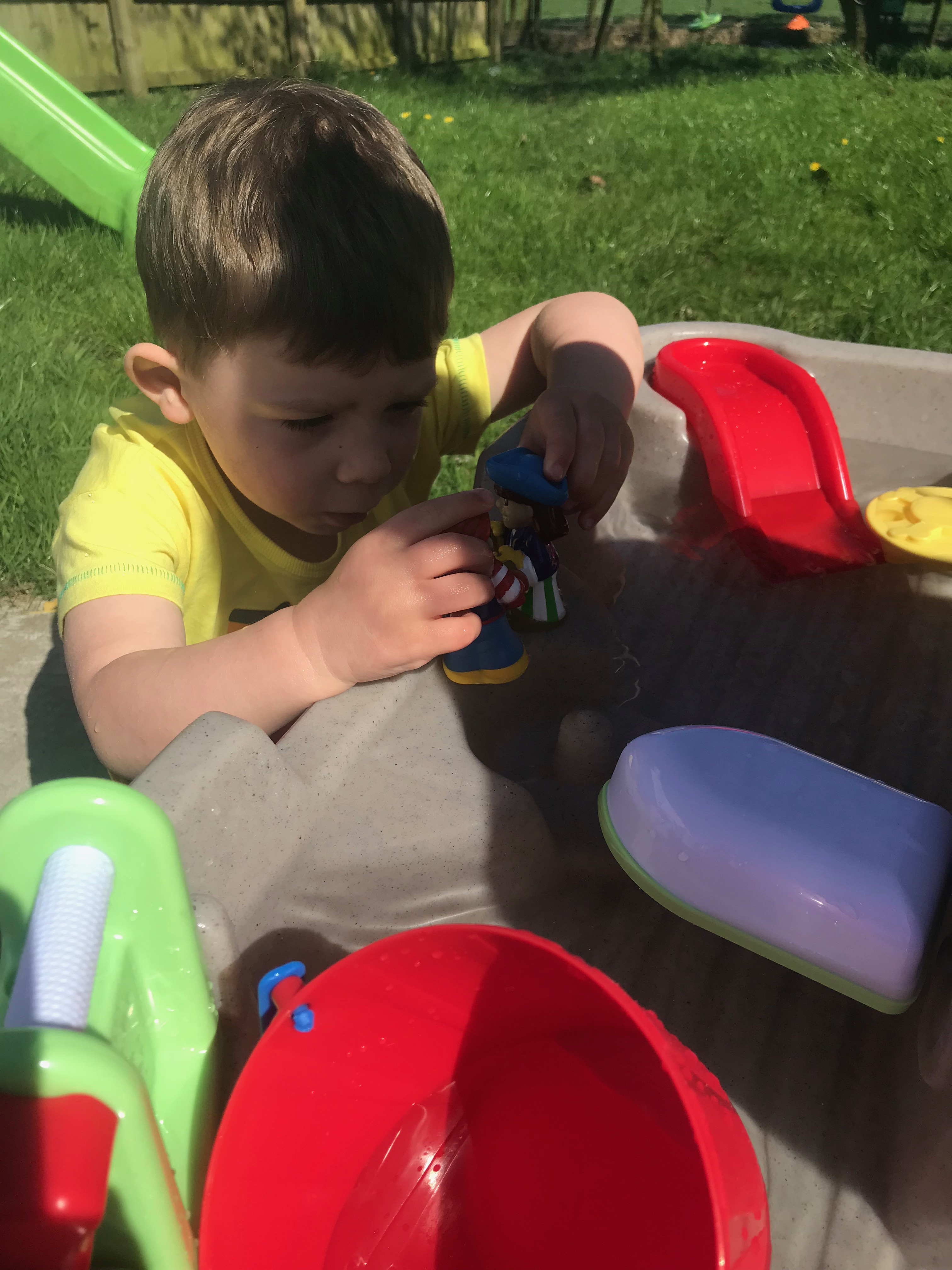 As with all Little Tikes toys, it is strong and robust and I just know it is going to be our toy of the summer.
The British weather did not play ball though so fast forward a week and we are back to rain but that has not stopped play.
My little pirate did what any self-respecting pirate would do. He pulled on his rain coat and got out there.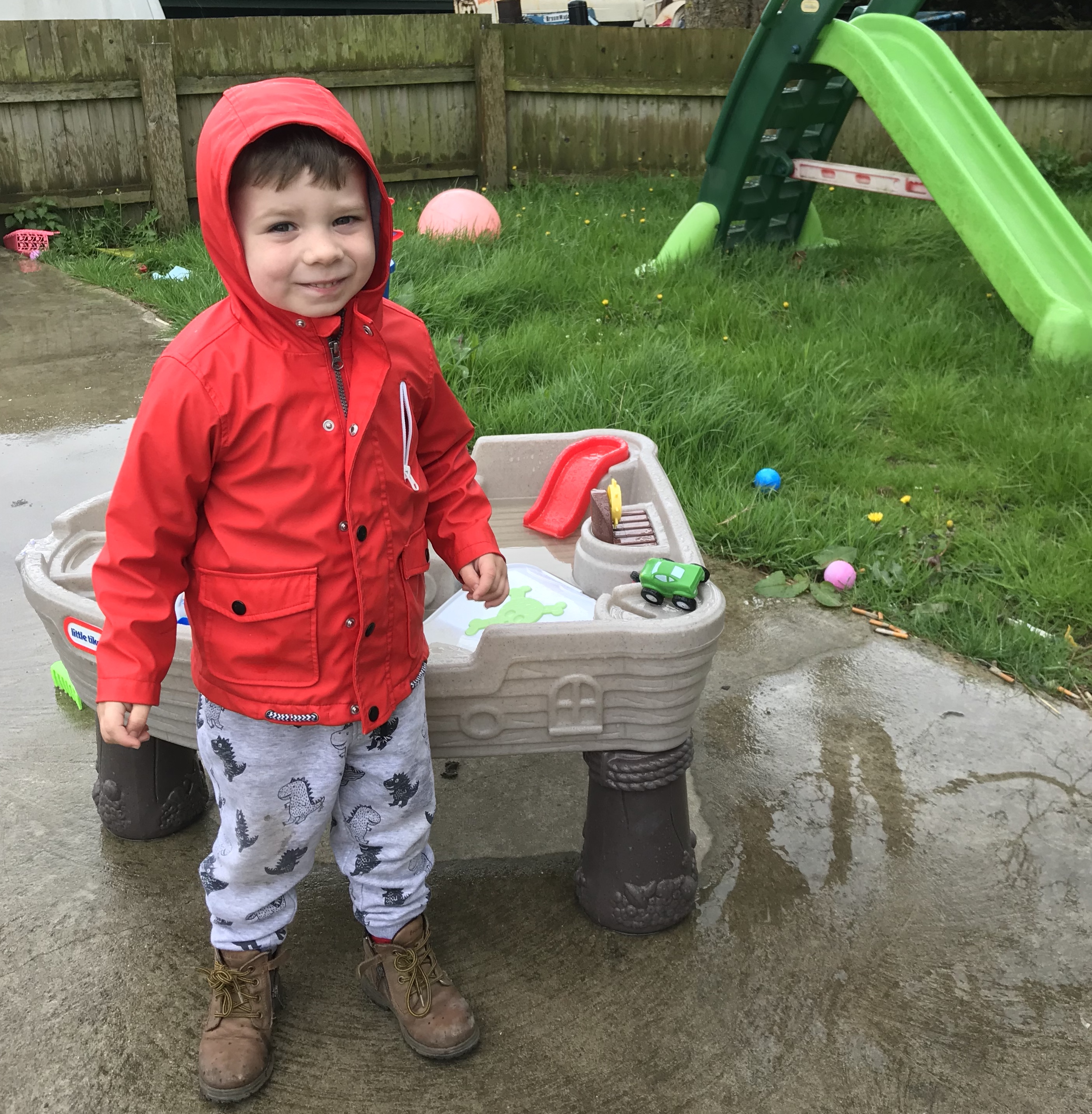 I have found that, in order to help children get the most out of the outdoors, I have to go outside and play with them.
I have explained pirates, anchors and boats to them in the last week and it is a lovely theme to experience.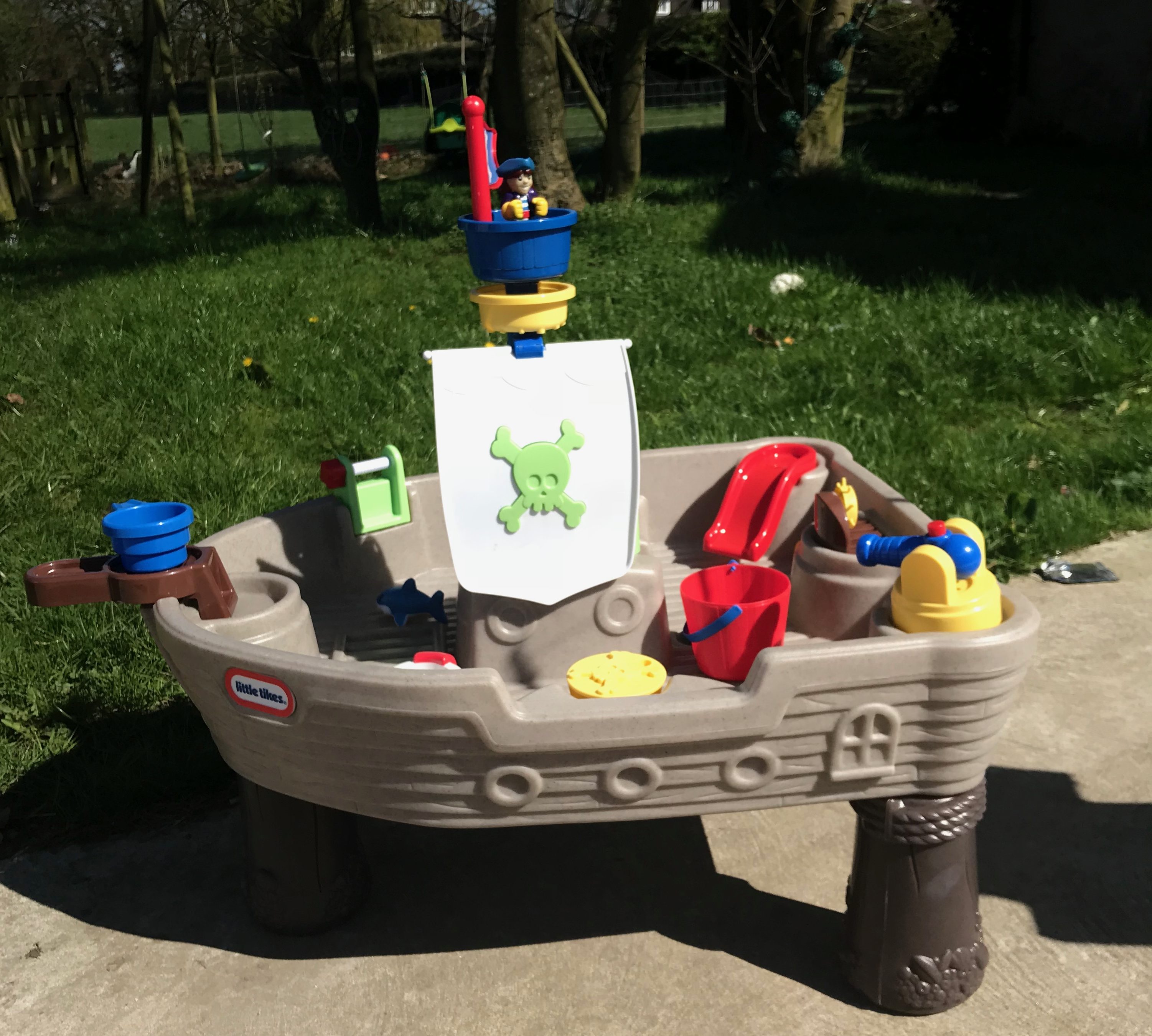 It is a crying shame when we let the weather get in the way of outdoor fun. Don't let bad weather put you off this summer. Get out there and play regardless.
This summer, Little Tikes is celebrating all of those parents who are encouraging their kids to get out into the garden and the great outdoors. From fun and immersive new products like their Fun Zone collection to a website packed with activities and things to do outside, parents and their children who are struggling for inspiration will be well and truly catered for and, let's face it, with the unpredictable weather in the UK, playing outside in the rain may be the only chance we will get.
They have come up with some tips for getting out:
Get kids growing! Connecting children with nature is a sure fire way to spark their interest in and connection with the outdoors. Planting sunflower seeds and having a 'whose grows tallest' competition is a simple way to get things growing!

Get creative with the outdoors, messy play becomes a lot more fun when it doesn't matter how messy you get. The sandpit and water table are great places to start making memories, and why not take the paints, paper and brushes outdoors and help your kids with their messy masterpieces.

Go on a nature treasure trail. Grab some bags and go out on a nature walk, take their scooter or trike making sure you gather interesting pebbles, and leaves along the way. When you get home you can make creative collages that you can keep as souvenirs.

Get them den building! You're never too old or too young for den building. Aside from building imagination, dexterity and divergent play skills, there is nothing more exciting than having a secret den to play in

Play bug detectives! Get muddy looking under rocks and digging in the soil to see how many bugs and worms you can spot. This activity brings nature to life and helps kids feel a sense of excitement in the outside world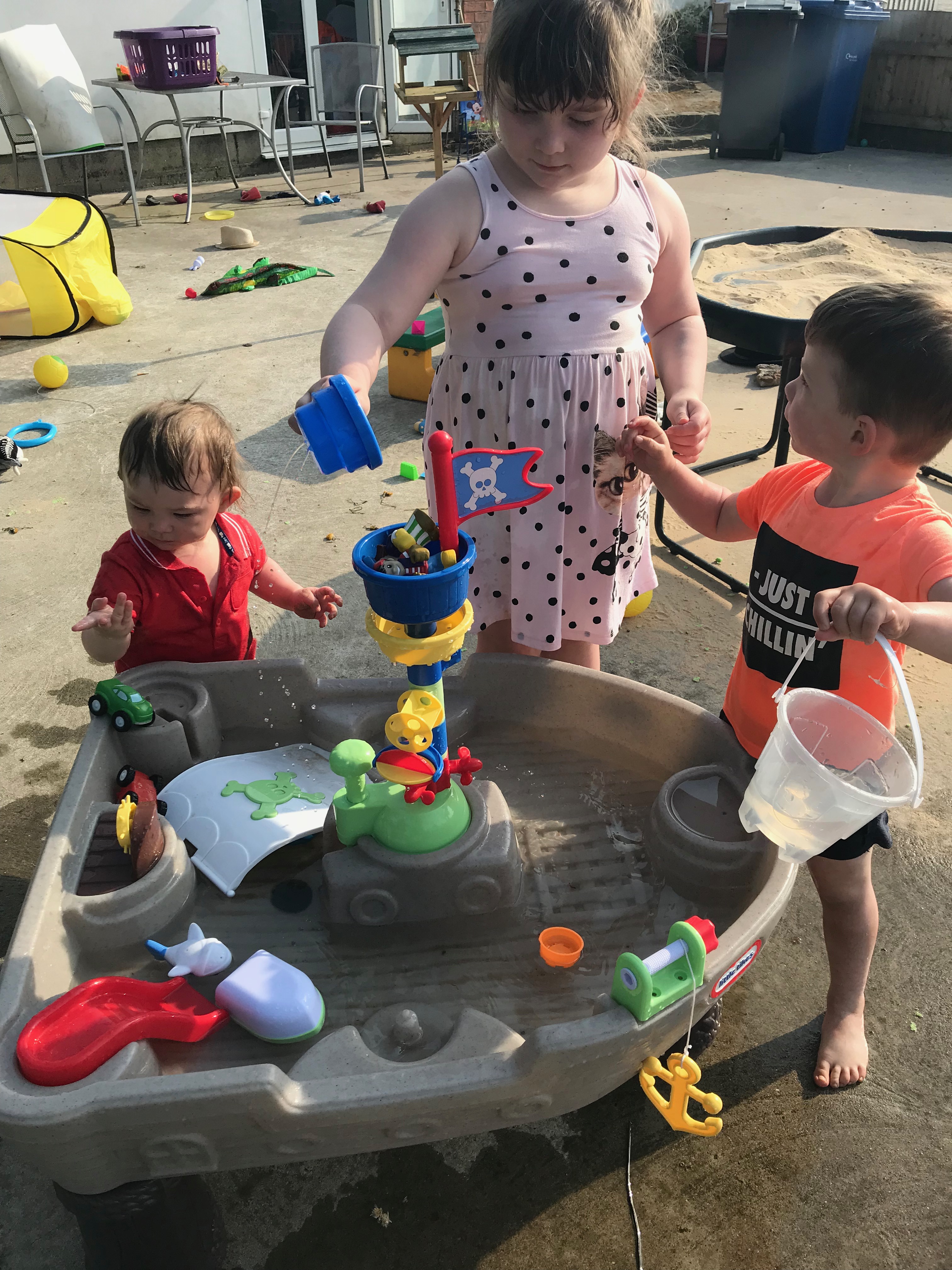 If your children have trouble sleeping at night, try them outside. Even an hour a day running around will make all the difference.
As a parent, I think we all think hoods and umbrellas are there purely to stop our hair getting wet.
Leave your vanity at the door step and get outside. Your children will thank you.
*The Little Tikes Anchors Away Pirate Ship retails at around £79.99. We were sent the Little Tikes Anchors Away Pirate Ship for the purpose of this review. All opinions are my own.
**Please excuse the mess in the garden. For that warm week, the inside of the house was immaculate.