Recently we had to say goodbye to the afternoon nap and it seems at three-and-a half, we are on a roll of saying goodbye to routines and activities which at one time were as regular as brushing teeth or asking for juice in the morning.
The latest bereavement is the little seat in the supermarket trolley.
Oh how I took that one little area for granted.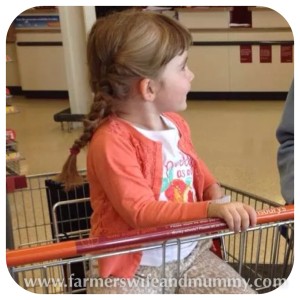 Quite possibly the last pic of Boo in the trolley seat.
Yes if the trolley was full she could hurl garlic bread or noodles at other shoppers but I could see her. I knew she was safe (apart from the times she leaned out for precariously placed 'goodies' at different intervals around the shop.
She is too big for the trolley seat now. The last time we were in ASDA, taking her out of the seat left big marks on her legs.
I obviously haven't told her that though.
Walking around the supermarket with me is a treat for being a good girl and one false move in that shop and she will be swiftly placed back in the trolley seat. It has worked so far.
There is an added danger of having a little three-year-old walking around the shop with you.
She has started to add her own little things to the basket.
Last week we had Pringles, novelty children's cheeses and a Kinder Egg which didn't even make it much further than the checkout. The Barbie which came with the Kinder Egg is in the photo below, rather than the egg.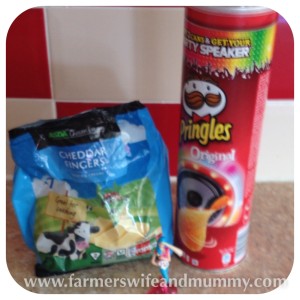 Yes, I am dealing with what Boo thinks are essentials for her week.
I did let her have those three as I was so amused with what she had chosen and I decided to turn a blind eye.
I figure, allowing her to pick things for me and put them into the trolley herself is a good learning tool.
I ask her to pick things up for me and she usually puts them gently into the trolley-I haven't trusted her with eggs yet.
I am now worried about what is next to change.
My little miss is growing up.