As the summer months approach, it's time to use our outside spaces as part of our home. Dust off the parasols and clean out the inflatable swimming pool; your friends, family and neighbours will all be getting their gardens ready for the inside living room to become an outside home environment.
The most important aspect of spending time in our garden is having somewhere to sit and relax. There are lots of choices on the market when it comes to furniture, with a range of materials used to create sofas, chairs and tables. Often though, when it comes to bringing them out of the shed or garage for a new year, garden furniture appears faded, jaded, torn and often damaged with mould, due to the damp months.
The solution is to buy good quality metal garden furniture which is designed to last decades and to look beautiful in situ all year round.
The Benefits of Metal Garden Furniture
The main benefit of metal garden furniture is strength and durability. Metal is the best choice as a year-round solution and as long as it's cared for it doesn't wear out.
Metal garden furniture is very easy to clean. As there aren't a lot of sewn on cushions as part of the design, it is much easier to get to the nooks and crannies and clean with a cloth. Additionally, aluminium items are lightweight and don't rust, so are particularly easy to care for.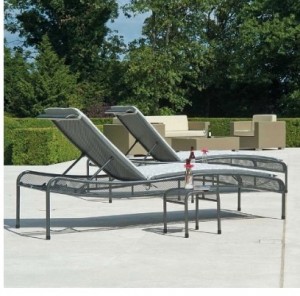 With your garden furniture being metal, you don't need to pack it away when summer draws to a close. It can stay outside all year round, as it's all designed to withstand every aspect of weather. This means you don't need to find storage in a shed or garage where it's blocking space for a number of months every year. Although, covering your garden furniture with a cover is always recommended.
Hartman Garden Furniture; The Specialists
One company that is passionate about outdoors living and in particular metal garden furniture is Hartman Furniture.
UK-based and renowned for producing stylish garden furnishings to suit all tastes, Hartman Furniture has a range of metal garden items which capture elegance, classic beauty and organic lines that mirror the essence of the British countryside.
The company has worked with a number of household names to produce stunning ranges including Jamie Oliver and David Domoney. The Amalfi range is particularly popular and the bistro set is one that many couples buy as their first investment. Families who want to spend summer evenings dining under the stars find the Beaumont (Berkeley) 8 Seater Oval Suite perfect as it's manufactured from aluminium, so it is extremely lightweight.
Keep your Metal Furniture looking Great
Whilst metal garden furniture is built to last, it does need a small amount of care and maintenance. This is to ensure it continues to look as good after 10 summers as it did on the day you unpack it and place it in the garden.
For aluminium cast furniture, all you need is:
A sponge
Washing up liquid
Warm water
Add the washing up liquid to the warm water and gently wipe each piece all over and allow to dry naturally. It's straight forward and only takes a few minutes a couple of times a year.
For cast iron pieces, check them for rust spots and use a rust-prevention paint once a year. Fixings and joints may need a little oil if they are folding items and whilst you can leave cast iron pieces outside, you may want to cover them in the winter for extra protection.
Invest Wisely for Beautiful Garden Furniture for Years to Come
For beautiful looks, ease of care and furniture with enduring style to adorn the garden across all seasons, Hartman Furniture can be found on display at Bents Garden Centre. Many items from this metal garden furniture company can be purchased and taken home on the same day or ordered online for home delivery. This means you can take advantage of the designer looks and the comfort of metal garden furniture well before your neighbours and friends visit and want to use it themselves when they realise how wonderful it looks.
*This is a guest post by Bents Garden Centre