When you think of nostalgic sweets from your child hood what do you think of? Refreshers? Drumstick lollies?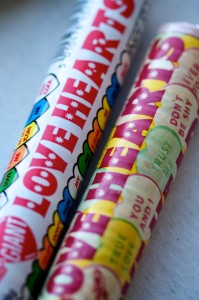 I also think of Love Hearts. They really are an iconic British sweet and, with Refreshers and Drumsticks, amongst others, are made at the magical Swizzels Matlow factory in the beautiful Peak District, Derbyshire.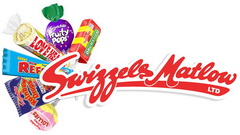 This year, Love Hearts are celebrating their 60th birthday. They were obviously a good 50 30 years old when I was a child and I remember pouring over them with my friends deciding who got which slogan and which boy we were going to give them to.
From Kiss Me to Best Friend, they were an exciting confection.
Back in the 50s when they first came out, Love Hearts had slogans like Don't Cry and Nice Boy. They were originally put inside Christmas crackers until it became clear how popular they were.
The 1970s Hippy Bits came out. Similar to Love Hearts but, as their name suggests with peaceful slogans like Ban War and Keep Faith.
The sweets have evolved throughout the decades with Fax Me, Text Me and Page Me becoming popular in the 1980s and 90s.
Definitely not resting on their laurels, Swizzels Matlow brought out special Jubilee Love Hearts for the Queen's Golden Jubilee in 2012 with I love Corgis and HRH slogans. One Direction Love Hearts have also been made with great phrases like Harry 4 U and Louis Rocks.
I absolutely love them.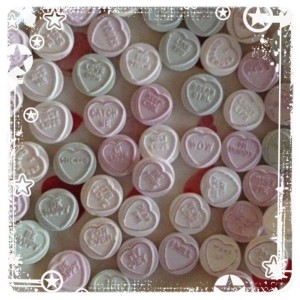 I was sent some Love Hearts for writing this post and I spent ages looking through them all.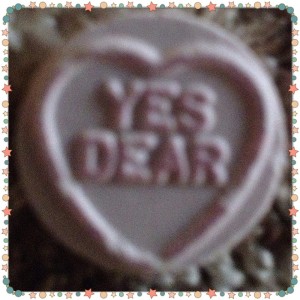 I think my current favourite is Yes Dear as it reminds me of Hubster and the sarcastic way he says that to me when he is not really listening to me.
To mark the goody's 60th birthday, Swizzels Matlow are offering a competition to win the ultimate prize.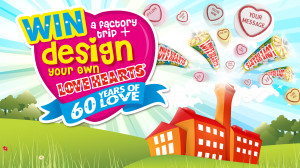 Entrants are invited to design their own Love Heart and win, not only a personalised Love Heart but, wait for it….
A tour of the Swizzels Matlow factory.
Think Willie Wonker but with less fake tan, less weirdness and more excitement.
I would seriously be beyond myself if I won.
I am definitely having a go and have been busy thinking of ideas for a week or so.
To have a go yourself and win the most amazing prize for any sweet lover. Visit the Love Hearts website.
*I was sent a selection of delicious sweets, including Love Hearts, from the lovely people at Swizzels Matlow for writing this post which I should have taken a photo of as soon as I received them.
As with most things in this house, I'm afraid they didn't last long so I am afraid you will just have to take mine (Hubster and Boo's) word for it that they were yum.