We love picnics here. Both on the farm and, if the weather is bad, on the floor in the living room.
I often think of picnics as outside buffets and who doesn't love a buffet?
While I know things like chocolate and crisps are ok as treats every now and then, I do worry that Boo especially eats too many. We all know though that once those bad things pass the lips of children, there is no going back. I think having learned this with Boo, it is why I have held off giving G chocolate.
I have recently been introduced to Forest Feast, a company from Northern Ireland which travels the globe in pursuit of perfection, ensuring the finest quality premium, traditional and contemporary ranges of seeds, nuts and dried fruit the whole family will enjoy.
Not only that but they also try and choose Fairtrade products as much as possible as well as support the PREDA foundation in the Philippines. I used to be the features editor at a Catholic newspaper and Fr Shay Cullen who founded PREDA had a column in the paper so it brought back loads of memories, reading about the work that they do.
So we were sent a lovely hamper filled with dried fruits (some coated in chocolate, yum), nuts, seeds and dried peas in a variety of flavours.
The dried fruit went down very well with the children. It is naturally sweet enough for kids to think they are getting a treat whilst we know the dried fruits are much healthier than sweets.
Likewise nuts, seeds and peas are a brilliant source of good fats and protein and are a savoury treat which everyone can enjoy.*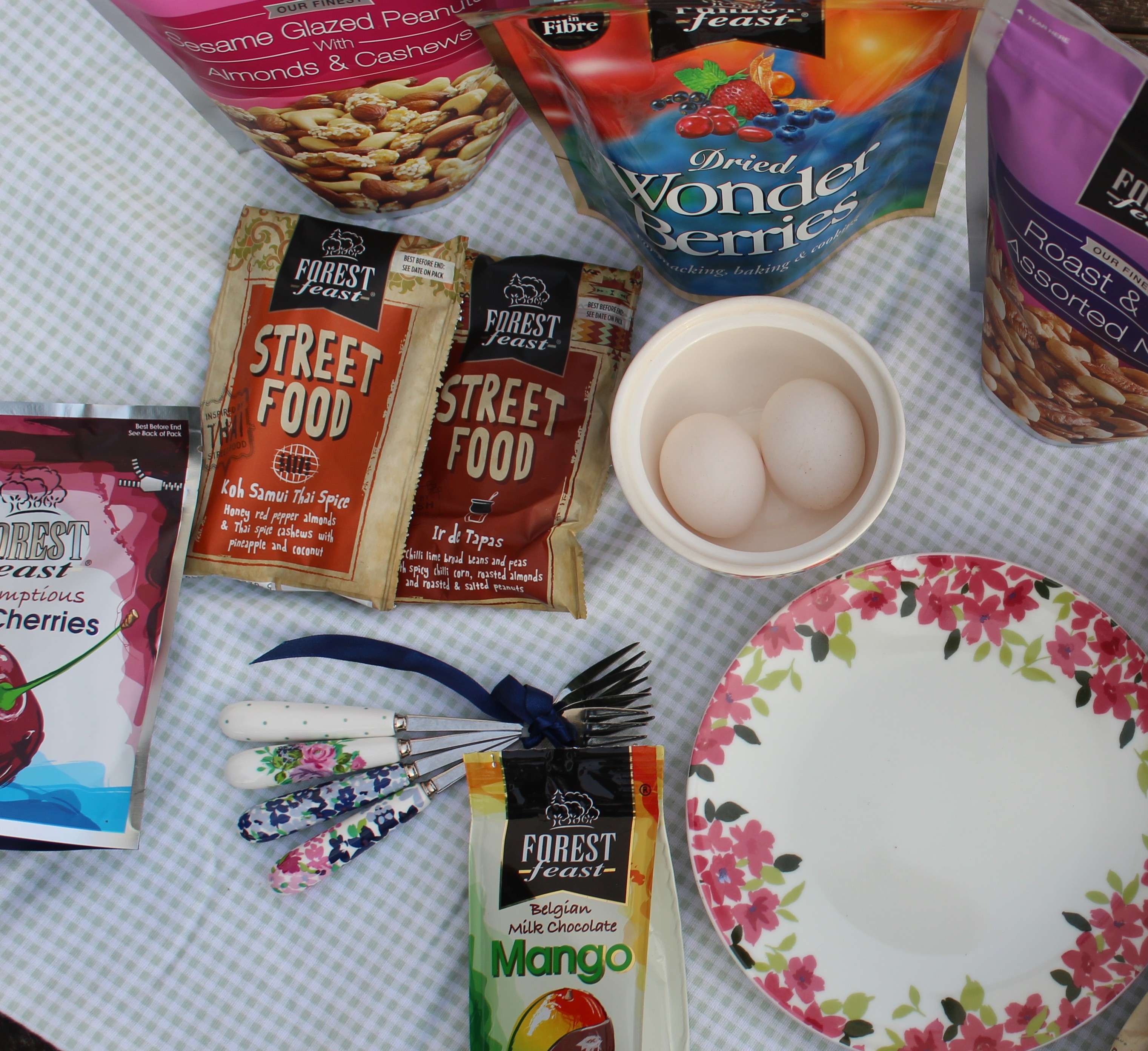 Not only that, some of the peas had cartoon characters on them-like Manga people which would initially attract young people and children.
My favourite snack was the Ire de Tapas which comes from a Street Food inspired range and featured chilli lime broad beans and peas with spicy chilli corn, roasted almonds and salted peanuts.
The sesame glazed peanuts with almonds and cashews were also delicious.
If I am honest, as we nibbled our way throught the selection, I changed my mind about my favourite every time.
The truth is we loved them all and I can't wait to bake with some of the things too.
We will never be stuck for healthy snacks and picnic ideas again.
Forest Feast foods are available from their online store and at major retailers like Asda, Waitrose, Costco, Asda, Tesco and Booths.
We were sent our lovely hamper for the purpose of this review but all opinions are my own.
*If you have very young children, be extra vigilant with small nuts and seeds. I gave them to G under strict supervision and I was sure he had no allergies to them.