It seems a lot of people have started decorating their homes for Easter. Not quite as much as Christmas but still with a tree as the centre piece.
I bought an Easter tree when it was Boo's first Easter. I suppose I was celebrating new life myself and got swept up in the Spring-like feeling.
For Christians, Easter is more than just about chocolate so I was a bit uneasy putting up the Easter tree before Good Friday as it seemed wrong but then I argued with myself that it seemed pointless to have it up for only one day.
This is Boo's third Easter so we make a big deal of putting the tree up and decorating it with little chicks, rabbits and eggs.
I got my tree from The Contemporary Home. It was three years ago though so I checked to see if they still do it. They don't do exactly the same one but there are some really lovely Gisela Graham offerings there.
Our small decorations were from Paperchase and they still have similar in stores now. Paperchase always have delightful Sprung and Easter decorations.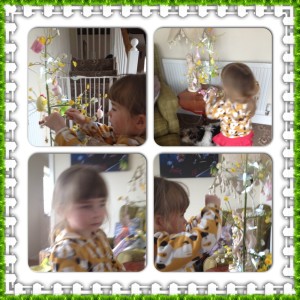 Boo loved helping to dress the tree. It is just the right size for a little girl. I often think Christmas trees can be a bit overwhelming for children.
To be honest, anyone who has been near our living room has been invited to 'see' the Easter tree and, if she is quiet, I can guarantee she is there rearranging the ornaments.
We added a set of battery operated lights this year which I think made it look even more special.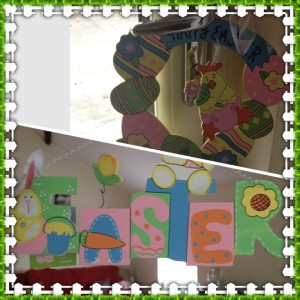 I have also got some Easter hanging plaques which I picked up from the Pound Shop. I hung one off the beam in our living room and one off our bi-fold doors.
Embrace Spring this year and celebrate the new life that Easter symbolises. There's more to it than chocolate.