I wrote recently about Rosie the dog being a bit obsessive with me since I got pregnant. She follows me round just a bit more than usual but it seems her obsession has taken a step further.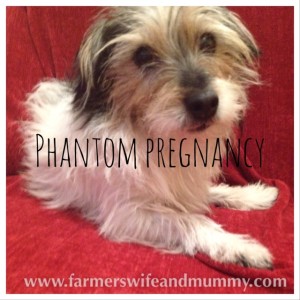 The poor thing is having a phantom pregnancy.
Rosie became a teenage parent six years ago and, since then, we have had no intention of breeding her again.
However we haven't had her spayed (stupidly) so she still has seasons but, they are only once a year now rather than twice so I think she is menopausal.
Last time we were at the vets, for her booster injections, they mentioned getting her spayed so as to avoid any problems that may surface in old age.
We just haven't got round to it.
If I sit watching television at night, most times, Rosie will come and either sit on my knee or sit beside me and sometimes (don't call the RSPCA) when I tickle her tummy, I tweak her nipples.
She likes it, what can I say? I don't do it hard.
So you can imagine my surprise when a bit of milk came out.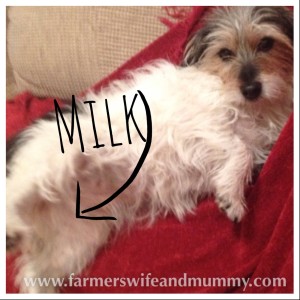 On closer inspection, I did notice her milk glands had swelled up a bit and, after a spot of Mr Google, it emerged that Rosie was having a phantom pregnancy.
I've read before that dogs are very clever and have a sixth sense to things but I never dreamed she would be sensitive enough to pick up on that.
At lease I feel like I'm not the only one now.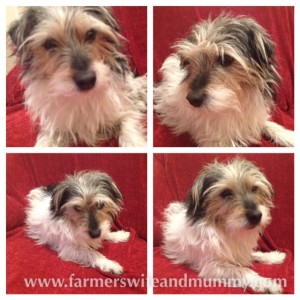 We will be booking her in to the vets though as soon as she gives birth to the phantom puppy.