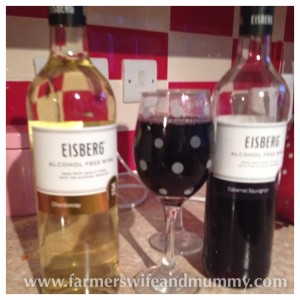 Not having a drink when I was pregnant with Boo just wasn't a problem. This time though, there has been more than one occasion when I could have really done with a glass of wine or a vodka.
Maybe it is something to do with looking after a small child, who knows?
I obviously haven't given into the cravings (unlike my lime pickle obsession) but when I was offered the chance to review a couple of bottles of Eisberg alcohol free wine well, I thought it was Christmas.
So last night, I made spaghetti bolognese, a family favourite of ours and I put a splash of the Eisberg wine in the cooking. Who doesn't love red wine in spag bol?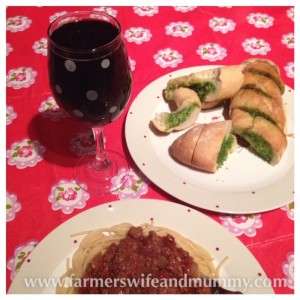 Then, I decided to have a glass of it with dinner and try and trick Hubster. He was having none of it. He knew I wouldn't drink so said straight away: 'is it non-alcoholic?'
Still, I wondered if it would have a sort of placebo effect on us and make us tipsy.
It honestly tasted just the same as the alcoholic version of red wine and was lovely.
Please note the amount of wine in the glass. I do not like small measures when I drink alcoholic wine. Our living room is not on the same floor as our kitchen so it makes no sense to pour half a glass and have to keep going down stairs for a re-fill. I extended this rule for the Eisberg and, if you read on, you will see why I am so glad I did.
You see, unfortunately, we did not eat alone and, as soon as Boo saw something new on the table she wanted some.
It is non alcoholic so I thought, why not?
She started off with the wine, ironically in a Peppa Pig glass but that went all over the floor (the dog licked it up) so she moved on to my wine glass.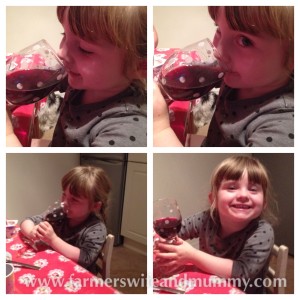 She was very pleased with herself.
I was so impressed with the Eisberg wine and, they even sent me some mocktails to try so, for my Saturday night X Factor treat, this is what I am going to make: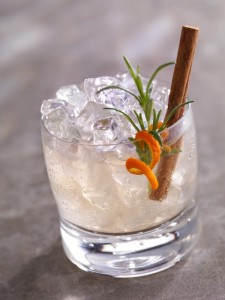 A Gingerly Sip
Ingredients
100ml (or half a pint-see above) of Eisberg Riesling
Half a lemon
1tsp sugar
Cubed ice
Ginger ale
Cinnamon Stick
Method
Pour the alcohol-free Reisling into a tumbler. Add the lemon juice, sugar and ice. Pour over ginger ale and garnish with a twist of orange and use the cinnamon stick as a stirrer.
I don't know about you, but I can't wait for Saturday night.
*Please note I was sent my Eisberg wine for the purpose of this review but all opinions are my own and I promise it really was alcohol free so no calling social services on me.