Since we found out we were having a third baby, the plan was that whatever sex it was, it would share with either Boo or G in the biggest room, depending on the sex.
When we moved to the farm in 2012, Boo, being an only child at the time, got the bigger room.
With the baby being a boy, it was decided that eventually, he would share with his big brother on the bigger room.
As Baby J nears his first birthday, we felt the time was right-even though he is still in with us at the moment because he still doesn't sleep through.
They day of the big move came around and the big two were packed off to their grandparents' for the day. This is the reality of having three children. You can only usually find child care for two of them.
So, baby in tow, the move began.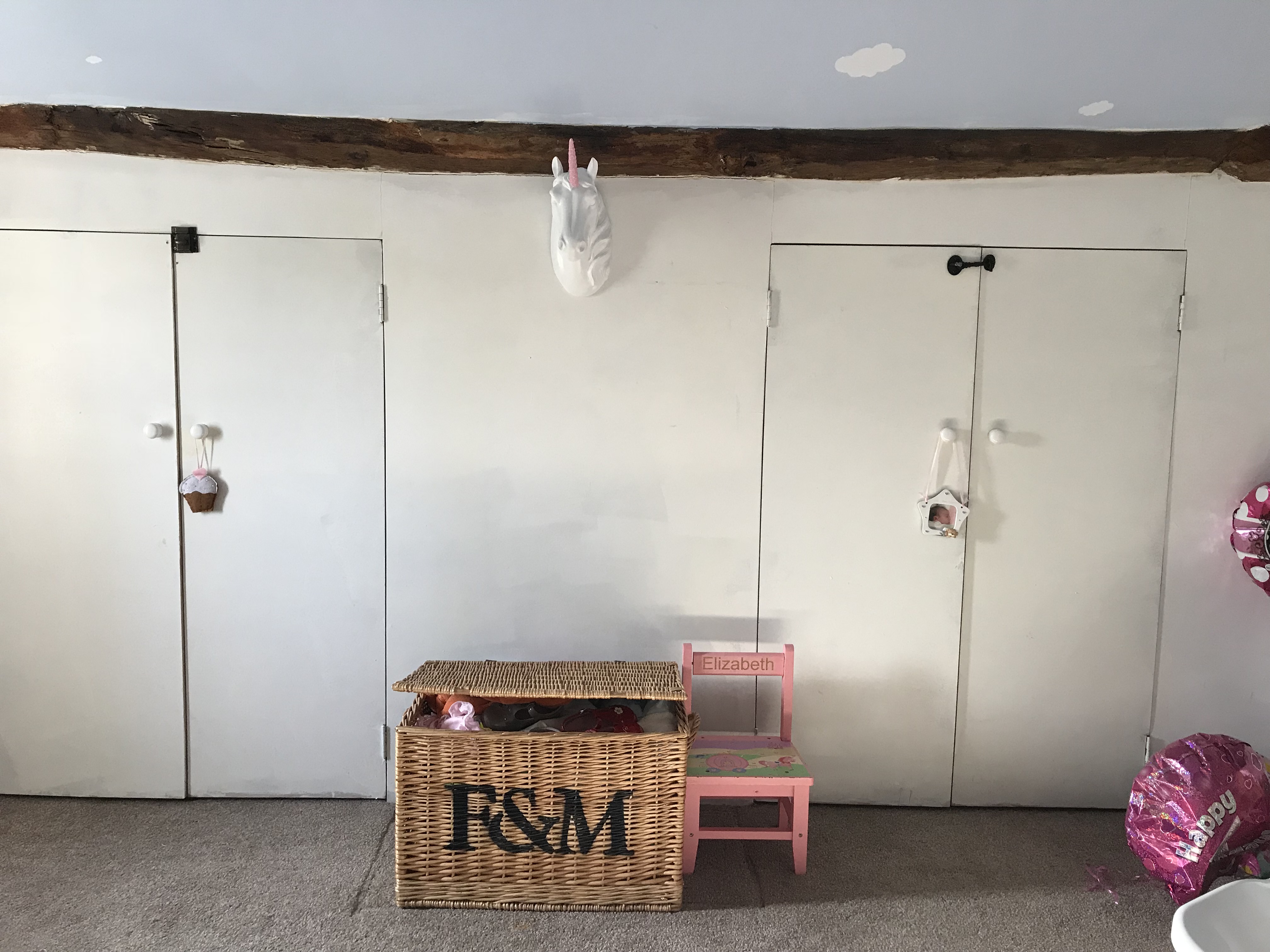 I was determined to make sure Boo's new room was right. I felt it would be she who would feel the upheaval the most and I wanted her to love it when she came home.
We moved all of the furniture that we wouldn't be using into her old room (what would become G's) and the change began.
I had decided on a unicorn and rainbow theme and I had been squirrelling things away for months.
The duvet and curtains are from Next. I always buy children's curtains from there as they are the only ones I have found to include sewn in black out linings and that is a good enough reason for me.
I wanted to have a more grown up theme. Her last room make over was when she was three and, four years on and two little brothers later, her new room needed to be a haven.
Somewhere she could retreat for some peace (wishful thinking with those two little boys) and order in a household that can be anything but.
I found the desk that I had when I was about Boo's age and the matching bedside table, adding some rainbow stickers to bring it all together.
I took a trip to IKEA and got her a new chair for the desk which, at £20 was such a bargain that I bought myself one too (I had previously been using a kitchen chair at my work area).
I also got her a storage system from IKEA to go above her desk.
There was one shelf already up in the room but we added another due to the sheer number of Minnie Mouse soft toys she has and Disney Princess dollies who used to live on the floor.
The lampshade was again from Next and then it was down to the important bit-the finishing touches.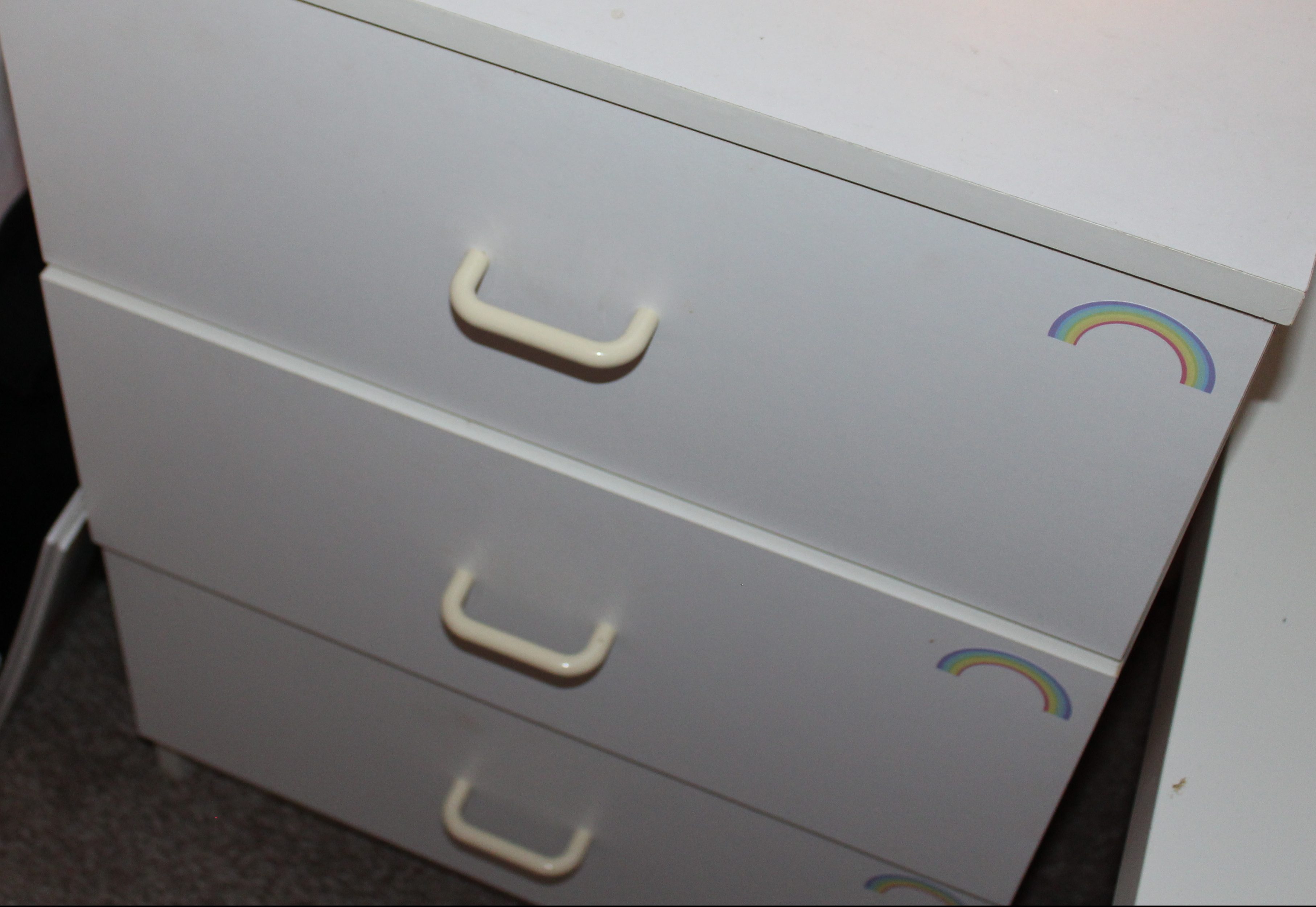 I bought a unicorn wall sticker from eBay and some mini rainbow stickers.
A light up unicorn was added from Home Bargains and it was there that I also got the unicorn head.
A unicorn wooden calendar was picked up in Primark.
It was then Asda that came up trumps with rainbow, unicorn and cloud string lights, a unicorn beaker for pen storage and a unicorn ornament for the top of her new storage shelf.
The rainbow rug was a Little Bird by Mothercare which was in her old bedroom. I don't think it is available now but Next do a similar one this season.
I am so pleased with the bedroom that I could actually move in there myself.
The only thing I have left to do is get some superglue for her doll's house. I am afraid it was a casualty in the move but also not helped by her rough brother trying to drive a toy tractor through its front door.
The verdict? Boo absolutely loves her new room. I have heard her exploring all the new storage boxes and marvelling at the contents.
It is a brighter room and she really has settled well.
Watch this space for the boys' room. There seems to be a lot more to do in there.