So Rosie the dog has been under the weather since Sunday.
She was still down this morning-not eating and lethargic but I thought she would last until tomorrow when I am off work.
Hubster rang me at 8.15am and said she yelped when he picked her up. I panicked. We had to put Poppy, one of the farm dogs to sleep last year as she was so ill. Rosie isn't just ay old dog, she is my first-fur-born. The love of my life. My dog-soul mate.
Dogs are like babies, they go down hill very quickly. My brilliant vets got her in at 10.10am so I sped home to nurse my little love.
I cried all the way home thinking about what had happened with Poppy.
They kept her in, put her on a drip, ran some blood tests and gave her antibiotics. They weren't sure what was wrong with her. Her blood tests came back fine. It was then an anxious wait until 4pm when I could ring again.
They said she could come home.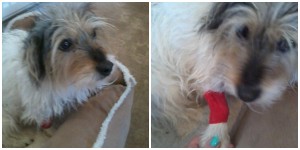 Hubster went and picked her up and I was hoping she would come bounding in as normal. She didn't.
I hope she is just feeling sorry for herself. Sometimes, I think dogs think the vets is some form of punishment.
Everyone who knows me, knows how much I adore Rosie. When the inevitable happens, I seriously don't know what I will do.
Until then, and I will not think about it, I am making the most of every day with out my little love.
The house was so quiet without her.