They say an English man's home is his castle, so when I found out about The Great British Home quiz by Victoria Plumb and BritMums, I had to have a go.
I answered some questions about my life and style and got…….
Mrs Elegant. Apparently, my style is most like Lady Mary or Lord Gillingham from Downton Abbey.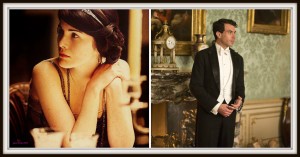 I'll take that.
 It said:
"Elegant and classy, you just adore period décor and style. You love the classics; subtle wallpaper, dark wood and rich colours. You have a penchant for opulent fabrics and secretly covet a Steinway piano for your living room. You search antiques fairs until you get the perfect piece. At home, your tastes are high-class classics; game pie, roast beef and all the trimmings or a fillet of plaice."
How funny. Makes me sound like Lady of the manor but the funnier thing is, me and Hubster do joke about being Lord and Lady of the manor (farm) so actually, it fits quite well (he might kill me for that).
We moved to the farm just under two years ago and I would be lying if I told you the decorating was finished,
Like many people who move, we had to bring much of our furniture from our old house-a 1930s terrace and, moving into a 17th century farmhouse, a lot of our things don't really go.
The house is quirky. It's on three levels. I'll start at the top and work down.
We renovated the house and the attic is where our bedrooms are. Now, compared to what they looked like before, we have come a long way.
The bathroom is lovely and bright and spacious but, in hindsight, I do wish I'd gone for white or cream wall tiles. Never mind, you learn from your mistakes and, if I told Hubster I wanted to re-tile, for one he would say no and for two, quite rightly, he would go mad.
I also wish we had a more traditional bathroom suite similar to the Winchester bathroom range at Victoria Plumb (above) but I will have to add accessories for the time being to make it more traditional looking.
So I have two sets of towels and bath mats which I rotate. A lovely sunny yellow set which I picked up at Dunelm Mill and some black flock beauties from Next.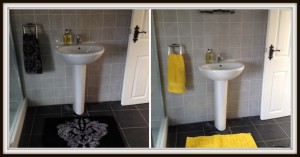 In the bedrooms, we are quite fortunate that a very clever joiner installed wardrobes in the eaves of the house so along one wall in each bedroom, we have ample storage. Don't get me wrong, I still fill it, but it is there and it is behind (still un-painted) doors.
The old part of the house is full of beautiful oak beams with added (now treated) woodworm holes. In Boo's room, there is some carvings in the beams. I did try to find out what they meant but failed.
I love the beams.
The living room is one of my favourite rooms. It is a quirky shape-ling and thin with a small staircase in the middle which leads up to the bedrooms.

I decided to shy away from modern carpets and opted for a (I think) beautiful pattern. I realise it is not 'in fashion' but you try living on a farm with a dog and a child. I think you will agree we came to the right decision.
The beam in the lounge still has the original metal hook from where meat was hung in the olden days. I love this feature and use it to hang a lovely bauble off at Christmas.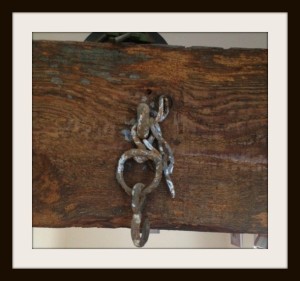 We bought our suite when we first moved in together and had no pets or children. Once again, hindsight is a marvellous thing and cream fabric is not the best option due to all of the above but, until we can get a new one, throws are my best friend.
I bought some dark wood tables off ebay and my kitsch lamp which is like Marmite-you either love it or hate it (I love it, my mum hates it) and my curtains, I think are the making of the room.
I also got a lovely wingback chair from Next which is one of my favourite pieces of furniture as, not only is it comfortable, you can sit in it and look at the lovely view of the farm yard and the fields beyond.
We decided to have bi-fold doors in the living room and the window is eight-foot long. Ready made curtains were just not an option. I would have had to buy four pairs so, by chance, I went into a local interiors shop called Atlas Interiors.
Not only did I make a new friend in the wonderful designer there, James Lawrenson but James came to my house and advised me what was best.
I love tartan so went for a warm red and duck egg check and this truly gorgeous curtain arrived and, when it is drawn back, reminds me of a wedding dress. I just like to stand there and rouche it. I also got a roman blind to match for the small window.
This is just a small snap shot of our home but I really am going to strive to have the house look like something out of Downton Abbey as I think that style will suit the period of the house down to the ground.
If you want to have a go at the Great British Home quiz yourself, please click here.
This was not a sponsored post but it has been entered into a competition with BritMums to win £100 of John Lewis vouchers so, if I win, I could continue my decorating journey.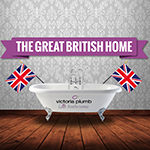 This post is an entry for the #GreatBritishHome Challenge  sponsored by Victoria Plumb, a source of quality bathrooms for every type of home. Take its "What's Your Celebrity Home Style?" quiz to discover what your home says about you."