Babies. Try as I may, I just can't work out the travelling-light malarkey. How do other people do it?
After having two changing bags snap when Boo was a baby, this time, I decided to  opt for size. In doing so however, I had to totally disregard style.
This was until I was contacted by John Lewis.
As a parent to babies and toddlers, John Lewis understand how important it is for parents to have all the essentials to hand when you are on the go. Baby changing bags can often be limited in design and size but the new Sophia & Matt range is vibrant in colour but remains discreet and comes with ample space for baby supplies and, I was asked to trial one.
How could I refuse?
I used the bag on a shopping trip into town with both children. This is what I had to fit in:
Nappies
Pull-ups
Wipes
Change of clothing for Beb.
Dummies
My purse
Juice and snacks for Boo
Lipstick
Full-sized bottle of perfume
Note book and pen
Phone
Keys
Two bottles-one full, one empty
A bottle of ready-made formula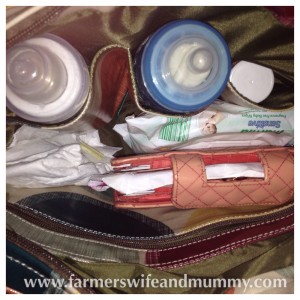 I think you will agree, it all fitted in, no problem and, with room to spare.
This made me worry that maybe I should have been taking more, but I stopped myself.
The bag comes with a beautiful changing mat which I used in the living room to try before we went out.
Unlike some changing bags, the mat is the same material as the bag which, is a detail that I really like.
(Beb's sad face has nothing to do with the mat, more nappy changes!)
I did some research into the brand and Sophia & Matt started a small London based design company ten years ago, working with coated fabrics in far out 60s and 70s style prints and you can really see this flavour in my changing bag.
As the wife of a farmer, it makes me feel good to think I will be using something designed and made in Britain. Not only is the bag well made and big but it really did look good and it didn't feel like a changing bag when I had it slung over my shoulder. So much so that when our shopping, someone stopped me and asked me where I got it from. When I said it was a changing bag, they were surprised and that, was enough encouragement for me.
Do check out John Lewis for their new Sophia & Matt range. You won't be disappointed.