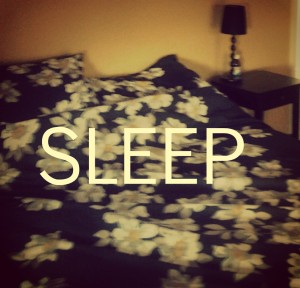 My word of the week is: SLEEP. My obsession with it or lack of it.
Up to being two, Boo was a brilliant sleeper. Some days I'd have all my house work done by the time shee got up. Many times it was after 8am and, if I was really lucky 9am.
Oh those days.
So Boo turned two. It coincided with going in a big girl bed. She could get out herself-great.
Many times I would feel a little hand on my arm in the night and a small child whispering shouting 'Hiya' in my ear.
That wasn't all. Being able to get up herself also meat getting her to sleep was a trial.
(excuse the unpainted wardrobes, we still have a lot to do in the house)
I adopted the 'gradual retreat' method. The nursing chair was dragged back in and I spend months moving it around the room until it was behind her head.
That is a good tip too-I positioned the bed so Boo was looking at a wall rather than the door-that way, getting out was so much easier.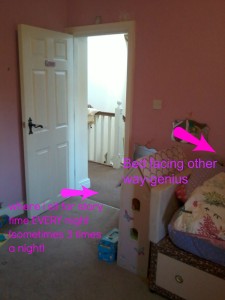 About eight months after starting the gradual withdrawal method, Boo started going to sleep better. The nursing chair is back in the spare room patiently waiting for a time we will hopefully use it again being used for airing washing and I now read the story sat on the floor in the door way where Boo can hear me but not see me. Then I crawl out of the room and shut the door. Bingo.
Well yes but recently, we have been through a terrible stage of night waking. If I get up and settle her back down she usually goes off. The times I have been so tired that I couldn't physically get out of bed and Hubster had gone in has seen her not settle and he brought her in our bed-this lasted for weeks.
I'd be up five or six times on a bad night and then, too tired to move, she would end up between us at around 4am.
She then started sleeping through but spent one night at my parents as we went out for a meal for Hubster's 40th birthday and let's just say, the fun began again. We questioned ourselves over whether it is even worth our annual night out to have to deal with the consequence of it for weeks months after.
I seriously think you get used to lack of sleep.
Parents of older children have told me they sleep through eventually. We can only hope.
I think what has made it harder is that she used to sleep.
We've contemplated having her bed in our room but I don't want that. We need our own space and I don't think that will solve anything.
Last night I only got up once but she was up before 6am. Some mornings it's 5am. Surely it must be character building.
For all the parents out there who worry about sleep though, I take a philosophical approach. In ten years time, Boo will probably not want to be anywhere near us in bed so, in this I take comfort.
I will also invest in one of those make up pens for eye bags.